Lenovo Yoga 920 Review
Apr 16, 2020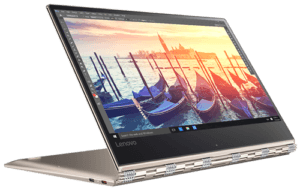 Lenovo has been improving on their 2-in-1 laptops and has released upgrades of previous Yoga series, the Yoga 920. This laptop doesn't fail to impress with its ultra-slim bezels around its display. It is also being fitted with an all-metal chassis contributing to its premium look which helps it to be best selling laptop in the Yoga family. It is equipped with the watchband 360-degree hinge - hence the name Yoga. I must say the Lenovo 920 looks and feels like a premium laptop. The Yoga 920 is a bit heavy weighing around 3 pounds (1.4 kg), but far from a dumbbell and is something we all can overlook.
Pros
• Far-field mics
• Backlit Keyboard
• Biometric security
• Impressive Battery Life
• Always on charging
• 360⁰ hinge
Cons
• HDMI absent
• SD slot absent
• Poor positioning of the stylus storage
Design and Display
When you get a Lenovo 920, you're getting a 13.9-inch screen, which in my opinion, is good compared to a typical 13.3-inch laptop. The Lenovo 920 also comes equipped with far-field mics, making it possible for you to use Microsoft's digital assistant, Cortana, at a distance up to 4 meters away. This can also be achieved in standby mode. The backlit keyboard is a great feature common to most Lenovo laptops, and the Yoga 920 didn't disappoint in that aspect. This makes it possible to type with lights off or in low light conditions.
When it comes to the precision touchpad found on the laptop, the result is just about perfect. When using the touchpad, your fingers glide effortlessly over its smooth surface. This really makes navigation real smooth and easy. Lenovo Yoga 920 comes with an integrated fingerprint scanner located at the right of the touchpad. This lets you sign in real-time using the Windows Hello feature.
The lack of port assortment on the Lenovo Yoga 920 is very disappointing. Connecting your laptop to a bigger screen like your TV won't be possible because the HDMI port is absent on this beauty. It also has no SD slot. Now, the feature I'm talking about is outstanding. It has one standard USB 3.0 port, which supports always-on charging, meaning your phone keeps getting juiced up even when the computer is off. That's handy!
Lenovo's Active Pen 2 supports 4,096 levels of sensitivity. Due to the number of levels, I didn't notice any lag while using the stylus pen. This is an indication the stylus would deliver a good drawing and writing experience. One downside I noticed is the storage of the pen. When the pen is in its stored state, it obstructs the use of the power button. That's just bad.
Performance
The Yoga 920 is equipped with Intel's powerful processors. It comes integrated with a 1.6GHz Core i5-8250U or a 1.8GHz Core i7-8550U. The majority of users aren't tech-savvy, so they might not notice it on their regular day-to-day use. What would be perceived by the average customer would be an overall excellent performance with no real data jam for processor-intensive tasks. The Lenovo Yoga 920 isn't a laptop demanding graphics tasks or games. It has no problems carrying out minor processing of large raw image files and doing simple edits of high bit rate HD-resolution video clips.
During the online streaming battery test, the yoga 920's battery life result was impressive at about 13hrs. With general use, i.e., switching between various tasks. At a display at 60 percent brightness, I was able to use the laptop for roughly 8 hours and still had some battery left. As usual, battery life is dependent on factors surrounding its usage, but the overall battery life of the Lenovo Yoga 920 is impressive.
Final Verdict
The Lenovo Yoga 920 is great for everyday use. If you want a long-lasting battery, a functional laptop, and a premium device, then this is for you.