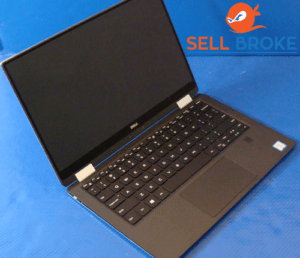 The Dell XPS 13 has always lived up to their expectations being one of the best selling laptops for many years. To be crowned the best Ultrabook doesn't come easy, and the conclusion was made based on several impressive features this laptop comes with. They made evident and useful changes to the design, display, and the performance is clearly better than the 2019 model. Without further ado, let's see why this laptop is the best Ultrabook in 2020.
Pros
Stellar design

Compact and lightweight

Excellent speakers

High-quality screen

Enhanced security and performance
Cons
Fewer ports

The base model isn't touch-enabled
Design
This year, some changes have been made to the XPS 13's design. The body is made of black carbon fiber that feels good in your hands. This material is also durable and can take a few bangs without breaking. It's a sleek laptop, lightweight, and compact, you might call it perfect.
It has a few ports, which could be a downside depending on how many devices you use. It has one USB port on each side and a headphone jack. If you work with many gadgets, you should consider getting an adaptor.
The screen is stellar. It's a 13.4-inch 1080p screen with a different but unique aspect ratio of 16:10. This aspect ratio looks undeniably pleasing to the eyes. If the touchscreen is a feature that is vital to the work you do, then you'll have to get the higher model because this base model doesn't support touch gestures.
The webcam supports Windows Hellos, which means you can unlock your laptop using face recognition. That's one feature I'm really impressed with in this model. For added security, Dell included a fingerprint sensor in case that's your thing.
The speakers on the Dell XPS 13 2020 are super cool. Unlike most ultrabooks with terrible speakers, the ones in this model are functional, and that's because they're 2-watt speakers. If you love music or concerned about the sound quality, it'll definitely make you smile.
Finally, on design, the keyboard is excellent. It has bigger keys than the last model, the travel is smooth, and it just feels so good when typing. It's something people who type a lot will definitely enjoy. Although, the Pg Up and Pg Down keys are absent in this year's model, probably to create more space. It could be a downside for you if you make use of them frequently. Otherwise, it's something you can adapt to in a short period.
The trackpad is very responsive, has windows precision drivers enabled, and the click is less noisy.
Display
The display is crisp and sharp. Pictures are bright and vivid, and if you want a better viewing experience, you can get the one with a higher resolution as this base model is 1080p.
Performance
The Dell XPS 13 is equipped with 10th Gen Intel processors. The Intel Core i5 1035GI it comes with can handle everyday tasks such as video streaming, web surfing, word processing, and lots more without causing any lag.
The performance is better than last year's model, but the graphics capacity can't handle big games. Simply put, the Dell XPS 13 2020 is not a gaming laptop for gurus. Although it can still play less demanding games well. However, don't expect it to play big games like Fortnite.
The RAM in this model can't be upgraded, so you'll have to purchase one with enough RAM capacity for you. The SSD cards are replaceable in case you need more storage capacity.
The battery life is solid, lasting for 10 hours without a need to recharge. However, if you get the models with a touch-enabled screen and a higher resolution, battery life will drop to about 8 hours. Overall, it will get you through the day's work.
Final Verdict
The features on the Dell XPS 13 2020 are things you won't find in many ultrabooks in today's market. From its design to its performance, everything tells it's a premium device. For those looking for an upgrade this year, this is it.