Asus Zenbook 3 Review
Apr 10, 2020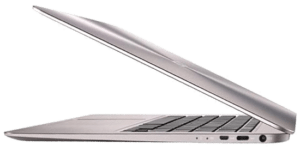 Another Zenbook this week and potentially another reason to sell your MacBook Air and get on a new journey with a Windows based machine. The current trend with ultrabooks is about shedding weight and look as thin as possible. The Asus Zenbook 3 is a good example of how far this trend has gone. Looking for a laptop that is easy to carry with you wherever you go, while still fast enough to sort your daily tasks? Then this laptop is for you. You might have to spend a considerable amount of money, but it is really worth it to have a laptop of this size that doesn't weigh you down everywhere you go with it.
Like similar ultrabooks, this model had to let go of some things to help it keep its slim build. Some of the features lost include some ports and it doesn't have the best battery life in its category. However, what you will get is a gorgeous design and astonishing display that does well to make up for any shortcoming you might notice.
Pros
It is quite portable and light in weight

It has a stunning display

Its fingerprint sensor is quite reliable
Cons
The placement of the fingerprint sensor isn't the best

It has only one USB-C port
Design
The Zenbook 3 is one that can send you into panic mode sometimes, given its slim frame, you might find yourself searching your backpack in panic mode. It is so slim, that you might not find it in your bag at first glance. The new Asus is really light at only 11.7mm thickness.  Given its size and metal casing, one would expect it to have a considerable weight to it, but it only comes at 2 pounds. It is one of the lightest laptops you will ever find. It s similar to the Zenbook UX310 that we reviewed  couple days ago.
It is really thin and comes in full metal chassis with just one USB-C port located on the right side of the laptop. The single-port serves more than one purpose, which includes connection of accessories, charging the laptop, and everything that requires a connection to the laptop. It might be a bit tiring having to do everything through s single port. The top-right side of the touchpad has a fingerprint sensor, it is used for signing in to the Asus Zenbook 3 with Windows Hello. The placement can sometimes be an issue as it can affect you while you're dragging your fingers across the touchpad.
Display
The laptop comes with a 12.5-inch display and a 1080p resolution. The colors are vibrant and the accuracy is quite good. It is also really bright for outdoor usage. It is also covered with Gorilla Glass 4 to give it extra protection. Overall, the Asus Zenbook 3's display is good enough.
Performance
ASUS did a good job of fitting in the 7th Generation Intel Core processors and 16GB LPDDR3 RAM in such a slim frame. The memory speed of the Zenbook 3 is fastest for any ultrabook in the market. It does better than the minimum speed of 1,866MHz RAM that Intel supports for its latest chips.
Final Verdict
The new Zenbook 3 did well to fit all that hardware power into such a slim frame and at a cheaper price. However, it has its issues when it comes to usage, you mind find some issues like the touchpad issue and it isn't the most durable out there.