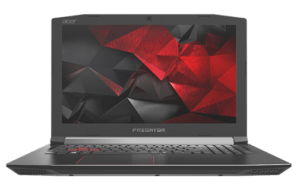 After reviewing Acer Predator Helios 500 just yesterday we're very excited to play with the smaller model Acer Predator Triton 500. We were able to play with them back to back and had so much fun. We really like the mobile aspect of the Triton.
Gaming laptops have swayed towards the slim design lately. For every new gaming laptop you get these days, you realize it is thinner than the previous. The Acer Predator Triton 500 is a good example of thinner gaming laptop. It is thin and light, and it comes with powerful hardware features, some of the most powerful you can find around. It comes with this level of power, while maintain a body that is easy to carry around.
The choice of design and portability definitely comes a little compromise in the build and thermals, but you have nothing to worry about as it made up for this through its beautiful design and high level power.
Let's take a deeper look into some of the features of the Acer Predator Triton 500
Pros
Comes with high level of power

The display is beautiful

Has a solid RGB

Battery is long lasting for its level
Cons
On the high side of pricing

Fragile lid

Keyboard layout looks awkward
Design
The Acer Predator Triton 500 is aesthetically pleasing with its beautiful big blue logo on the back, as wee as its good angular designs. Comes in at 4.41 pounds of weight, and 0.7 inches of thickness, which makes it easy to move around with. It's a metal build but lightweight. The display lid is fragile, which is one of the compromises made for its slim and light nature. It will be advisable to keep in a case, if you want to travel with it.
The keyboard feels great in terms of travel speed and feedback. However, the layout id awkward, as the placement of some keys are questionable. There is also the track pad, which might seem thinner than usual, but has great responsiveness.
Display
The Acer Predator Triton 500 has a great display with its 15.6-inch screen, which is a full HD 1920 x 1080 display, running at 144Hz. Although is 1080p, but it doesn't stop its awesomeness. The refresh rate is fast, and the display has great brightness and it's quite colorful. The display makes you enjoy certain games like never before.  For a gaming laptop, the bezels of the screen are quite thin.  While the bottom bezel might be thick, the rest of the bezels are nowhere to be found while playing games.
Performance
The Acer Predator Triton 500 comes with a lot power, as it is comes with the Intel i7-8750H processor and an RTX 2060. Add this to the 16GB of RAM, and you will realize that the laptop is a king in terms of performance. You don't get slowdowns, regardless of the activity, be it opening multiple tabs on your browser, or you are playing Overwatch with max settings.
The laptop is a great one when it comes to gaming laptops. However, you have to make do with its flimsy lid build, as well as the awkward layout of the keyboard. The performance level and design makes up for these shortcomings, as well as the display.