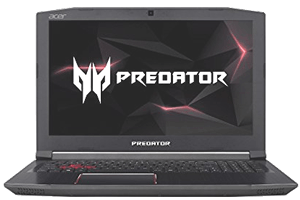 The Acer Predator Helios 500 is beastly, in its physical attributes and performance wise. It is an outstanding gaming laptop, and it can literally handle most games you try on it, without hiccups. This is not saying the Predator Helios 500 is perfect, as it has its little issues that could have been better.  Issues like poor sound, bad track pad, a keyboard that could have been better, and a battery that isn't strong enough to take you through a marvel movie.
The laptop will impress you if what you are looking for is a beastly gaming PC. However, you must be prepared to shell out more money if you want better peripherals.
Pros
Has massive gaming power

Comes with a color-corrected 144Hz display

Its CPU and GPU are easily adjustable

The fans are configurable
Cons
It has a poor track pad

The speakers are underwhelming

It is high on the price side
Design
The Acer Predator Helios 500 design is a case of a great build but underwhelming finish similar to the Acer Predator Helios 300. The build is quite sturdy, which will last for so long. However, the matter finish doesn't compliment the build in terms of quality, as it doesn't easily track finger prints. The look will be appealing to non-gamers, as it doesn't deploy the hardcore gaming look and it comes with blue trimmings, rather than the regular red trimmings. The design is appealing not only to gamers and Acer plans to sell laptop to wider spectrum of users requiring high performing portable computer.
The Acer Predator Helios 500 has quite a number of ports that help you connect to as much as three displays plus the laptop screen. That's quite impressive. The Acer Predator Helios 500 is heavy in weight and massive in look, it isn't a laptop you can easily carry around. It is more like a gaming PC that is meant to be stationed somewhere in your living room or bedroom, as you wish.
Display
The Predator Helios 500 display is great by its standards. It has a 17.3 inch screen that offers a 1080p IPS display and has refresh rate of 144Hz. This makes sure it has great color reproduction, and excellent viewing for movies and games. The display is also crisp in terms of details. It has the Nvidia GeForce GTX 1070, 8GB GDDR5; Intel UHD Graphics 630.
Performance
The Acer Predator Helios 500 was manufactured to give high performance, just like the Acer Predator Triton 700 which is a smaller 15 inch screen model. It comes with the most powerful mobile Intel Core processor available in the market, with the 2.90 GHz Intel Core i9 hexa-core that has a turbo boost of up to 4.8GHz). It also has a 16GB RAM, which is enough to play any game in the world right now. It has a solid state main drive and a secondary high drive combination, with its Nvidia graphics card.
This combines well to make sure the Acer Predator Helios 500 runs in a smooth way, and makes sure the gaming experience is great, with no lags or drops, also well detailed and appealing.
However, the battery life is not the best. Especially for such a beastly laptop, it only offers about two hours without charge.