Dell Inspiron Chromebook 14 2020
Mar 22, 2020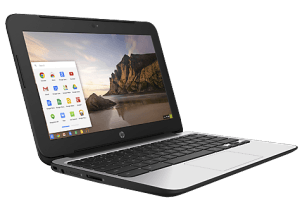 The 
Chromebook market
 has been trending for a while now and it only makes sense that Dell would build a Chromebook laptop too. Dell's offering is the Dell Inspiron 14 Chromebook.
Pros
Comes in compact design

Well built

Decent processing power

Comes out of the box with stylus
Cons
Comes with only 4GB of RAM

Heavy Chassis

Relatively small storage
Specifications
CPU: Features an 8th generation Intel Core i3-8130U dual-core processor (2.2GHz)
Graphics Unit: No discrete graphics unit.
Screen: Full HD (1080p) IPS panel 14" screen. Great viewing angles.
Storage: Solid state drive (128GB)
RAM: 4GB memory.
Performance
The Dell 14 Chromebook comes with a dual Core Intel Core i3. This 8th generation processor can handle pretty much every task you throw at the Chromebook, even playing some web-based games. The base speed of the Intel Core i3 processor is 2.2 GHz and it has a boost clock speed of 3.4GHz, therefore, you know that by choosing this Chromebook, you are choosing a powerhouse.
The newer generation processor also makes this Chromebook futureproof, as it will be able to handle newer applications up to the next year.
The only downside to the performance of this Chromebook is its small RAM. 4GB of RAM is probably enough to do anything you want to do on your Chromebook, but with the new applications that Chromebooks now support, you are bound to want more RAM.
The storage is probably the greatest downfall of this Chromebook, as it has only 128GB of Storage, which was probably enough storage a couple of years ago. However, it complements it with a microSD slot, therefore, you can increase your storage with a microSD.
Design
Dell built this 14" Chromebook with durability and portability in mind. The 14" chassis makes it really compact and easy to transport. The cool aluminum chassis that it comes it gives it the usually Chromebook look but makes it more portable than the plastic variations of other Chromebooks available on the market.
The only downside to the design is the sacrifice of lightness for durability. Dell Inspiron 14 Chromebook weighs about 1.80kg, which makes it heavier than its rivals.
The Chromebook comes with one USB- type A port and two USB Type-C ports.
Display
The Dell Inspiron Chromebook 14 comes with a full HD (1080 x 1920 pixels) IPS display panel that makes it brilliant to look at. The display also has a capacitive touchscreen that is very responsive to the stylus that comes with this Chromebook.
Shortcomings
The greatest shortcoming of the Dell Inspiron Chromebook 14 will be its small RAM and Storage. There are similar Chromebooks with up to 8GB of RAM and 512GB of RAM at around the same price or slightly higher.
Final thoughts
If you are looking for a Chromebook with decent performance that comes with a stylus, then the Dell Inspiron 14 Chromebook is the Chromebook for you. Even though similar Chromebooks like the HP x360 comes with up to 8GB of RAM and is even slightly cheaper to buy. You should note that this one comes with a Stylus, which is pretty expensive to buy as a standalone.
Overall, Dell Inspiron 14 is worth every penny and Dell is expected to sell laptop in large quantities around the world.