3 Best Laptops For Programming in 2020
Mar 21, 2020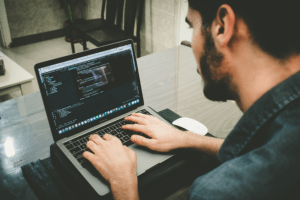 As a programmer, you want to buy a laptop that is powerful to execute demanding tasks. It helps to handle the workload that comes with other tasks like image editing, as you will be assured that your laptop will not fail under pressure.
There are factors to consider when going for a programming laptop, especially when you want more from the laptop and not just the basic duties.
There is a lot of figures and alphabets involved in coding, and you will need to read through the code and make GUI adjustments from time to time. This is why you need a comfortable screen size for eyes.
A good programming laptop should have sufficient RAM memory, at least 8GB. For the processor, the minimum level you should consider is the Intel Core i5, as you will be guaranteed a good level of performance especially when doing jobs that require a lot of background coding. Lastly, you will need one of the best keyboards as coding requires a lot of typing. A comfortable and sensitive keyboard will save you a lot of stress.
Looking at these factors, we have come up with the 3 best programming laptops for you.
HP Spectre X360
The HP Spectre X360 is one of the most stunning laptops around. The build is high quality and it is aesthetically pleasing. The level of quality craftsmanship put into it is applaudable, and you it is always alluring for everyone who lays their eyes on it.
If you are looking for a laptop that refused to compromise on performance for looks, then the HP Spectre X 360 is for you. The laptop is not only good looking, but also great on the inside.
The visuals are excellent as it comes with the powerful Nvidia GeForce GTX 1050 Ti graphics card and an almost borderless 15-inch UHD display. It has the powerful 8th Generation six-core Intel Core i7 processor and comes in a variety of 8GB or 16GB RAM depending on your choice. It has a great battery life, which is befitting. The only issue you might encounter is the price, as it is on the high side.
Huawei Matebook 13
The Huawei Matebook 13 is a laptop that nicely combines affordability with performance. For a modest price, you get the level of power you need to perfectly carry out programming jobs as it comes with the 8th generation Intel Core i5 – i7 depending on your choice. It is light in weight and slim, which makes it easy to move around with. The 13-inch display is bright and has a high resolution. The only downside to it might be the limitation to 8GB of RAM.
Lenovo Thinkpad X1 Extreme
Talk about power, a wonderful display and great user experience and you will be describing the Lenovo ThinkPad X1. It has a RAM capacity up to 64GB, depending on your choice. It also has up to the 8th generation Intel Core i7 for processor options. It comes in a glorious 4K screen and has an admirable graphics card. It might be too heavy for someone on the move and it is expensive, but worth the price.