3 Best Dual Screen Laptops 2020
Mar 11, 2020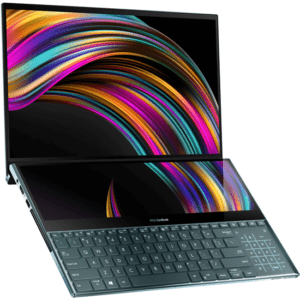 In time past, it was foldable smartphones that rocked the world. However, the latest thing that has taken all the attention is the dual screen laptop. The dual screen laptop has grown in popularity over the years and more people are now embracing it.
A dual screen laptop is a laptop that has two screens built into a single chassis. The design can come in different shapes and sizes depending on how a brand sees it. Apparently dual screen laptops are great for artists and for anyone who already uses two screens with a desktop computer.
The only down sides to the dual screen laptops include, absence of keyboard or a small sized keyboard. Also, the response rate of the screens might be slow in some cases. They are also more prone to damage in case of a shock.
Here are some of the best dual screen laptops available for you.
Asus Zenbook Pro Duo
Asus are great at dual-screen laptops and they delivered excellently on this one. The design is great as usual with Asus. The build is sturdy, as the look is beautiful. It comes at 5.4 pounds of weight, with a size of 14.1 x 9.7 x 0.9 inches. The display is awesome, as it has an OLED and 4K which is great match.  It has a 15.6-inch, 3840 x 2160 main touch that delivers sharpness as you will like it. While the second screen is 14-inch with 4K resolution and a 32:9 aspect ratio.
Although both screens are finger responsive, Asus still provided a pen you can use to touch the screen rather than stain it with your fingerprints.
The Duo comes with a lot of power, a 2.4-GHz Intel Core i9-9980HK processor and 32GB of RAM. It can handle whatever you throw at it. It comes with Nvidia GeForce RTX 2060 GPU and a 6GB VRAM, which is good for gaming. The obvious downsides are the battery life which is only slightly over 3 hours, and the heating issues which stems from packing together such level of power.
HP Omen X 2s
The HP Omen X 2S has a primary screen of 15.6-inch LCD panel. It is full HD resolution, has a 144Hz refresh rate and compatible with the Nvidia G-Sync. The secondary screen is a 5.98-inch 1080p multi-touch screen and it has a RGB lit keyboard. It comes in a sleek design with strong level of performance and graphics. It has an Intel Core i7-9750H processor and 16GB of RAM. The downsides include a not-so-strong battery life and poor audio.
Intel Honeycomb Glacier
This laptop comes with a 2D honeycomb structure that houses a companion display. The primary display is a 15.6-inch FHD panel and below it is the secondary display which is a 12.3-inch screen. When the Intel Honeycomb is fully unfolded, the two displays rest on a two-hinge system with the keyboard sitting at the base. The Intel Honeycomb comes with an Intel Core i9 processor and the Nvidia GTX 1070. Intel also built a cooling system right under the hinges to help handle the level of heating that comes with dual screen laptops.
Are all brands going to sell laptops with dual screens? We are yet to find out if they are becoming the new reality of portable computers. They sure look cool and cost more.