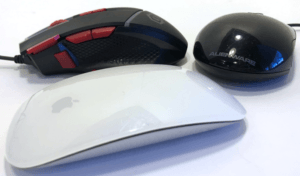 Logitech doesn't sell laptops or desktops but when it comes to gaming mouse, they are arguably the best in the business. The company has almost 20 different models on the market. Most of them are a delight to use. For gamers, having a quality gaming mouse like the ones Logitech makes is quite important.
Having a high-quality gaming mouse will help you have a great gaming experience on your PC. Having this in mind, we went through the stress for you, to help you get the best set of gaming mouse Logitech has to offer. Going by reviews by gamers and our own testing process, we came up with a list of the top Logitech gaming mice you should get to improve your gaming experience.
From features, to their ability to adjust to custom controls, and how long they can last in sessions. We put all these into consideration when making this list.
The best gaming mouse must have a sensitive sensor, the buttons must be adjustable, and other parts must be swappable. All these are what you will find in the G502 wireless gaming mouse. It comes on the high side of pricing, but it is absolutely worth the money.
Logitech G203 Prodigy Gaming Mouse
The G203 is your ideal gaming mouse for everyday use. It also balances performance and price so well. If you are working with a shrewd budget, the G203 Prodigy Gaming Mouse is right for you. It also comes with an optical sensor that an adjustable sensitivity. The RGB lighting is customizable and it has a cool six-button layout.
Logitech G Pro Wireless Gaming Mouse
The G Pro is one gaming mouse we recommend for southpaws out there, as it comes in ambidextrous design. The sensor is power-efficient. The crafting is beautiful and the ergonomics is superb. It is lightweight, weighing less than 3 ounces. Without RGB lighting, it can last up to 60 hours for wireless gaming and only 48 hours with RGB lighting.
Logitech G604 LIGHTSPEED Wireless Gaming Mouse
When it comes to battery life, the G604 is outstanding. With up to 5 months of battery life usage before needing swapping, the G604 is a gaming you can always count on. It comes with Bluetooth connectivity, it also has adjustable and programmable buttons.
Logitech G600 Gaming Mouse
The G600 is a wired gaming mouse, unlike its other top performers. It is specifically made for Massive Multiplayer Online gaming. It has a dedicated 12 thumb buttons and a total of 20 buttons that are customizable. These buttons work together to help gamers perform instant in-game tasks.