Lenovo Ideapad Duet Chromebook 2020
Mar 03, 2020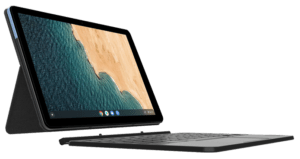 The CES 2020 ushered in the arrival of more Chromebooks and laptops into the market. One of the several announcements at CES 2020 was the IdeaPad Duet Chromebook, which is a detachable laptop. This might just be perhaps, arguably the best Chromebook on show this year. Lenovo is planing to sell the laptop to students and announced that the IdeaPad Duet will be launched by May 2020. The price is set at $279 for a start.
Design
The design of the new IdeaPad Duet is quite neat for a detachable Chromebook that comes with affordability. The first thing you would notice about the design is the gray fabric suit at the back, sitting pretty on the back of the aluminum tablet. There is also a kickstand with the fabric and a small cutout designed for the camera. You might almost ant to think that the fabric is part of the tablet, until you take a closer look and realize that it is in fact, a magnetic backing.
There is a gray keyboard that sits edge to edge on the inside, along with the touchpad. The weight of the tablet is 0.94pounds and the size is measured at 9.44 x 6.29 x 0.29 inches – this means it is easy to carry, as it is slim, light and portable.
The keyboard has 1.3 millimeters of key travel. However, there might be little complain about the keyboard being a little bit smaller than they would usually be, about half the normal size. The touchpad is also a little bit choky as it measures only 3.48 x 2.05 inches. Luckily, there is a touchscreen display that can be used.
 Display  
The IdeaPad Duet Chromebook comes with a 10.1-inch screen and 1920 x 1200 display, and it is vibrant with its 400 nits of brightness. It might not have the best color display, but the color is quite decent and bright giving its price range. It is in fact better than several other products that comes at a higher price. It has a touchscreen panel and comes with the option of USI stylus, which can be used for taking note and drawing.
The Lenovo IdeaPad Duet specs
It comes with 4GB RAM, 128GB eMMC, a Mediatek Hello P60T processor, but it doesn't have the AMD or Intel option. An 8MP rear camera, 2MP front camera, two speakers and dual-ray microphones.
Battery life
The Lenovo IdeaPad Duet Chromebook comes with a 7180 battery and lasts for 10 hours according to ratings.