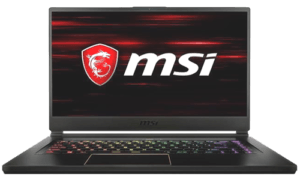 MSI has always delivered when it comes to producing  and selling laptops for gamers. The GS65 Stealth Thin was one of such examples from MSI, as they produced one of the most eye-catching gaming ultra-portables to ever exist. Now, they have come with the GS66 Stealth as a sequel to the GS65. The GS66 has opted for a more restrained look compared to the GS65. The new GS66 comes in a matte-black case and doesn't feature prominent lights, except the one you will find on the RGB keyboard. It also doesn't feature a gold accent. In totality, it is a potent machine that can fit in both for work and school, combined with its gaming prowess.
New features
When it comes to features, the GS66 has a variety of options to choose from. From the highly powerful Core i9 model to the latest 10th Gen H-series CPUs from Intel (they are yet to start shipping) and the RTX graphics which is another latest from NVIDIA. Although, MSI is still a bit unclear about the NVIDIA GPUs they want to include in the laptop, which is quite unfortunate. There are also options between the 240Hz and 300Hz 1080p IPS panels to choose from. Although, the 300Hz 1080p IPS panels will only be relevant to users that are eSports crusaders that request for the slickest possible gameplay imaginable for higher frame rates.
Design
The GS66 adopted a boxier look, similar to Razer's Blade laptops. The battery is 99.9Wh, which is the biggest possible battery that meets TSA airplane regulations. On the outside, the GS66 features a different keyboard deck compared to the GS65, it also has rearranged ports.
Keeping it cool
Another redesigned feature in the MSI GS66 is the thermal module. MSI opted for the cooler boost trinity+ design with three fans, which is very thin. The blades of the fan are 1mm in thickness and this brought about a 10 percent increase in airflow compared to the fans used in the GS65. This improvement is a good one for MSI, considering that the GS65 wriggled with collective loads due to high thermals.
Verdict
The GS66 Stealth has obviously addressed some major problems in the GS65. Issues such as performance and looks have been addressed. Also, there has been an addition of an easier hardware access, better pricing, better quality control and a tuned fan-profile. All these features means that it can compete with the best laptops from its category.