Asus Zephyrus Rog G14 Review
Feb 25, 2020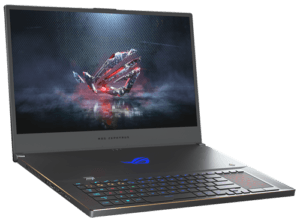 Asus has always been known for their relentless pursuit of perfection when it comes to gaming laptops. They particularly strive to sell laptops to different users to cover all variety computing market. Asus released the ROG Zephyrus G14 at the CES 2020 and they did not disappoint, as it came in a sleek body and gorgeous display.
The Zephyrus G14's specs were released and we know that it will come with the latest AMD Ryzen 7 4800HS processor. This signals the return of the AMD to premium gaming PCs. The Zephyrus G14 will also come with at least 32GB of RAM, and a 1TB SSD. The G14 also features the Nvidia GeForce RTX 2060 GPU and 6GB of VRAM.
Design
When it comes to design, the G14 delivers. It kept light and slim nature of its namesakes, measuring 12.7 x 8.7 x 0.7-inches and weighing only 3.5 pounds. Despite is light weight, the G14 did not have to cut down on material quality. It is made with a fingerprint-resistant magnesium-aluminum alloy, with a lovely dotted matrix pattern on the lid that helps hide a brilliant light show. It is available in two colors, the Moonlight White and the Eclipse Gray.
It has a full keyboard in the interior with a display housed by extremely slim bezels. It also has the EroHinge, which means that when the laptop is opened, the keyboard will be raised by the lid to a slight angle, which means a better and comfortable typing experience.
Display
When it comes to display, the G14 is top notch, coming with a 1920 x 1080 120Hz display. The brightness is good to the eyes, and its color details are crisp. Apart from the fact that the screen is Pantone validated, the panel also has an AMD FreeSync technology. A feature that works to sync the GPU with the display's refresh rate to produce a smoother image rendition. The G14 is also available in a 2560 x 1440 60Hz display, incase you want to turn things up.
Battery life
The battery life claimed by Asus for the G14 is up to 10 hours which could put it on the list of gaming laptops with best battery life. But since it is a gaming laptop, it should be doubted. The level of display features it comes with, is so powerful and battery draining to make it last up to 10 hours of battery life.
The super sleekness and display features of the G14 is a whole new cool from Asus. Just when we thought they could not amaze us any further, they pulled this off brilliantly. If your budget allows it's better to buy the laptop and enjoy games oppose to building a gaming computer on your own.