Best Asus Laptops of 2019
Jan 31, 2020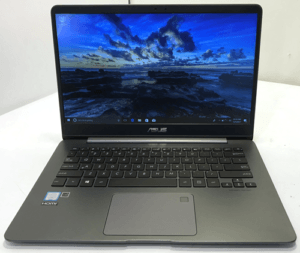 In today's portable computer market, Asus sell laptops that are best in many segments. They have continued to dish out better laptops than previous years on a steady basis. They supply almost all the needs you would find among the pool of laptop users, from the gaming laptops to the Chromebooks, and some of the ultrabooks. They don't just make devices for high-end users, but also people working on a budget. Even with the cheaper ones they make sure that they are good looking and perform very well.
If you are looking to purchase an Asus laptop, we have come up with a list of some of the best Asus machines sold last year.
Asus Chromebook Flip
The Asus Chromebook Flip C302 is a powerful yet affordable Chromebook that is great for your everyday task. It is excellently built and comes with great design while maintaining a wonderful hardware spec. From the Intel Core processor to the touchscreen feature, blacklit keyboard, and full 1080p display, the Asus Chromebook Flip C302 is an elegant Chromebook. Perhaps, the most appealing thing about this Chromebook is that it comes with a reasonable price tag.
Asus ZenBook Flip S UX370
The Asus ZenBook Flip S UX370 shows how you should properly make a great 2-in-1 laptop. The super thin and light laptop comes with powerful core components that make it a delight for users. It comes with the new Kaby Lake R 8th-generation processor, a 16GB Ram, which is great and super-fast PCIe SSD storage. Also, it doesn't lag when it comes to design; it shows a lot of versatility in its 2-in-1 design. It is great convertible, one of the best in the market – although it doesn't come cheap, but it is also one of the best Asus laptops you will find in the market right now.
Asus ZenBook UX305
Only few Ultrabooks can compete with the Asus ZenBook UX305 when it comes to being budget-friendly. This very thin and light laptop has great features that make it a delight to own. The combination of affordability and mobility while being greatly compact is what makes the Asus ZenBook UX305 a great laptop to own. It has a great keyboard and trackpad along with a vibrant, anti-glare screen.
Asus ROG Zephyrus S GX701
The Asus ROG Zephyrus S GX701 is certainly a top choice among gaming laptops in 2019, arguably the best. Its latest RTX 2080 Nvidia graphics, along with its 6-core Intel processor seals its place as the best along with it's super thin and lightweight, which makes for an easy carriage. This is a break from the norm you see with gaming laptops as they are usually all big due to the presence of powerful components. The Asus ROG Zephyrus S GX701 managed to remain powerful while pulling off a brilliant slim design that is not heavier than the normal standard laptops. Yes, it comes with a high price, but you will be getting yourself a powerful gaming laptop worth every penny.