Advances in Gaming Laptops
Jun 19, 2019
When people wanted something that they could do their work on and entertain themselves while they were away from their personal computers, they would turn to laptops. To further enhance this experience, gaming laptops were introduced and while they did perform better than your conventional laptops, both in terms of gaming and work, they could not become too popular. The problem that they faced was that they could not give enough time for a gaming session as the battery would run out fast. They were also much bigger in size which made them a pain to carry around. Lastly if you wanted them to match performance of a desktop computer then they would be way more expensive. However, recent advances in technology have allowed for the manufacturing of laptops that could perform better without overheating, have power efficiency and much smaller size.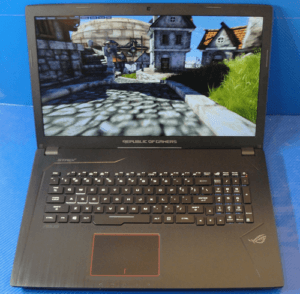 Advantages of a Laptop over Desktop
People will still compare them to your desktop though and there is no doubt that gaming laptops can't win against the processing power and capabilities of a stationary rig. That should not be a reason to give up on laptops though, they have their own advantages that desktops don't. One of these advantages is that you buy the complete package and don't have to look for individual parts which is a case with many gaming desktops. Second and biggest advantage is portability. You can play on your laptop anywhere you want as long as the battery is charged. Other than these developments, let us take a look at some of the most recent advances that have taken place in gaming laptop sector.
Detachable Components
This year's CES has unveiled some very innovative ideas for boosting the utility and capabilities of gaming laptops. The Alienware Area-51m is one such example where you can swap out it's GPU or CPU like you would in a desktop computer; this gives the laptop versatility and value than others as you are not stuck with just one configuration. Other than that, it already has a processor that rivals your usual gaming rigs and it is much more compact in design. Another laptop that was unveiled at the event using this concept is the Asus ROG Mothership but instead of the CPU or GPU, it has a detachable keyboard and screen that can be turned into a monitor.
Boost in Raw Processing Power
If you are the type that wants the best throughput from your machine no matter what game you play, then you will be happy to know that gaming laptops have been improved in terms of raw processing power. An example of this is the reveal of the Razer Blade 15, also known as the Razer Blade Advanced, with its 9th generation Intel i7 and the powerful Geforce RTX 2080 Max-Q. It also maintains its slim and sleek appeal while having a low weight. Another example of powerful development in laptops is the MSI GS75 Stealth, which also has the same processor and GPU specifications as the Razer Blade 15. Since the GPU is the biggest factor that determines the performance of a gaming laptop, it is good to see the integration of such hardware. There should also be a mention of the Asus ROG G703 with their implementation of three SSDs; this makes the G703 one of the fastest laptops you can get.