Microsoft's 2018 Surface Go LTE - Why You Should Wait and Not Go
Feb 15, 2019
If you're on the road more than you are home, you have to be tempted by a PC this portable. It's like cat-nip for road warriors. It has built-in 4G to keep you connected wherever you are so that definitely makes it even better. However, performance and pricing that are less competitive make the Surface Go LTE less compelling to pick up.
We try and keep everything that we see and handle in the utmost of regards with their competitors and attempt to stay as neutral as possible, but, we are Surface fans. The Surface Go LTE might be one of the best PCs ever made.
When Microsoft released the much smaller Surface for us people that are more on the go, it was going to be a for sure win. The hardware is also pretty dope. One of the things that are less glamorous is the thick bezel around the display, but everything else concerning this 1-pound magnesium device is fantastic. Yes it's only 1 pound so you can sell your laptop and stop worrying about too heavy backpack.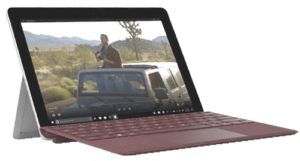 Features
It has a sturdy kickstand that allows you to position it from flat, to everything in between. Also has a microSD slot conspicuously tucked in behind the unit. It has Windows Helos that allows you to gain access to it using only your face as well as Windows 10S for the back to school content software. But if you're not a student, then you can opt for the Windows 10 Pro. The Surface Go is easy to hold one-handed and it's small enough to fit on any airline seat-back trays. Really, it's comfortable everywhere except on your lap, but that's been that way since the first Surface.
4G modem
While not everyone needs a built-in 4G modem, but once you have had it, you will wonder how you ever got along without it. Think about how many times you've been in a conference or an airport and you're on the same WiFi as everyone else. That bandwidth can be chewed up super fast leaving you with very little connectivity. However, with this Surface Go, all you have to do is enable the cellular connection, and you're good to go.
It's not only about the connectivity either. Sometimes when you're on a public WiFi hotspot you are putting yourself at risk with other people being able to gain access to your device and your sensitive information. With the built-in 4G, you just connect and go.
Battery Life
With everything good, there is usually something that off-sets it with a bad. This is no different. Why do I mention this? Because the Surface Go, with its Intel Pentium Gold processor and LTE modem, simply does not have great battery life. In fact, if you keep the cellular date always on and adjust your settings to the best performance, you will only get about 4 hours between charges with normal usage. That's not awesome. Obviously, that will fluctuate depending on how you use your device, but even being power conscious, it ran out pretty quickly. It's possible to make the battery last longer by lowering your performance levels, but most people aren't going to want to decrease their performance for a longer battery unless they are in a sync. Especially when it has a tendency to slow down quite easily on its own.
Pricing
Finally, let's talk about the pricing of this guy. The type cover is compact, comfortable, clever, and best of all, it's NOT included. So, if you want to type you'll have to drop another $130 for that capability, and if you want the LTE as well, you should factor in another $130. At the end of the day, you're looking at around $800 with LTE and the type cover. There are more powerful Microsoft devices running core i5 and i7 processors at the same price point.
Conclusion
That being said, you may still love the portable package and it does achieve many other factors. The display is beautiful, it has pen support if you want to spend another $100. The webcam is pretty much better than most, and the speakers are going to give you better sound since they are front-firing.
The main problem here is the power consuming processor. Until Microsoft refreshes it or uses another one that is more efficient, it's kind of difficult to recommend with a clear conscious. But if you are selling your computer online to pick up a few extra dollars along the way, maybe that won't concern you as much.