Is Lenovo's Big Style-Big Idea 15.6-inch Chromebook Too Big to Fail?
Feb 14, 2019
When I think Chromebook, I think low cost, low capability devices for school kids or super premium, super portable Pixelbooks for Google employees. I never think of gigantic desktop replacements. However, Lenovo's yoga Chromebook C630 is just that.
Since it is difficult to get a sense of scale in an article, take a look at the comparison between the Yoga Chromebook alongside the biggest laptop that Apple offers, the 15-inch MacBook Pro, which is not a small laptop. Part of the reason this is such a massive machine is because of the 15.6" touchscreen display, which is available in either full HD or 4K resolutions.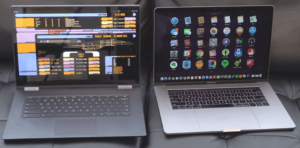 Size and Weight
This is not a light machine either, tipping the scales at 4.2-pounds, thanks to an all-aluminum casing. Space is used well though. For ports, you've got a single USB-A and a headphones jack as well as two USB-C ports, both of which are enabled for charging. There's also a microSD slot, though on a machine this size, you might think that you'd get a full-size SD card, we don't.
Not to keep harping on the size of the thing but it's just a little absurd to see Chrome OS on such a beast. Lenovo says that it sees this product first and foremost as a media machine for people who want a big display for things like Netflix and YouTube. That's part of the reason it has a reversible hinge, and it's probably why the battery isn't as big as you'd expect given its size and weight. The thing is, this isn't the kind of laptop that you are going to want to cart around town much, so Lenovo expects customers to keep it plugged in more often than not.
Chrome OS
As for the somewhat limited nature of Chrome OS, there is a whole generation of students now who grew up on Chromebooks. They are comfortable with the software and some of them want to run it on more capable or more specialized hardware.
Competition
If you are one of those folks, or you just want to experience this gargantuan indulgence, you would at least pay less than you would for a Pixelbook. Prices start at $599.99 for the full HD version with 64GB of storage, stretching up to $749.99 for the 4K model with 128GB of storage.
When you get in the store and you are comparing your options to sell Macbook Pro and buy this computer you will get the 8th generation Intel Core i5 on a Chrome OS platform. It measures 14.23" x  9.8" x 0.7", and weighs in at 4.2-pounds. Display options are 15.6" UHD touchscreen or a 15.6" FHD touchscreen. For your graphics experience, you will have an integrated Intel HD graphics 620 cards. Your RAM isn't huge at only 8Gb of DDR4 and neither is your storage area of wither 64GB or 128GB, however, your battery should get you about 10 hours on a single charge.
Conclusion
As you can see, this is a monstrously huge machine when it comes to its internals, but it does have a good screen and decent battery life, and with the ports available, you won't have any issues adding extra external storage devices.
Lenovo began selling laptop in the late months of 2018 in order to get it fielded in time for the holidays. So, it's not too late to pick one of these up now while they are still on the scene and they are still a really good option for students and the non-creator or gaming types.