The Leaked OnePlus 7 Looks So Fresh and So Clean!
Feb 11, 2019
So, here we are with some leaks from slashleaks.com about the OnePlus 7 and its new look. The photo on slashleaks.com speaks volumes about what this cell-phone is going to look like. If it's accurate, it's going to be a phone with no notches, no cameras and nothing on the front screen. it's going to be a thinly bezeled phone and it's going to look super clean.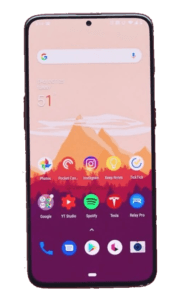 We've seen other notchless phones from other companies before, like Vivo, Huawei, Xiaomi, and Lenovo. They all have these notchless, cameraless designs that look good, but this might be the first notchless and obstruction free phone that we see readily available in North America. So, it'll work with Verizon and whatnot.
The way that they have achieved this look in through a sliding mechanism. It's not clear if it's a sliding pop-up camera, or if it's a more traditional slider mechanism, but the camera holes in the leaked photo really say something about how the camera is going to work.
Sliding phone
When I first saw this, the first thing that popped into my mind is that any kind of sliding phone and the sliding mechanism is going to have more potential problems with more moving parts and more risk of failure. However, we have seen some really durable sliding phones over the years like the Sidekick phones, some really good Blackberry phones like the D Tech phone, the Prive, were all really well built. This can be done if you build it properly and I think we can assume that the OnePlus 7 will be well-built because OnePlus phones tend to have good build quality.
Having a sliding mechanism in any phone is going to take up space. You have to have a rail system. You have to have different layers of materials to cover the two halves of the phone. In the end, it's essentially two halves and a phone that slide past one another and that takes up a lot more space than not having a sliding mechanism.
No headphone
It's kind of weird because OnePlus removed their headphone jack for the sake of saving space and they have a user base that loves the headphone jack, but this is the state of the industry right now, we're in a market where phone companies have to do stuff like this. They have to focus on aesthetics to differentiate themselves among everyone else. How do you sell a phone that fundamentally isn't any different than all of the other ones out there? This. You do something like this and it works. It's such a cool looking phone.
It also says something about OnePlus as a company. These guys develop fast. They went from the notch on the OnePlus 6 to the teardrop notch on the 6t and now to this in the span of about 12 months. From a regularly sized notch to a notchless slider phone. They are the first to market this technology, but they are bringing it to the masses. It'll probably have the Snapdragon 855 and then further down the line, they'll have a more premium 5g version.
Pricing
The most interesting this about all of this is pricing. OnePlus started off with excellent pricing, but at this point in time, they are not really a budget brand. Once you pass that $500 mark you lose that budget tier and they are clearly past that tier. They are in a very saturated mid-tier market, but they are doing well in this market. The last version, the 6t was priced a little bit higher than I liked. It was a great phone and by no means a cheap phone.
If the OnePlus 7 looks like those renders and leaks, I'm guessing it'll be about a $600 phone. it'll be a great looking and clean phone, and they'll package it with all of the good stuff like Warp Charge and Oxygen OS, but a lot of that price premium is going to go to the relatively unique look and design of that phone.
However, if it's a bit out of the price range for you or you just want to grab some cash online, there are always ways to sell phones and electronics that are broken to earn extra spending money to fill in those market pricing gaps.