14-inch Lenovo Yoga 710
Dec 16, 2018
The Lenovo Yoga 710 is a 14-inch convertible PC or a 2-in-1 as it's often referred to. There are also the 11 and 15-inch models, but the 14-inch is the sweet spot. The 14-inch screen is big enough to accept good video content of playing games yet is only 3.5 pounds and 0.58 inches thick at its thickest side, so a lot is going for it.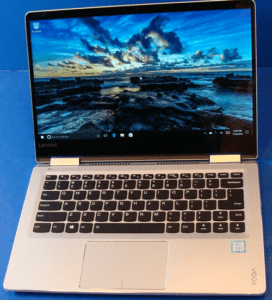 Pros
The Yoga 710 can be rotated 390 degrees which allows it to a full-tablet mode which means you can use it for dual purposes – for the office environment or casual usage. Also, because of its large real estate, it has great multi-tasking ability and the glasses are edge-to-edge which means it has very little bezels on each side. It has JBL speakers and produces great sound and under the hood there's a lot of power. There's a 6th generation Intel Core processor, up to 8GB of system memory or RAM, up to 512 SSD system storage and really good battery which can go up to 8 hours of WiFi surfing time. In addition to the laptop and tablet mode, there is the stand mode and which has the keyboard tucked in and there's the tent mode as well which is perfect for use in cramped spaces.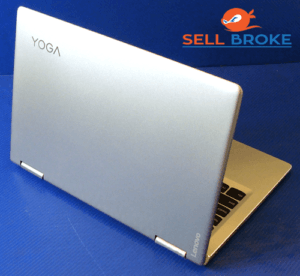 Cons
On the downside, the trackpad is a bit more sensitive around the bottom edges which for most persons used to center sensitivity would take some getting used to. Also, the speakers which are positioned on the underside of the device could be completely muted if you are using them on your bed for example. The positioning of the microphone close to the fan is another downside on this device as during heavy tasks when the fan is at full speed, and you can't use the microphone as a result of the sound it produces at the background.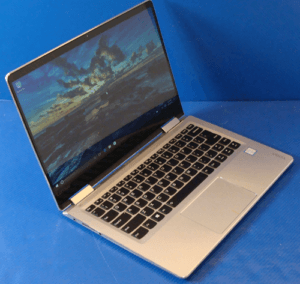 Summary
Lenovo is known for selling laptops of high quality. Overall the Yoga is a premium PC, definitely on the higher end and starting at $849; it's pretty cheap. The design and build quality are very good. Also the performance can easily compete with a lot of more expensive machines. If you're looking to sell your laptop in order to get extra cash for the new one, SellBroke is here to help.