Happy Thursday to all of you great people out there. Here's to a great week ahead.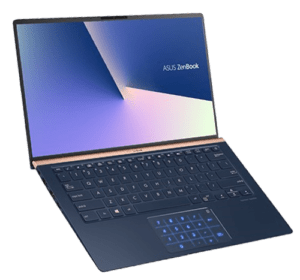 In the past, we've done a lot of shopping around for comparable devices to compete against various Apple products, and of course, a lot of brands sell laptops that are alternatives to Apple's MacBook series. Today we'll talk about an alternative to the MacBook Air. Recently, we've been very keen on the fact that Windows laptops seem to have more options. That's where the new Asus Zenbook 14 comes into play as a very valuable and premium ultrabook.
The new Asus Zenbook UX433 comes in a 13″, 14″ and 15″ screen and weighs in at around 2.4 pounds with a price tag right about $1,000.00. The 14″ laptop probably has the best form factor and is the best of the bunch.
Footprint
Because this device has such thin bezels, this device has a very small footprint for a 14″ display. Usually, a device with this kind of footprint would have thicker bezels and the screen would be 13″, but with the thinner bezels, we get a 14″ display.
Display
The display is a 1080p panel with 330 nits of brightness and color accuracy of sRGB 99% and Adobe RGB 72%. It's not a super high-res display but the colors are good as well and the brightness, and despite having such thin bezels, the webcam is still up top.
Keyboard
Another thing that is nice about this laptop is the keyboard. When you open the lid, the keyboard in the back lifts up a bit. They call it Ergo Lift. The slight lift really is something that I like, plus it also helps the airflow under the laptop and keeps it cool. It only tilts about 2º-3º, so even if you are one that's not super keen on a tilted keyboard, it may be slight enough to where you don't even notice. The layout of this keyboard is quite nice and it's a layout that I guess most people will get used to quickly and will enjoy it.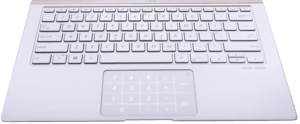 Trackpad
The trackpad uses Windows Precision drivers and it's a great trackpad with a glass surface. It also has a new feature where you click the top-right corner, a keypad lights up. Now, Asus is showing off this feature in a lot of the marketing materials and it's cool and looks really cool, but functionally, it's not quite there yet. Since it's using a touch sensor, the speed of the input gets compromised a bit. It can only go so fast since it's not mechanical, and it's invariably going to miss some input gestures. It looks really good, and it's a really neat idea, and maybe they can tweak it a bit with software, but if you're going to use a number pad, generally you want to be able to use it as fast as possible and with this feature, it's not quite that fast.
Ports
It has a decent selection of ports. The one I would say was missing is Thunderbolt 3. It has a USB-C port but it doesn't support Thunderbolt 3 and in addition to not supporting T3, it also doesn't support charging USB-C, and with a device like this it would have been awesome if it had USB-C charging. The one that they use is a barrel plug.
Performance
On the inside, we're looking at soldered on RAM and Wi-Fi card and you can replace the NVME if you want. The CPU it's using in here is the new Whiskey Lake 8th Gen CPU. It's a little better than the Kaby Lake ones with a little it faster clock speed. That's the big difference, and it goes to 4.6 gigahertz on boost.
The battery is 50 watt-hours and with the display at 250 nits, it'll get about 8 hours of normal usage.
The speakers on this are great. A lot of the Zenbooks have good sounding speakers. They're never in a great position on the bottom of the laptop, but they sound good.
The performance on the Zenbook is pretty good. It's running a 4-core CPU and also an MX 150. It's a 2GB video card that's decent for light gaming, and it's better than a lot of the laptops that only use integrated graphics.
Thermals
Thermally, it's a good performer. It doesn't get super hot or too loud. It fits the ultrabook genre quite well. No matter where you take it no one is going to complain about its noise.
Build quality
The build quality of this machine is good, but it's not as good as a MacBook. MacBooks still have the best looking and best-finished laptops on the market. It's not a unibody construction, but it's still well-built.
Conclusion
This is a device that starts at $1,000.00. For that money, I feel like you're getting a lot of really good stuff. It has great performance, it's well-built, it's got the keypad featured in the trackpad. I think it's hard to find this kind of value with this kind of build quality anywhere else. If you're looking at the MacBook Air and also looking for an alternative, this Asus is a really solid option.