Thin Style Gaming with an EVOC 16GK5 HIDevolution 15"
Dec 07, 2018
To wrap up the week we are going to take a look at the new EVOC 16GK5 HIDevolution 15" gaming laptop. This is a very powerful and capable gaming laptop. But is it worth picking up?
This laptop is available exclusively from HIDevolution.com and the base price starts at $1,199.99. The particular piece in this review we have a few upgrades like the 15.6" full HD IPS panel running at 144 Hertz. Also, the display was professionally calibrated, upgraded to 16GB of faster DDR4 RAM, and it has a Samsung 97 Evo NVME drive as the main boot-up drive. As recommended there is also a thermal interface upgrade package and it reduces the temperatures dramatically. With these upgrades, you can expect to pay $1,900.

Design
This laptop is very thin and light for a 15" gaming laptop that weighs 4.4-pounds and is about 0.86" thick. This is one of the thinnest laptops of this size available.
The bottom panel is made out of plastic but it feels very sturdy and well-built. They did a very good job putting this thing together. It is kind of a pain to remove 18 screws to get inside, but once you do, you'll see a 46 watt-hour battery pack, a Seagate 1TB Fire CUDA SSHD, a 500GB Samsung 970 Evo that has incredible speeds and performance (R: 3250 MB/s, W: 2485 MB/s). Additionally, there is an extra m.2 slot, two slots for your RAM expandable to 64GB, an Intel 9260 wireless AC card, and a dual fan setup.
Display
This laptop has a 15.6" full HD IPS panel running 144Hz. This panel has excellent color reproduction, wide viewing angles and it's just an overall great panel to complement the GTX 1060.
Ports
Along the two sides, you'll find a Kensington security lock slot, exhaust ports, an RJ45 Ethernet port, USB 2.0, microphone and headset ports, two USB 3.0s, and an SD card reader. On the back, there are two miniDisplay 1.4 ports, a full size HDMI 2.0, a USB-C and lastly, the charging port. I really like the charging ports in the back of devices.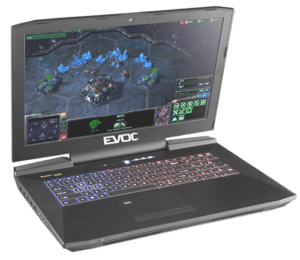 Keyboard and Trackpad
The trackpad is fairly large and very comfortable to use and smooth to the touch, and it's powered by Windows Precision drivers so it's very accurate with scrolling and navigation.
The mechanical keyboard on here is amazing. It feels incredible to game and type on. It almost feels like a desktop machine. Overall, the experience is awesome.
On the top part of the keyboard deck you have the power button and turbo boost mode for fan control. Though you can them running the fans are very efficient and not too loud or overbearing. With the cooler boost on they can be heard and rise up to about 56 decibels.
Performance
This laptop features the Intel Core i7-8750H which is a very capable 6-core processor that's very powerful and efficient.
The GPU is an NVIDIA GTX 1060. It would be nice to have a 1070 option, but for a thin and light laptop like this, the 1060 is more than enough.
The CPU and GPU tests were super impressive after 35 minutes of gaming the average CPU temp was 75ºC and a max of 83º. The GPU tests were equally impressive coming in at 74ºC. The thermal upgrade is a great investment of less than $100.
The 46 watt-hour battery pack is pretty weak with only less than an hour of gameplay and only 2-3 hours of casual usage with medium to low screen brightness.
The speakers are facing towards the bottom-front on the side and the sound quality is adequate, but the levels are low being under 71 db.
Conclusion
Conclusion, the light, slim form factor profile is definitely a big plus. The 15" full HD IPS panel running 144Hz is very nice with great color accuracy and the brightness levels are great. The GTX 1060 offers enough power for most of today's games. The design and build quality is top-notch, everything feels sturdy and well-built. The mechanical keyboard is super comfortable and a pleasure to game on. The thermal management is very good and though the battery life isn't too great, it's understandable given its build profile. The price can get steep once you add some upgrades, but you can always sell your laptop before getting this one and put that money towards your new purchase.