ASUS GL753 Kaby Lake Gaming Laptop
Nov 17, 2018
The Taiwanese company Asus sell laptops for gamers under the ROG series name. Those computers are well respected for great performance and design. Another ASUS GL753 is an Intel Core i7 GTX 1050Ti gaming laptop with 16GB of RAM, 253SSD/1TB storage, four-cell battery, and a 17.3-inch screen. It also has a 1.2mp HD camera with FHD anti-glare matte type screen at a resolution of 1920 x 1080.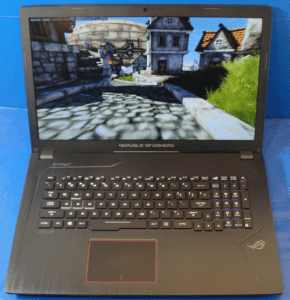 Ports
On the left side of the device are AC power adapter port, RJ 45 port, mini display port, HDMI port, two USB 3.0 ports, one USB type C port and a headphone jack. On the right, there's a USB 3.0 port, a USB 2.0 port a DVD drive and the Kensington lock.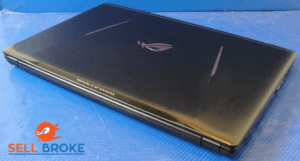 Internals
Taking a look inside the laptop, you would see that the entire device is cooled by a single fan which does an excellent job of keeping the noise down. There's an SD and HDD drive slot which can be both be upgraded, a RAM with an extra slot which gives room for more RAM space, battery underneath the device and speakers up top.
Keyboard and trackpad
The GL753 features a fully backlit keyboard that includes a full number pad 2. They keys have excellent feedback whether typing or gaming, with a small amount of flex on the surface but nothing to bother about. The trackpad has a nice matte finish with excellent feedback and zero dead zones.
Features
The weight of the device is just 6 pounds which is just perfect for a device with its features. The battery life of the laptop is decent and would give 4-5 hours of use time when running basic tasks like document and web browsing.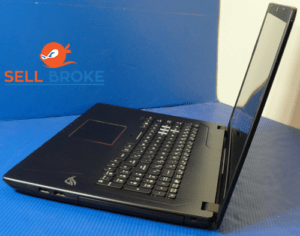 Performance
The temperatures of the laptop while gaming are concentrated around the keyboard and bottom of the screen, and overall, the temperatures are very mild. Examining the sound from the device while gaming gave about 43.3 decibels from the top and at the side where most of the heat comes out from it gave readings of 61.1 decibels. Gaming on this device is just average but considering it's got just a 1050Ti graphics card, its okay. Real world test with Tomb Raider gave about 73fps on low settings and 54fps on high settings.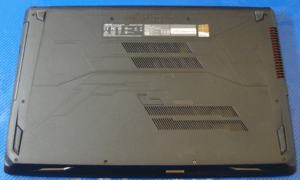 Conclusion
Overall, the ASUS GL753 is a decent gaming PC especially for its price and with a lot of upgradable parts, can perform even better.