ThinkPad P1 from Lenovo (2018)
Oct 26, 2018
This is the Lenovo ThinkPad P1. This is a workstation grade laptop that is geared towards professional use. You can play games on it because it has a very respectable graphics card, but it's not geared for gaming in particular.
This device is a thin and light workstation. It's 3.75-pounds, 14.-inches by 9.69-inches by 0.72-inches, it's clearly built around portability, and it looks really good.
It's covered in a soft-touch material and for some of you users out there that might not be super awesome. It seems that when devices are covered in this type of material, that over the years it tends to get gunky and gross and just degrades over time. So far, on this device, it hasn't shown those propensities. It also doesn't reveal any fingerprints readily and Lenovo seems to sell laptop with a decent soft-touch product, but only time will tell for sure.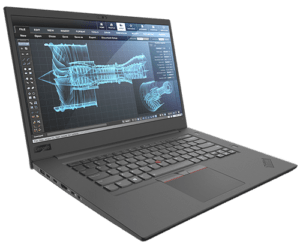 The ports on this device are good, there are a bunch of USB-As, two Thunderbolt 3 ports, and an SD card slot.
The build quality of this device is excellent. It has almost zero screen flex and no flex in the chassis, it's built really well. That's something that we've grown accustomed to; Lenovo building well-built devices.
The build quality also extends onto the bottom of the device as well. With 6 screws the bottom panel comes off really easily. You don't' have to worry about losing the screws because they are held in place on the base plate with C-clips. This gives you access to basically everything, like your WiFi card, your two RAM slots, and two NVMes. This device uses ECC memory up to 64GB, which is crazy on a thin and light notebook like this, and it's running an Intel Xeon processor. This has really been built with professional usage in mind.
The battery pack is a respectable 80 watt-hour battery and get about 7 hours of usage with the screen at 250 nits (of 390 nits). The charger that comes in the box actually supports fast charging. That means in about 30 minutes of charge time you can get about 5 hours of work out of it. That's about 80% full in only half an hour.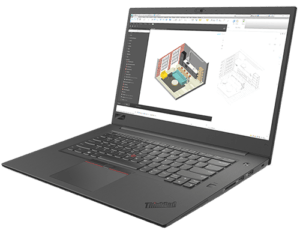 The screen on our unit is a 4k panel and it's bright, colorful, really accurate and touch sensitive. It has a rating of 99% for both sRGB and AdobeRGB. The base model does offer a 1080p version.
The bezels are not super thin and it clearly has a chin, but that allows for the webcam to remain in the traditional position up top. This is good for those of you that do a lot of video conferencing or video chats.
Maybe one of the best parts about ThinkPads are their keyboards; they are excellent. The only thing you may trip up on at first is the locations of the Control and Function buttons. It's set up like a MacBook Pro and has the Function key placed on the outer left bottom corner and not the Control key. This is not a big deal and it's something that you'll get over quickly.
The Windows Precision trackpad is really nice. The mechanical buttons are located on the top of the pad and that's something some people really do enjoy still are mechanical buttons. It also has a Track Point, that's the little eraser looking piece in the middle of the keyboard that substitutes for a trackpad. Some really like it, others like me ignore it.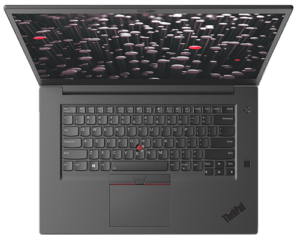 This laptop has excellent CPU performance. The Xeon processor performs better than the more common 8750H. Depending on what applications you use and what you use your device for, this processor may, or may not, be what you need. It does work extremely well with Adobe Premiere.
The GPU they use is the Quadro P2000 Max-Q, and it's most similar to a GTX 105 Ti. Since it's mostly geared to professional applications you won't get amazing gaming results.
The thermal performance of this laptop is surprisingly good. Since it's a thin and light workstation we were expecting a decent amount of throttling, but it actually maintains the boost clock very well. Also, even on max load, the fan noise isn't too bad. Lenovo did a really good job on the thermals.
The audio sounds respectable, the speakers are not amazing and since they are bottom-firing they aren't in the best position. However, the actual quality of sound that comes out of them is decent.
Overall, this is a really good product for its intended market and that market is of the production worker. If your main goal is to play games, this is really not built for that. If you're a casual gamer, that's fine, they'll run, but anything much more than that, you'll have to look for another laptop. The main purpose for this device is for the workstation user. Also, if you have the Lenovo Pen you can use the screen as an artboard and it also lays totally flat for drawing.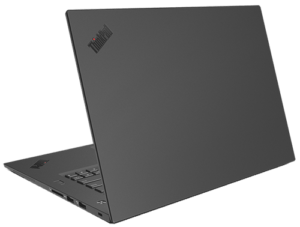 This laptop is best served for someone that has a CPU heavy workload. As for the GPU, it's really good, but it's not intended for a super heavy workload.
One thing about it, it's not cheap. On the base model you're talking a starting price tag of $1,700 - $3,400. So, maybe you'll need to sell your old or broken laptop first to gain a bit of cash to put towards it.