Is this the thinnest gaming laptop in the world?
Oct 16, 2018
OK, so we're going to step cool into the week with a 15" Zephyrus S GX531 made by Asus. The big thing about this product that is most unique to it is the thermals. Not uncommon is the thin and light gaming laptops these days. We have seen lots of other brands that sell laptops for gaming doing it like MSi, RazerBlade, and Gigabyte. They are all making thin and light gaming laptops, but we think Asus is doing it best because of the thermal solution that they used.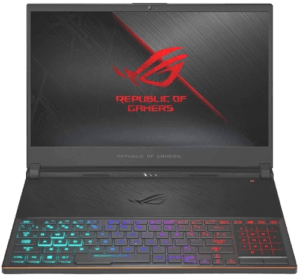 Airflow
When you open up this laptop it has a hinge that opens up an air gap underneath the rear of the laptop. In doing so, it allows for a lot more air flow. The air goes from the top of the keyboard deck and gets spit out towards the back and the sides. On a traditional gaming laptop, this type of airflow isn't possible. They keyboard itself would be up there and that wouldn't allow for the air to flow freely. The Zephyrus S and the original Zephyrus has the keyboard shifted down where the palm rest usually is on a standard keyboard layout. However, due to this design, the laptop has incredible thermal performance. You are able to maintain max boost clock with any kind of workflow, benchmark, or gameplay just because of this thermal design.
Overclocking
Zephyrus also has software that allows you to tweak settings and adjust lighting and such, but also in this app there is a section specifically for overclocking. If you don't know what overclocking is, it is the action of increasing a component's clock rate, running it at a higher speed than it was designed to run. This usually applies to the CPU or GPU. With this, they are able to give you the world's thinnest gaming laptop and they're able to overclock the GPU!
Our tested device came with a GTX 1070 Max-Q and you can overclock it to a point where it runs almost identical to a regular GTX 1070. That is really impressive on such a thin device, and that allows for an overall fantastic gaming experience on this laptop.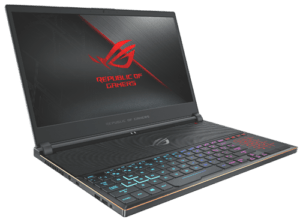 Keyboard and Trackpad
In order to get this kind of performance, Asus had to shift the keyboard down. This raises the questions of "is this keyboard comfortable?" "Is this trackpad comfortable?" There is no doubt that your first few days will be a totally different experience. If you're a left-handed trackpad user you are screwed on this layout since it's on the right. However, we do believe that you can get used to this kind of keyboard relatively quickly. Especially, if you're right-handed. Since there is no wrist-rest on the laptop it feels more like a desktop keyboard.
The trackpad is a different story, it'll probably take more than a couple of days to get used to. This may not be your first experience with the trackpad located on the right of the keyboard, but if it is, this is something that you'll get used to over time. You can change the trackpad into a number pad at the click of a button. The trackpad has a great feel since it's equipped with Windows Precision drivers. You'll also probably like the button mechanics since they are so good.
Two minor complaints would be that there is no Print Screen button anywhere on the keyboard and the lighting is pretty dim. That means if you're looking for that crazy bright light RGB experience, you won't find it here. It is an RGB lit keyboard, but it's more subtle. The rest of this device is really good.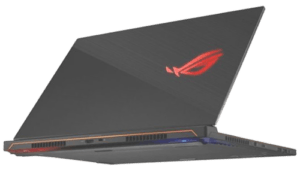 Display and Speakers
The display is really good with its 144 Hertz and 3-milliseconds response time. It's a really fast gaming laptop screen. It's probably the fastest gaming laptop screen on the market today.
The speakers are also in a great location. They face the user and you get pretty good sound quality with them.
Battery
The 50 watt-hour battery life is short with only 2.5 hours, but on the whole, this is something that a lot of people are going to enjoy.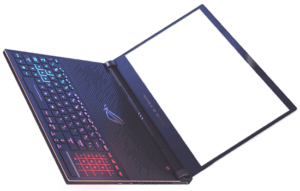 Pricing
It runs for about $1,800-$1,900 depending on the configuration and it's hard to convey in print just how impressive this device is. It has the fastest screen, thinnest chassis in the world, and has the best thermals you can ask for at the moment.