Asus GL502VM Gaming Laptop
Oct 10, 2018
The Asus GL502VM also known as the ASUS Strix 15. The laptop goes for $1400, cheaper than most standard gaming PCs which means some compromises have been made to its design. That's because Asus wants to sell laptop computers to different buyers. They market the GL as a cheaper option than ROG Strix SCAR that we reviewed earlier this year. For example, it lacks an SSD and struggles to play some games at the highest level. However, it comes with a 7th gen Intel Core i7 processor, 12GB of RAM, 1TB HDD, and Nvidia GTX 1060 video card.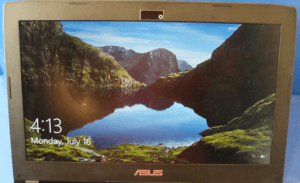 Display
It has a full HD 15.6" anti-glare screen at a resolution of 1920 x 1080. The display hinge gives you about 125 degrees of movement, and there are two speakers with a form of an orange slit on the side of the hinge. The sound quality is okay, nothing more.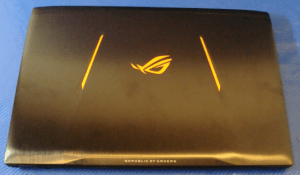 Design
It has a black, brushed metal finish that looks pretty minimalist but has a couple of features which are typical gamer aesthetics like the ROG logo and an orange streak on the sides of the logo which all light up when the system comes on. Moving inside you would find the same black and orange colored skin, but the surface is more of a brushed plastic. It has a built-in HD web camera above the display.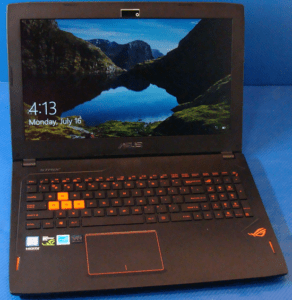 Keyboard
The GL502's keyboard features a standard layout with a whole number pad. The keys W, A, S, and D are highlighted in orange which accents the rest of the laptop. The keys are comfortable to type on though there's little flex when typing on the key surface. Also, there are not too many options as regards color choices for the backlit keys. You would also notice that the keys are orange with black print and this stands out.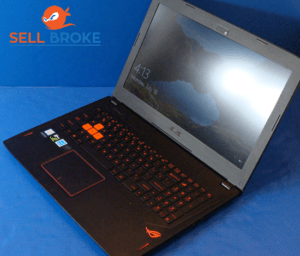 Ports
On the left of the device is a USB 3.0 port, Ethernet, mini display, HDMI and USB 3.1 Type-C though it lacks thunderbolt connection. On the right are two USB 3.0 ports and an audio in/out. There are some vents around the back and bottom for heat dissipation.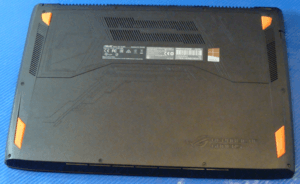 Battery
Powering this device is a 4-cell Lithium-Ion (64WHrs) battery with a 180W AC adaptor. The battery is pretty impressive, and it performed decently on most GPU intensive tasks like for example when we ran the Tomb Raider 2013 on it, it lasted almost 2 hours, better than most gaming laptops.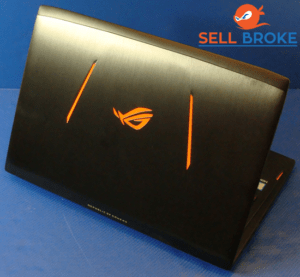 Conclusion
Overall there's nothing out of the ordinary about the ASUS GL502VM. It plays the low demanding games pretty well, but for more demanding games you would have to turn down some of the knobs and dials. But this can be said about any 1060-based gaming laptop. The Asus is still among the best and at $1400, this laptop is highly recommended.