2018 Dell G3 Laptop
Oct 01, 2018
Today we will discuss the new Dell G3. This is the entry model to the all-new G Series line. This one features a Core i5-8300H, 1TB of storage, 15.6" FUll HD IPS display, 8GB RAM, and a GTX 1050 graphics card, and its starting price is $749.99 USD. Dell figured out a way to build and sell laptops that are universally used for work, entertainment and social life.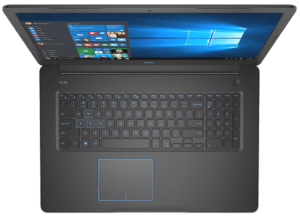 Design
This black laptop weighs in a 5.57 lbs and is just 0.89" thick. It is made out of all plastic but it still has a pretty good-looking design and it feels pretty sturdy. You also still have that beautiful blue Dell logo. Keep in mind this version also comes in an Alpine white that looks really good too.
Display
The 15'6" Full HP IPS anti-glare display does have poor color accuracy at sRGB 64%, Adobe RGB 48%, and 250 nits, however, the viewing angles are pretty decent. At this price point, it's a decent panel overall.
Keyboard and Deck
The interior keyboard deck is also made of plastic. You have the G3 logo on the top left and the trackpad has baby blue borders to give it some extra pop. The black and blue finish looks really good.
The keyboard looks and feels like the Dell G7 and the cons are the blue backlighting can be tiring on your eyes after prolonged usage and the keys feel kind of shallow. However, the spacing is excellent and the feedback from these keys feel pretty decent.
Trackpad
The trackpad surface does feel kind of rough and it's not that smooth. When you tap on it really hard you hear some weird clicking noises, but the good news here is that it does use Windows Precision drivers so the two-finger scrolling, multi-touch, and tracking are really responsive.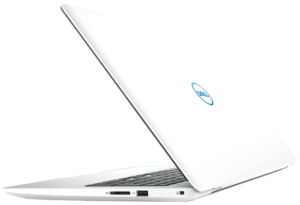 Accessibility
The G3 is pretty easy to access but not super easy like the G7 that only has one Phillips screw. This has 10 screws that you must remove in order to gain access.
Once you get access to the internals you'll see your 56 watt-hour battery, 1TB @5400 RPM drive (base model), dual fan setup, 8GB of RAM expandable to 32GB, an Intel 9462 which is the culprit on this laptop. If you plan on gaming, make sure you upgrade to the 9560 and lastly, you'll see your slot for your m.2 SSD.
I/O
You do get a decent amount of I/O on this laptop, but unfortunately, on the base model it's missing the Thunderbolt 3 port, but it can be found on the GTX 1060 model. Listing the ports you'll find a full-size HDMI 2.0, an RJ45 Ethernet, 2x USB 3.0s, a headset/microphone combo, an SD card reader and a USB 2.0.
Performance
This model has the Core i5-8300H processor which has four cores. If you bump up to the i7 model it has six cores. This i5 isn't a monster compared to the i7, but it definitely holds its ground as a very capable processor.
This configuration came with a GTX 1050 and generally speaking we like to see a GTX 1050 Ti or above. You can also get a GTX 1060 for best performance. On high demanding games, it yields about 55-65 fps with medium settings and 1920x1080p. However, less demanding games will give a better performance with the GTX 1050 averaging about 85-95 fps on ultra settings with 1920x1080p.
The webcam is of standard quality that gets the job done.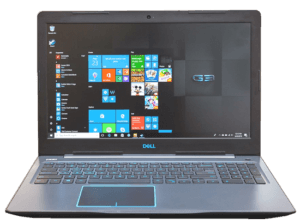 Cooling
Most of the heat is pushed towards the back of the G3. This device did run a bit warmer than the G7 did. On average you're looking at 80º -85ºC on the CPU and an average of 77ºC on the GPU with a high of 91ºC. With the fans running at max load you'll get 47-49 decibels which are pretty respectable.
Audio
There are two bottom-facing speakers towards the front and the sound quality is pretty decent, but if they were facing towards the front like the G7, they would sound much better.
Battery
Battery performance is pretty decent coming from a 56 Wh battery pack with 4 - 5 hours with medium screen brightness and light-duty activities. If you plan on gaming on it you should expect to see around 80 minutes.
Conclusion
This i5-8300H has plenty of horsepower for most demanding tasks and the overall build quality is pretty decent. If you so get the base model with the 1TB you may think about replacing the slow 5400 RPM drive with something faster. That was the main bottleneck on this computer.