If you only have a laptop in your home or have cut your cable service as many people have, and you are looking to use a file sharing protocol, that is called a BitTorrent. Transfer files to your computer or laptop using software known as a torrent client to download those files to make the process quick and easy. Though torrents are well-known for illegal file sharing, there are many legitimate uses as well. Whatever your reason is for downloading them, here's the top-five torrent clients for use on your computer. To determine the best, many factors were considered including features available, ease of use, and reliability.
If you need an added layer of security when downloading torrents to protect yourself from your internet service provider, as VPN will always help you hide your IP address to secure your torrent download. Just jump on Google and find one that's right for you, there are plenty to choose from.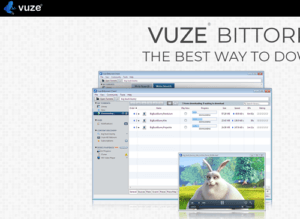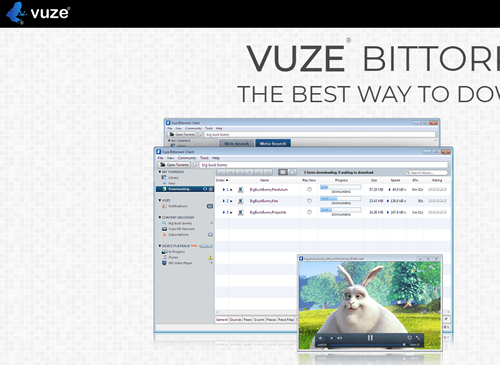 #5 Vuze
OK, starting out at #5 is Vuze. This open source software was initially released in 2003, and it's packed full of features. There's a built-in search tool that checks multiple torrent sites, including its own network fo high-quality sources with just one search. They offer subscriptions that make it easier to find similar content. it offers HD media playback to instantly watch just about any torrent file type, and it can also easily convert your files to be played back on another device. What may turn you off is that the free version of Vuze does contain ads. Other than that, the user interface is designed well making it not too difficult for beginners to figure out how to use it. It's available for your Windows, Mac, or Linux laptop or desktop computer.
While the free version of Vuze includes most of the key features, Vuze Plus, for about $10 a year offers built-in antivirus protection, no ads, and you can play your media while it is downloading.
#4 Tribler.
Tribler was first released in 2009. This relative newcomer is open-source and puts a heavy focus on privacy. They've created their own Tor-like Onion Routing network to help keep their users anonymous while downloading torrents. It's a newer feature still being tested, so they are relying on feedback from the community to make it better. Tribler also includes a search box to easily find torrents on the web. A VLC media player is also built-in to be able to play your videos while the download is being completed.
The appearance doesn't look like most of the other torrent clients. Especially with the native dark-mode which gives it a cool look and is easier on the eyes. Tribler is completely free and available on Window, Mac, and Linux.
#3 WebTorrent.
Coming in at number 3 is WebTorrent. It was released in 2017 and can be run inside your web browser without the need to download any software. They now offer a free and open-source desktop app with the ability to watch your content before it's done downloading. Even though their desktop version is still in beta, it runs well and no bugs have been encountered during testing.
In addition to the usual features, it offers the ability to stream your videos to Chromecast, AirPlay, and DLNA. Their interface is unique and minimalistic and also has a native dark-mode to keep your eyes well-rested. To begin downloading a torrent, all you have to do is drop a torrent file or paste a magnet link to get it started. The WebTorrent desktop app is available for Windows, Linux, and Mac.
#2 Deluge.
The runner-up here is Deluge. it's compatible with Mac, Linux, and Windows and was released in 2006 and is open-source as well. It uses a minimal amount of your computer's memory and processing power. This torrent client is for those of you needing a lightweight and easy-to-use program with no frills. If you require more features they offer powerful plugins to customize Deluge to make it your own. Several plugins are included with more than a few dozen more offered by third-parties.
#1 qBittorent.
qBittorent is in the top spot at number one. Launched in 2006, qBittorrent offers most of the key features that most people would ever need, including a torrent search engine, built-in media player, and support for magnet links, DHT, and many others. If you have been using the ad-supported versions of utorrent or BitComet, you'll appreciate the clean-looking, uncluttered user interface of this program. The only thing that it is lacking is a dark-mode, which would make it perfect. qBittorrent is completely free, open-source, and available for your Windows, Linux, or Mac laptop.
If you need to sell laptop or phone check out our website. You will also find a lot of useful information about software and hardware.