11" MacBook Air A1370 Classic Ultrabook
Jul 18, 2018
Ever since its debut in October 2010, the Apple MacBook Air has been hailed by many as a fantastic device. It combines a razor-sharp design with instant responsiveness and at an affordable price. It is perfect for users who need to perform light tasks on the go. In this review, we will be taking a look at the Core i5 version which comes configured with 4GB RAM and 128GB SSD, and it goes for $1199.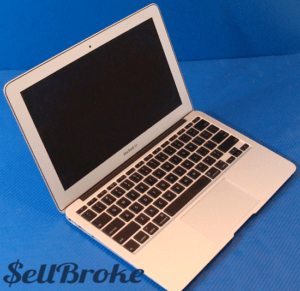 DESIGN AND BUILD
The MacBook Air is thoroughly modern. From its sleek profile and rounded edges to its large glass touchpad and backlit logo, this device is one of a kind. The top and base of this laptop are made of aluminium, giving this device a solid feel. It comes at 2.4 pounds, making it the lightest system in its class. The HP Pavillion dm1z (3.4 pounds) and the Acer Aspire One 722 (3 pounds) are both heavier, and only the 11-inch Samsung Series 9 (2.9 pounds) rivals the 11-inch MacBook Air.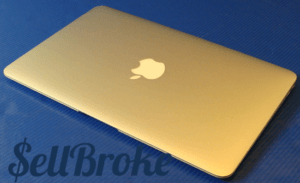 KEYBOARD AND TOUCHPAD
This PC comes with backlit keyboards with an ambient sensor which adjusts the backlight automatically, or you can change manually using short keys on the keyboard. Despite the thin design of this laptop, the layout offers plenty of room for a comfortable typing experience. Furthermore, all the function keys are tied to direct action, whether it's adjusting brightness or activating the Launchpad.
The large 4.1 x 2.5-inch glass trackpad on the 11-inch MacBook Air was the best in its class. It supports hand gestures which allow users zoom to specific areas on a website or launch mission control using a three-finger swipe. Making selections on the 11-inch Air trackpad is as comfortable as clicking down on it. And you can make it even easier by activating tap-to-select under settings.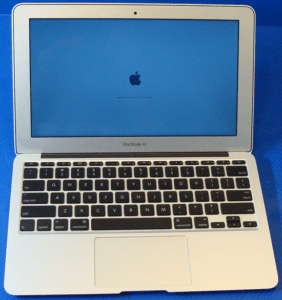 PERFORMANCE
Fortunately for this laptop the solid state drive is replaceable which means you can upgrade to a larger size. What the SSD does is that it gives a longer battery life compared to a traditional hard drive with a spinning disc. It also controls the heat coming from the laptop, and is a lot faster than a standard hard drive. Moving on to the CPU, this device comes with a 1.6GHz processor capable of getting up to 2.3GH. There are two threads per CPU which allows the device run like a quad core.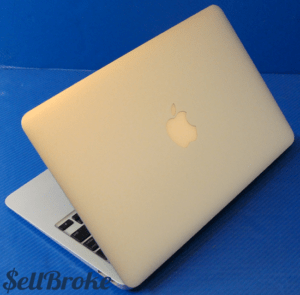 DISPLAY
The MacBook Air has a 1366 × 768 display and it has excellent contrast helped by a glossy sheen. Its resolution is more than adequate. But for editing photos or doing anything where the pixels count; then it may be a bit limiting.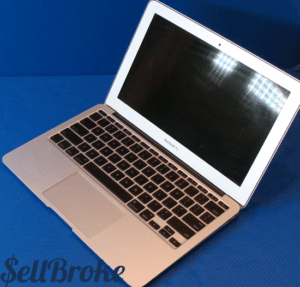 BATTERY LIFE
A Core i5 processor on this device results in less endurance and on the laptop battery test. With continuous Internet surfing over Wi-Fi at 40% brightness, the battery lasted almost 5 hours. This runtime is way below what's found in most portable PCs which an average 6 hours. Also because the system has a sealed battery, it means you cannot use extended life one. Any larger battery won't fit inside the case.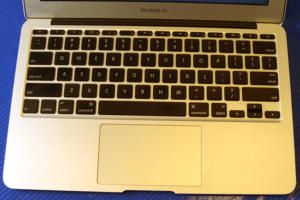 PORTS
The 11-inch MacBook has the Thunderbolt which offers 20 times the transfer speed you would get on a USB 2.0 from the DisplayPort on the right side of the device. The USB 2.0 sits on the right side and the left you find a magnetic power connector, a second USB 2.0 port and the headphone jack. The Ethernet port doesn't come with the 11-inch MacBook Air, but with adapters, you're covered. Furthermore, the 11-inch laptop lacks an SD card slot, a feature which can be found on the 13-inch Macbook Air version.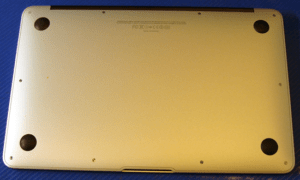 FINAL VERDICT
The 11-inch MacBook Air addresses most concerns of the average user and although the missing SD slot is a drag, this machine is fast and efficient. Even after almost 10 years of production MacBook Air should not be underestimated.