2016 Asus VivoBook E200 Budget Notebook
Jun 21, 2018
Hey guys, back in 2016 Asus gave us a new budget notebook for a $200 price tag. Did you get in on that action? If not, and you still need a budget laptop, maybe this one is good for you. Take a look.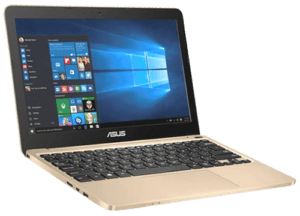 Today we are taking a look at the Asus VivoBook E200, it is the successor to the Asus X205TA. The main competitors for this notebook were the HP Stream and the Lenovo 100S.
Taking a look at the specs you'll find an Intel Atom X5-Z8300 processor, 2GB of RAM, an 11.6" HD display with a resolution of 1366 x 768, and 32GB of EMC storage.
Design
This design of this notebook looked more expensive than it really was. On the outside, there is a dark blue plastic finish that wraps the entire laptop. This was considered a slim and light notebook because it only weighed 2.1-pounds and was 0.68" thick.
The interior of this notebook looked pretty good with a dark blue and black two-tone finish on the panel. At such a low price point, this was a very good looking notebook. It didn't come without a design flaw though. On the back, there are two plastic pins that stick out a little bit when opened and it was subject to scratching the surface of the table or desk you were using.
Ports
Ports on this guy weren't too bad. Of course, you have your charging port, microSD card slot, HDMI, a USB 2.0 and a USB 3.0 that obviously isn't Thunderbolt 3 supported. Lastly, you still have an audio jack. Now, this wasn't loaded with ports but to be fair it was only $200 at its original pricing, so you can't expect too much more.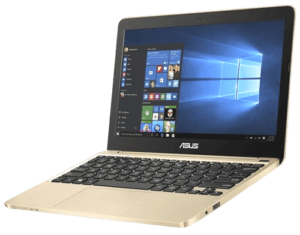 The Atom X5-Z8300 is a low powered quad-core chip that had enough horsepower for light duties like web browsing and Microsoft Office applications. This chip had more power than the Intel Celeron 3050 during multi-core performance. This isn't to say that this at monster blazing speeds. When loading heavy pages like CNN, ESPN, ABC, any of the heavy graphics pages it took about 10-15 seconds to load 100%. This isn't totally horrible considering all of the links and images that these sites have, but still, it wasn't fast. Overall, for light-duty school work type of applications, this notebook ran very well with no major hiccups along the way.
Keyboard and Trackpad
The large buttonless trackpad on this notebook was very smooth and responsive. Two finger scrolling and multi-touch gestures were all very smooth. Compared to its competitors, this trackpad was probably the best of the bunch.
As far as the keyboard was concerned the feedback from the keys were not that comfortable; however, at 1.6 millimeters, the key travel was good. This time, compared to its competitors, this keyboard wasn't the best.
Display
As mentioned above this notebook had an 11.6" display with a resolution of 1366 x 768. The overall color accuracy was poor, but then again, we're dealing with a $200 device. sRGB and Adobe RGB scored 57% and 47% respectively. The viewing angles were OK for being a TN panel but what really hurt the angels was the fact that it has a glossy finish, that made it really reflective. Frame rates for gaming were about 27-35 fps, so there's that.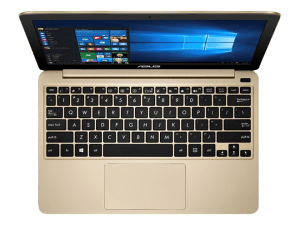 Battery
Even though this was a fanless notebook it ran cool and efficient and is very satisfactory. The battery performance comes from a 2-cell, 32 watt-hour pack that gave about 10-11 hours of usage with medium screen levels. remember though, that you're not gaming or anything really stressful on this device, but thanks to the power efficiency of the Intel Atom chips it was able to post some impressive numbers.
The speaker performance on this notebook was terrible as I am sure you can imagine, especially coming from 2 down-firing speakers. It really never had a chance with that setup. The webcam was only a 480p camera as well, so it was less than good in my opinion, but the same one has found on the then $1,300 MacBook.
Out of the box the 32GB EMC actually had about 18.2 GB free for your programs and documents. Read speeds were quick and write speeds were low. However, most people used the high-speed microSD card slot and the USB 3.0 for external drives.
Conclusion
This was a great lightweight notebook for school activities and light-duty office work. However, in my opinion, one would be better fit to use it in a school type scenario. it was cheap in 2016 when it came out at only $200, so I'm sure now if you are in dire need of something to get you through because you have a used or broken laptop or something, you could pick it up for way less.