This is the new second generation ROG Scar II. The Strix G504GS in the newly updated version of the Strix line and it's going to cost you at least $1,900
Design
The top surface is still metal, but it's a little bit boxier in shape now. It has some simple rounded corners with the brushed texture. The big change though is the logo. It can now change colors. It used to be locked in that old school gamer red. Now you have the option for it change a variety of colors, or not, it's up to you.
The build quality and the reliability of the Strix laptops has always been really good. That's probably why they did so well on Amazon. It is, however, a predominately plastic device. Though the top panel is metal, everything else is a polycarbonate, but it's really rigid. I have seen laptops on the market with metal features that don't feel as sturdy as this device. The Strix laptops are built well.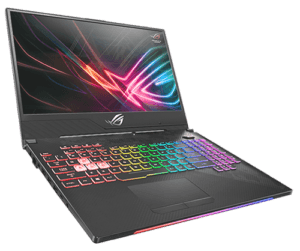 Another new feature this year is a light strip on the front of the unit. It is just a nice soothing feature that you can also control its colors in two regions. The best part about this device's lights is that they aren't obnoxious like a lot of RGB lighting can be.
Screen
One of the biggest changes on this laptop is the screen. The previous generation of the Strix had some really thick bezels and a lot of people weren't really feeling that. So, this new generation changed things up and made the bezels much thinner this year and it looks way better. It's not completely bezel-less as it has a decently sized chin and they felt the need to put the webcam down there. In other devices, this is not at all my favorite location for a webcam, and this laptop did nothing to change my mind about that.
The display panel is excellent. it is bright with good color accuracy and it's fast. It's a 144 Hertz, super fast refresh rate screen. In late 2017 we were seeing higher refresh rates, and the trend seems to have held over into 2018. This one is a 3-millisecond panel, so that means that the response time is freaky fast and games look crazy good on it.
Ports
As far as the ports go, there is a USB-C port but it does not support Thunderbolt 3, and in mid-2018, this is something that should be on most devices, but especially these higher-grade gaming units. It's not the most expensive gamer laptops, but I still feel that this is something that should come expected.
Audio
The audio is good with the speakers located on the sides, so the location is good. I'm not sure if they upgraded their speakers from last year or simply upgraded their software, but they sound much better than last year. The mids are exceptionally clean, the highs are clean and the bass is actually existent. If you are expecting a subwoofer, think again. There are no subs, but the sound is certainly there.
Last year's model was difficult to fully open up. To get to the RAM and other stuff there was a hatch, but if you wanted to get into the fans or something deeper like that, it was pretty hard to achieve. This year, there is no more hatch. The back panel comes off easily and you gain access to the fans, the two sticks of RAM, the SSD and the hard drive. All are easy now to access and replace. The WiFi card is using a quad-antenna for better reception.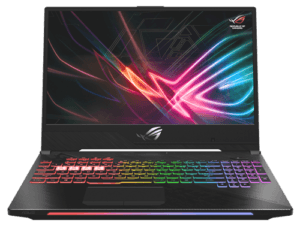 Battery
The battery this year is not big, it's only a 65 watt-hour battery pack and it kicks out about 3.5-hours with the screen at 250 nits. If you are headed out for the day to class or work, be sure to pack that charger of yours, because 3-4 hours won't get you through the day.
Keyboard and trackpad
The keyboard is comfortable with good key travel. The arrow keys are a little different than usual so it takes a little while to get used to, but overall it's a nice layout. The lighting is OK with four zones to control and clear WASD keys, which are unique and they emit a ton of light.
The trackpad is much improved from the previous generation and tracking is really accurate. Now it's using Windows Precision drivers and there are dedicated hardware buttons. The palm rejection could be a bit better, but it's pretty minor so you may not even run across it.
Performance
Performance of this Asus laptop is strong. This unit has a GTX 1070 to go with the six core i7-8750H CPU. Since the CPU is multi-core, it crushes out GPU performance. It uses that 144 Hertz panel really well. A lot of the first-shooter games will hit 144 Hertz even with the settings cranked up to ultra. They also did a good job cooling it and you won't see much if any throttling.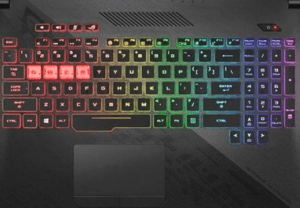 At the end of the day, this laptop is a much-improved version of its predecessor. It seems Asus listened to their customer base and worked what they could to satisfy the end user.