2018 MSi GE73 Raider HIDevolution Laptop
Jun 12, 2018
Today is election day so get out there and do your civic duty.
Today we will take a look at the new MSi GE73 Raider 8RF exclusively from HIDevolution. This machine specs out like this: you get a 17.3" TN 120 Hertz panel, a GTX 1070, a Core i7-8750H, 16GB of RAM and a 256GB SSD, plus a 1TB platter drive for your games. You can get all of this for beginning at about 2,100.
Build quality
The top section is made out of aluminum and feels pretty sturdy. It weighs in at 6.98-pounds. At its thickest point, it is 1.18". The bottom panel is all plastic with some rubber feet to keep it stable. It also has some cool LEDs lights in the lid and also lights in the USB ports.
When you open it up you will find a 256 m.2 SSD and 16GB of RAM that's expandable up to 32GB. For your WiFi card, you get an Intel 9560 with Bluetooth, this is a great card. You also get a 1TD hard drive that runs at 7200 RPM with a dual fan setup to keep things cool and lastly there is a 6-cell 51 watt-hour battery pack to keep you going through the day. The overall build quality is great with hardly any flex anywhere on the machine.
Display
This laptop does have a full 17.3" TN display running at 120 Hertz with a 3 millisecond response time. The color accuracy is gorgeous. It has a 98% NTSC and the overall viewing angles are very acceptable considering that it's a TN panel. If you are picky about your panels and color accuracy, this is a highly recommended display.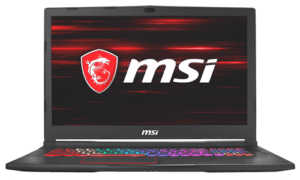 Keyboard and trackpad
This has a solid keyboard for not being mechanical. Its spacing, key travel, and feedback offer really good confidence when typing. Each key is also individually lit with its RGB customization options. It's powered by Steel Series and you can customize it at will.
The trackpad is decent. It is powered by Synaptics and you also get two physical buttons. Two-finger scrolling, multi-touch, and tracking were all on-point.
Features
Overall you get a decent amount of ports with an RJ45 Ethernet, HDMI 2.0. mini display port, three USB 3.0s, USB-C 3.1, SD card reader, and a headset and microphone input.
The audio equipment in this laptop comes with two 2-watt speakers, two 2-watt subwoofers, and the sound quality is great. It is very clear and the bass levels are actually worth mentioning.
The webcam is your normal run-of-the-mill 720p webcam positioned in the top bezel.
On average the fan noise can get up to 50 decibels but with Cooler Boost turned on it will crank up to about 55 dB.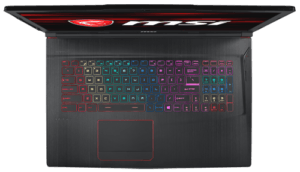 Performance
This laptop features an 8th generation Core i7-8750H, which is a 6-core processor with 12 threads. This processor is very capable and very powerful.
For the GPU there is a GTX 1070 with 8GB of GDDR5 RAM. The 1070 is like the sweet spot because it offers great value but not for a ton of money. With settings up on ultra and high and your panel set at 1920 x 1080p all Triple-A titles and first-person shooter games are running great frame rates; anywhere from 95-145 fps depending on the game. Overall the GTX 1070 is handling all of today's titles with ease.
The Core i7-8750H ran pretty coolly on this laptop with an average of 76 Celsius and max of 70C. The same could be said for the GPU running from 75C to 76C. These are very impressive numbers and it's what we like to see.
Battery
The battery performance for the 6-cell 51 watt-hour battery pack is pretty weak with an average of 2-2.5 hours on medium screen brightness. If you plan on gaming on it, plan for about 45 mins of game time.
When it's all said and done, this is an impressive laptop that is relatively thin and light for a 17" gaming laptop. The 8th gen Core i7-8750H is a very powerful CPU. The GPU is a nice fit both for price and performance. The 17.3" TN panel is superb. The color accuracy is top-notch and the viewing angles are actually pretty good for A TN. The 120 Hertz and the 3 millisecond response time is icing on the cake. The heat and overall system performance were excellent. The keyboard with its customization and the trackpad all work and feel really good to the user's touch. This is clearly one of the thinnest and lightest 17.3" gaming laptops out there on the market, but it doesn't come cheap.