Many people ask why would you buy a gaming laptop when you can just build a PC one on the cheap. The answer is simple; the 2018 Razer Blade 15″. This is one of the best looking laptops produced this year. Granted it is not cheap and will set you back at least $1,900, but you're getting quite a bit.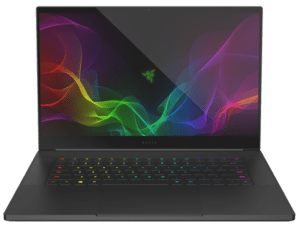 Design
The design changed quite a bit this year. If you are like me, you probably thought that the 14″ Razer Blade looked a lot like a MacBook, this new 15″ Razer Blade looks a little bit more unique than its predecessor. Now the corner radius is a little bit smaller and slightly boxier in shape.
There are some notable improvements in build quality as well. The chassis feels more rigid, it has a tighter build and is one of the best looking products from Razer. The logo is still in the middle of the lid, it's sunken in a bit more and still lights up.
When you open it up, you'll see speakers on either side of the keyboard and the power button on the right speaker. The speakers themselves sound good. They are similar, and maybe slightly better than the speakers on the 2015 MacBook Pro, but the 2016 and 2017 MBP speakers still sound significantly better. Overall though, these speakers a good. The audio sounds clean even though it lacks the bass like most laptops do.
Screen
The screen is fantastic. It's bright, it's fast and it has a great color gamut. There is a 4K panel available, but the 144 Hertz screen is where it's at. If you plan on gaming on this machine you'll notice the high refresh beats, higher resolution every day of the week. This is one of the best 144 Hertz video panels on the market right now. Keep in mind that it does not have G-Sync.
It's just a few Torx screws to gain access to the internals and then the panel comes off pretty easily. Finally, the memory is user upgradable. This is something that people have wanted in the past years. You can also replace the SSD and the WiFi card. It comes with a 512GB SSD.
Battery life
Battery life is fair. It's an 80 watt-hour battery pack that will give you about 5 hours of use with the screen set at 250 nits and 60 Hertz. In order to extend battery life, it's a must do. Without G-Sync you get NVIDIA Optimus which helps extend battery life. On a device like this, it makes sense to not have G-Sync and just use the tech available to extend battery life.
The AC adapter on this machine is a little bit bigger than the previous generation, but it's still really portable and has a really clean design. The plug connects into an oval-shaped port kind of like a bigger USB-C type of port. It is reversible, but it's not magnetic.
Ports and keyboard
The ports on this machine are pretty standard. You've got three USB-As, a Thunderbolt 3 with some display outs, but there's no SD slot and there's no Ethernet.
Let's talk about the keyboard. When I first saw pictures of this keyboard layout I was concerned. It reminded me a lot of the keyboard from the Razer Blade Pro and I did not like that layout very much and it's essentially the same layout. Here's the issue, the shift key on the right side and the arrow keys are positioned in a very untraditional way. Normally, the shift key is right next to the question mark key and now there's an arrow between the two.
That makes for an adjustment time period for most users that are used to having the "? + Shift" right next to one another. If you're someone that uses the left shift and not the right shift then this won't bother you. If this is your main laptop once you get used to it, it'll be fine, the problem arises when you use another keyboard that's more a traditional. It's just a remedy for disastrous typos.
Another thing that bothered me before on the keyboard is that the function keys up top only light up the function number. You won't be able to see the hotkeys being lit up. This means that the brightness controls and volume controls are not visible in the dark. using the Razer Synapse there is a workaround and you can map them out in a color code instead.
Trackpad
The trackpad is now using Windows Precision Drivers. it has great surface texture and accurate tracking. Instead of having dedicated hardware buttons, this year they are beneath the trackpad. There is one mild issue and that's the palm rejection software isn't perfect yet. Occasionally, when you are typing your palm, may move the cursor unintentionally. I'm sure it's something that will work itself out with software updates in the future.
Performance
The performance is great. It's running the i7-8750H. It's a 6-core CPU and has excellent multi-core applications. There are two GPU options. There is a 1070 Max-Q and a 1060 Max-Q. The 1070 gives maybe 25-30% better performance than the 1060. It's not significant, but it's also a little bit thicker. the performance in games for either of these cards is going to be great, and depending what you play, or what you want to do with your laptop, you'll have to make that decision yourself.
The unit I tested ran pretty warmly, but it wasn't throttling. it was coming close but never did. If you play games in a room that's not air-conditioned or you live in a warmer climate, you may get a warmer running device. Cooing a device like this isn't easy. Every millimeter that you shave off a laptop to make it thinner makes it exponentially harder to cool. Luckily, this year they did a really good job at keeping it cool.
The fans are not loud and they are very manageable. One weird thing is that they take 10-15 seconds to ramp up and down. Like a lot of gaming laptops that we've used when you push the fan butting they go straight on and are on full, with this guy they take time to ramp up. It's not an issue whatsoever, it's just something that's noticeable.