Dell G7 (2018) Budget-Friendly Gaming Laptop
May 11, 2018
We finally have a blue and white gaming laptop... the Dell G7. It's kind of like a refresh or update to the Dell 7577 from last year. That laptop was a really big seller, so, this is kind of a version 2.0 of it, but it's been rebranded. It's not an Inspiron product anymore, it's now called the Dell G7.
Design
Aesthetically speaking it's clearly very different with its white and blue color scheme with a fresh new look this year. It also comes in a black and blue version which also looks quite nice. It weighs in at 5.8-pounds and has a 15" display, and should set you back beginning at about $850USD.
The white material was actually way nicer than I thought it would be. It's not like a flat or even glossy plastic. Actually it's a thin satin finish that looks almost pearlescent. It's a really nice color and the blue on the logo is a metallic blue with a kind of greenish hue to it. If you like blue and you like white, you'll love the look of this laptop.
Build quality
Now, the build quality of this laptop has actually improved from last year. It was well-built last year, and it's even better this year. This year's chassis has been reinforced and there's not much flex to see on the keyboard deck, and that's a good thing when dealing with a device that's predominantly plastic. Same goes for the hinge, it was beefed up too even though it was never a problematic hinge in the first place despite being closer to the center, it has been improved as well. It feels a little stiffer and robust than the previous version.
The keyboard deck itself is this dark navy blue and the keyboard lighting is also blue. I'm glad they didn't go with red because a red light on this would look ridiculous and destroy the aesthetics of it all. However, given my love for blue, I'm still not in love with the blue lighting either, it may have looked better with white backlighting due to the blue being a bit fatiguing on your eyes.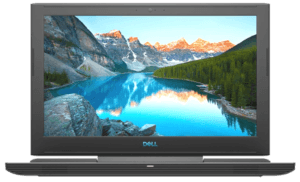 Display
Other things that have changed; the screen. It's gotten thinner bezels, ever so slightly than the previous version, but the panel itself is actually a much nicer panel. So, this is now using the 15.6" FHD (1920 x 1080) IPS anti-glare LED backlit panel, which is one of our favorite displays for budget gaming laptops. It has respectable brightness and the color gamut out of the box is pretty decent. The feature that makes it so special is the fact that you can overclock it. Coming out of the box it runs at 60 Hertz, so that means that your games are going to be capped visually at 60 frames per second. This is a panel that can theoretically be overclocked to about 100 Hertz (may void warranty).
Though thinner than before, the bezels are a little bit thick and the color of the plastic that they used was black. This combination doesn't really fit with the color theme of the navy blue. A navy blue would have looked a lot better.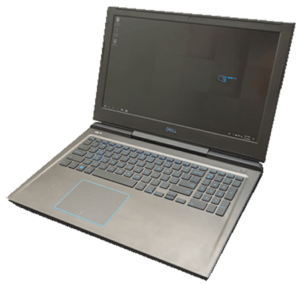 Port selection
The port selection is good with headphone/mic combo, SuperSpeed USB 3.1 Gen 1 Type-A, Type-C with Thunderbolt 3 with support for 40 Gbps Thunderbolt and DisplayPort, HDMI 2.0, Noble Lock Security Slot, Power/DC-in jack, a gigabit Ethernet RJ-45, SuperSpeed USB 3.1 Gen 1 Type-A, a 9. 2-in-1 SD / MicroMedia Card.
Internals
The internals of the G7 is very easy to get into. It's a single screw and that screw is mounted on a C-clip so you couldn't even lose the screw if you tried. This should be the standard for easier access for the end-users. Once inside you'll have access to the two RAM slots and an NVME, a 2.5-inch SATA and they are using the Intel 9560 Wi-Fi which is a fantastic card. You also have a 56-watt-hours battery pack. It's not a huge battery and you're going to get about 4.5-hours of battery life with the screen at 250 nits. It really is a mediocre battery life. It would have been cool if they would have gone with the same battery they went with a few years ago with the 74-watt-hour pack. Instead, they went with a very middle of the pack battery this time around.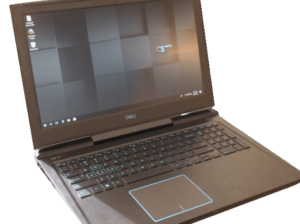 Some things that haven't changed are the speakers. They actually sound quite good despite not having any subs like some of the older Dells did, but the sound quality is good and the speaker location up front is nice.
Keyboard and Touchpad
The keyboard feels pretty much unchanged and if there were improvements, they are really subtle. The layout is good but the keystrokes feel a little bit softer than before. However, for the money, it's a really good keyboard.
The touchpad is also unchanged. It has Windows Precision drivers with a plastic surface. The tracking experience is nice, the button mechanics are also good. It's a very clean and simple button, nothing super complicated. It is nice that at this price point the trackpad is better than some devices that are twice the price.
Performance
Performance on this is great. Our tested device has the 6 core 8750H. It's an awesome processor for multicore applications. The GTX 1050 Ti also delivers a really strong performance. You can get a 1060 MaxQ configuration if you want more kick.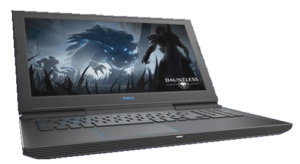 The thermals are also excellent. There was no throttling during stress tests and it has very reasonable fan noise under load. Lastly, the webcam is completely basic and gets the job done.
Summary
Now, let's talk about some things I don't like about this laptop. Primarily, it's the overall thickness of things. The bezels are thick the device is kind of thick and in 2018, a lot of companies are aiming for thinner and lighter and this laptop doesn't look as elegant as some of those other devices. With that though comes some advantages. With it being a little bit thicker and heavier it should be more durable as well. Another thing I like about it is that it's like a second-generation product. The 7577 from last year is what I would consider the first-generation. They've done a lot of stuff on the inside to improve the build quality and the overall product.