The 2018 Apple iPad for $330
May 07, 2018
Today, we discuss with you the new 2018 iPad that retails for about $330. For this price, it really seems like the one to get, but is it worth it?
6th Generation iPad
Immediately from the packaging, you wouldn't see any changes. It looks just like it always has. It has the same box, and the same instructional manuals and the same Apple stickers. Not a whole lot has changed there. Well, maybe on the box where it says, 6th Generation iPad instead of iPad 6. Whatever, who cares? Really what this is is the lower-end iPad that slots not only under the iPad Mini but also the iPad Pro.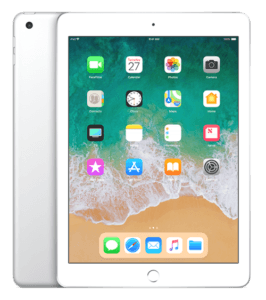 Chromebook competitor
Apple just mentioned at their education event not too long ago, and the main idea with this is that the iPad, at least at the lower-end, is trying to be a Chromebook competitor. For schools, I get why the Chromebook is so popular, and there are some advantages to the iPad, especially the pencil support. However, whether or not this is a good idea, is a bit more questionable.
Upon opening the box you'll notice that it hasn't changed a bit. So, if it looks familiar to you it's because they haven't changed the design for quite a while. Previously, they had a lower-end $300 iPad, and as far as hardware is concerned, the new 2018 looks completely identical. For some context, the 2017 iPad, which is exactly what this 2018 will be replacing. A lot of offices use this type of tech for data input and customer information storage, look up specs and that kind of stuff. If you put the 2017 and 2018 iPads side-by-side, you'll see that they look completely identical.
Display
One of my main complaints against the 2017 iPad is that there is a fairly large ais gap with the display. It is still a 9.7" Retina Display. They look fine when looking at the device head-on, but when you look at it from any angle you can see a large gap between the screen and display. You'll notice the difference if you've also handled an iPad Pro with a laminated display. Unfortunately, the 2018 iPad has the exact same screen as the lower-end 2017.
Apple A10 processor
One of the big upgrades to the new iPad is going to be on the inside. The last generation's model used the Apple A9 processor from the iPhone 6S, this bumps up to the Apple A10 from the iPhone 7. It's still not going to be super cutting edge, but it's fast on the iPhone 7, and it's fast here in the iPad. When you take a look at the Geekbench results you'll see that it's pretty much identical to the iPhone, which is solid. One thing you should keep in mind though is that it still only has 2GB of RAM. For normal apps, that is not going to be a problem, and it does support a lot of the multitasking features as the bigger iPads. However, you cannot get three apps up at the same time like on the iPad Pro.
To show off the power of the iPad we have Fortnite. It runs really well on a wide range of hardware. The idea that we do have that Apple A10 processor actually does make a pretty big difference. It won't run on the same level as the iPhone X, but it still pretty nice.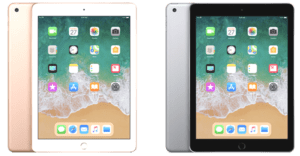 Performance
For a lot of apps, you won't actually be able to detect a huge difference with the Apple A10, but it is going to be snappier, for sure, but it's not a revolutionary difference. When considered that it's a $300 iPad, every little bit of extra performance is going to be helpful. One of the biggest things to consider is how long this is going to be having updates, how long is it going to be supported by apps, and having that newer processor does make a difference, especially if you're using it years from now. Gaming on this screen would be a bit better with a controller and hopefully, they will add that support in the future.
So, the screen is decent. It doesn't quite match up to the iPad Pro, but for $300, I don't think you're really going to be complaining. Some other areas that it doesn't match the iPad Pro in, is with audio quality.
You do have stereo speakers, but they are both on the bottom and sound decent but can be covered with one hand. It will be totally fine for casual video watching.
Apple Pencil
Another new feature with the new iPad is the Apple Pencil support, which weirdly up until now has been held back the to iPad Pro. It works exactly as you'd expect. You can use it to navigate the interface, or you can use it to do drawing or typing. The only thing that it's missing is the ProMotion Display from the iPad Pro. That does help cut down latency by running the screen as 120 Hertz as opposed to 60. For most people, it'll be totally fine for writing notes and that kind of thing.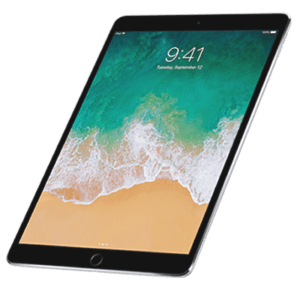 Apple Keyboard
Alongside the new iPad were a couple of other accessories, but they are mostly aimed at the education market, which is probably the main market that Apple is sort of targeting with this new iPad. So many schools now are using Chromebooks. For most schools, the Chromebooks make more sense; it's a proper laptop with a keyboard. Once you unplug the Apple Pencil you're not going to find and smart connector. This also keeps you from being able to use any of the same keyboards as the iPad Pro. You're going to have to rely on o Bluetooth or use something over the Lightning connector. And that's not an elegant solution. Of course, some typing can be done on the screen keyboard, but for extensive note taking you need a keyboard.
Conclusion
Now, software-wise, of course, it is running iOS 11. There are pros and cons here. iOS 11 was a pretty major update to the iPad. You actually get a dock, you can multitask, which all works well. But like I said, it's fine as an iPad, but is it something that's going to replace a computer? I doubt it.
This new iPad is a cover-all type of tablet. Sure, you can get a bigger screen size and extra features with the iPad Pro, but for more than two times the price, I don't think it's going to fit well for most people, and the 6th Generation 2018 iPad is probably a better option for many.