New Laptop Gaming Experience with the MSi GT75 8RG
May 04, 2018
The new MSi GT 75 8RG laptop with a GTX 1080 features an 8th generation Intel chip which is up to 50% faster than the previous chips.
For the first time ever you are getting a Core i9-8950 HK processor which is an HN chip with 6 cores. Followed by 32Gb DDR4 RAM, a Samsung SM961 512GB SSD, also a 17.3" full-HD 120 Hertz panel, and for this configuration you're looking at a starting price of $3,300. This is definitely one of the cheaper models of the laptop on the market right now.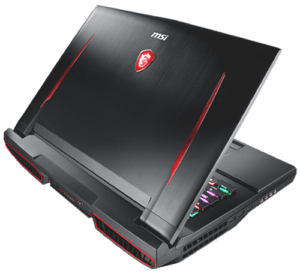 Design
The bottom panel is made of all plastic with some decent looking red vents that will hopefully give it some good cooling performance.
Once you get inside of this MSi laptop you will find a 3 speaker setup. There are 2 speakers and a subwoofer that are powered by Dynaudio. The battery pack is kind of small when you compare it to the legal limit of 99 watt-hours, but this one comes in at only 74 watt-hours. You'll also find a 1TB drive with read and write speeds of 3450MB/s and 1650 MB/s respectively. It also features a GTX 1080 with 8GB of GDDR5 X, this is a great GPU. As mentioned earlier it does have an Intel Core i9-8950 HK processor which is a very powerful processor. This configuration does come with 32GB of RAM but it is also expandable to 64GB.
The top section of the lid is made out of aluminum and it feels pretty sturdy. But it does pick up fingerprints like it's going out of style. As for size, this is a huge gaming laptop and measures in at 2.28" at its thickest point and a very noticeable 10.05-pounds.
Ports
On the left side, you have an exhaust vent, three USB 3.0s, and headset and microphone audio jacks. Moving on to the right side, there are two more USB 3.0 ports, and SD card reader and more exhaust venting and of course a security lock slot. Along the backside of this machine, you'll find an RJ45 Ethernet port, a mini Displayport 1.2, Thunderbolt 3 and a full-size HDMI 2.0 and lastly the charging port. On the front, you'll find all of your status light LED indicators.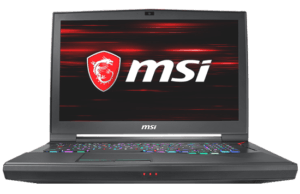 Display
Arguably, one of the best features of this laptop is the 17.3" G-Sync panel. This really is a great looking panel. Some people may be turned off by the fact that it is a TN panel, but be assured that it is one of the best TN panels on the market. This panel runs on 120 Herts with a 3 millisecond response time and the color accuracy is surprisingly very good. With the exception of the brightness level of only 280 nits, overall this is a really good panel.
Trackpad
The trackpad on this computer is one of my favorites. It has a super smooth texture and it moves very similarly to that of a MacBook Pro's trackpad. What's even better are the two physical buttons feel really good to the touch, both the clickiness and the tactile just feels awesome.

Keyboard
The mechanical keyboard on this laptop provided by SteelSeries is simply awesome. The tactile feedback on these keys offers a great confidence to your typing experience. As far as gaming laptop keyboards go, this one is probably one of the best ones out. This SteelSeries keyboard offers a ton of options for your backlight. For example, you change each specific key to a certain color, unlike most gaming PCs only give you two or three zones to customize.
The speakers by Dynaudio on this are amazing. Despite them being bottom-facing speakers, once you power them on they are super.
Battery performance
If you are looking for great battery performance you are not going to find it here with this 74 watt-hour battery pack. With something this big and powerful you may suspect that it would have a bigger battery pack. But, it doesn't and you should expect only about 2 hours of use on medium screen settings with regular usage. And about 45 minutes if you're gaming.
To power this thing you have two 230 watt AC power adapters plus a converter box. Talk about a pain in the butt having to carry around two battery packs and a converter.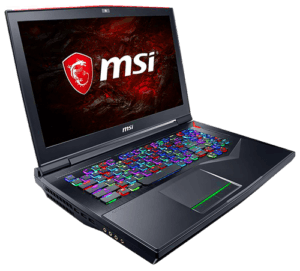 8th gen Intel i9 processor
For the first time ever we're getting a Core i9 processor packed inside of this laptop. This is the i9-8950 HK with 6 cores and 12 threads and is based on the latest CoffeeLake architecture. With the additional 2 cores on this i9, it is technically up to 70% faster than last year's 7700HQ.
Graphics
This laptop comes equipped with a GTX 1080 with 8GB of GDDR5X. The performance is breathtaking. You can play any of today's Triple-A titles without any hiccups. This should be able to handle high-end titles for years to come. Fortnite is fast becoming one of the most popular games as of late and on 1920x1080p and epic settings it's pulling about 130-145 frames per second, Overwatch with the same settings are ripping about 180-175 fps.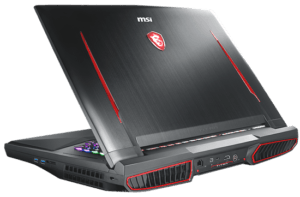 Heat management
With the combination of the Cooler Boost Titan from MSi and the HIDEvolution thermal interface material grades, the temperatures are very impressive. The external temps never got out of an uncomfortable range. Considering the equipment that this laptop packs I wasn't expecting this to run as cool as it does. If you do decide to pick this up, make sure to get the $95 thermal interface material upgrades for the best cooling performance. All in all, the cooling performance is super on-point and they even managed the noise levels really well all the while keeping it cool.
Conclusion
In conclusion, the MSi GT 75 8RG truly is a desktop replacement. It has all of the features that you would want. You get a beautiful 17.3" full-HD TN panel running at 120 Hertz, plus G-Sync. You also get great color accuracy and a fast response time. This panel has it all, it's one of the main standout features of this laptop. The mechanical keyboard is one of the better ones. The trackpad, though not a windows Precision trackpad, does an excellent job. The i9-8950 HK and the GTX 1080 offer incredible horsepower and even the Dynaudio speakers are some of the best out there as well.