OK as we all know gaming laptops are quite the buzz in today's laptop markets. They used to be so expensive but now you can pick up some really decent ones for under $1,000. That's thanks to their gaining popularity across the board. This is something that you couldn't do 5 years ago and it's nice to see how the hardware and performance have been comparing to desktop performance and they are getting cheaper and cheaper.
Here are our top five gaming laptops for under $1,000 for 2018.
#5 – The Acer Aspire VX-15
Despite being the cheapest laptop on our list the Acer Aspire VX-15 is a very impressive rig with a lot of power. The processor is not a top-of-the-line i7. But it is a 7th generation laptop CPU from Intel. It has more than enough speed for both gaming and productivity tasks such as video editing. It also packs the GTX 1050 video card from NVIDIA with 4GB of VRAM. The GTX 1050 is about 20% less powerful than the 1050 TI, but still able to run recent games on high settings at 1080p.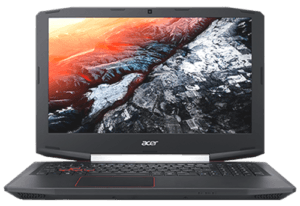 The cons here are that's it's pretty heavy weighing in at 5.5.-pounds. Also the built-in microphone has gotten some pretty negative reviews.
#4 – The Lenovo Legion Y520
Lenovo has really stepped up their game and has made some really great gaming laptops in the last few years. The Legion Y520 laptop is loaded with some really impressive features. It's capable of running the latest Triple-A games at 1080p and 60 fps with a GTX 1050 GPU. It also comes with an Intel Core i7-7700HQ. It is a step up from the i5 and 8GB of DDR4 Ram and only costs $900.
Some pros for this laptop are a good processor and graphics for the price. It can run almost every recently released Triple-A titles smoothly with accurate colors and contrast on the 15.6″ IPS display. It has a very thin and lightweight body and a very responsive gaming oriented backlit keyboard.
Some cons are a battery life which is below average and no mass storage included coming in with a 256GB SSD.
#3 – Dell's Inspiron I7557
The Inspiron I7557 is hosting a Core i7-7700HQ processor under its stealthy body. This Dell laptop is a multi-tasking powerhouse with plenty of power for running any Triple-A game title released in recent times. So, Battlefield 1, COD: Infinite Warfare, Witcher 3, Forza, Horizon 3, CS: GO and many others will run at a buttery smooth 60 fps on high settings thanks to the four hyperthreaded physical cores that can boost all the way up to 3.8 gigahertz form a base of 2.8 gigahertz. Having this many logical cores means you can open 20 browser tabs, watch a movie, download games and run a virus scan in the background all at the same time without a single hiccup. Or you can play the latest and most demanding games that you own thanks to the GTX 1050 with 4GB GPU.
Some pros to this laptop are a great price to performance ratio. Compared to similarly priced competing laptops it has good portability and a sleek black and red color scheme. The touchpad is smooth and accurate and the keyboard is tactile and responsive.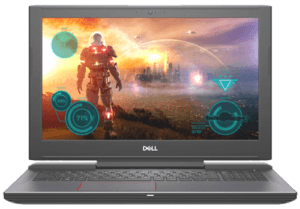 The cons are a mediocre battery life and below average webcam. Additionally according to users, the display lid feels just a little bit flimsy.
#2 – The Asus Vivobook Pro 15 (M580VD)
So, the sleek and stylish Vivobook laptop has a modern Intel Core i7-7700HQ quad-core processor which is supported by 16GB of DDR4 RAM. It has a dedicated NVIDIA GTX 1050 GPU that again runs most modern Triple-A games. Also it easily runs high-demanding photo and video editing software. It also features a 15.6″ matte 1080p full-HD screen with 100% sRGB color gamut but it is a TN panel and not an IPS, meaning that one's viewing angles will be average. The battery life is also giving about 4-5 hours which is pretty mediocre.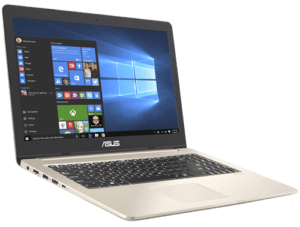 Pros for this laptop are a powerful Intel Core i7-7700HQ processor. It is well priced and has an SSD and HHD combo and has a sleek and stylish design.
Some cons are it has a mediocre battery life, TN panel and has some heating issues.
#1 – We have the Acer Predator Helios 300
This is our top recommendation for a gaming laptop under $1,000, and it is a great package from Acer.
The Helios 300 is powered by a Kaby Lake Intel Core i7-7700HQ processor and is backed up by 16GB of DDR4 RAM. This will easily allow you to play your favorite games. It will also ensure that you can run even the most intensive applications with little to no lag.
Pros are that it has a Kaby Lake processor, a GTX 1060, an m.2 SSD, easily upgradeable RAM and storage and has USB-C.
Some cons are that it runs pretty hot under a heavy load. It has a small amount of storage space, not the loudest audio and poor battery life. Lastly the display isn't the brightest.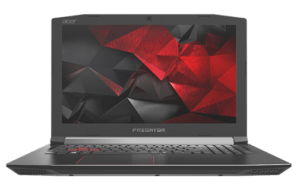 So, there you have it, our top five gaming laptops for 2018 that come in under $1,000.