2018 Asus ROG Strix SCAR Gaming Laptop
Apr 20, 2018
Allow me to introduce you to the Asus ROG Strix SCAR edition laptop with a 144 Hertz display, it is safe to assume that the display is pretty killer. But what about everything else this laptop has to offer? Well, let's take a look...
Design
Starting with the design, you know how most gaming laptops' designers seem to be huge Alien vs Predator fans? Well, Asus finally told their designers to chill out, or they finally got the point that we are not looking to fly our laptops to space. This time around they gave us a nice and tame look. This laptop is nice and subtle and it's something that you could break out in a classroom or an office setting without drawing too much attention. It does, however, still have a backlit ROG logo on the lid that cannot be turned off or dimmed, but it still looks really good.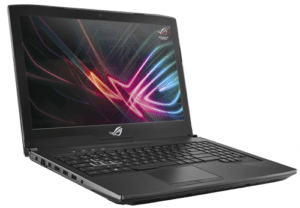 Speaking of the lid, it is made of a dark, almost gunmetal looking brushed aluminum with a slightly out of lace plastic band at the top for the wireless antennas. Fingerprints don't show up as well like on these glossy plastic laptops. The rest of the chassis is plastic which I don't think any of us are all that surprised with. It fortunately, it feels like a sturdier, higher-quality plastic. For a gaming laptop, it is actually pretty thin at 0.94" and weighs 5.7-pounds. So, if the SCAR was a runway model, it would be just as malnourished as the rest of them.
Upgradability
For upgradability, you have super easy access to the two DDR4 RAM slots, the NVME slot, and the 2.5" SATA slot. If you want to take it a step further and replace the thermal paste, you're just an easy 18 screws away from removing the bottom.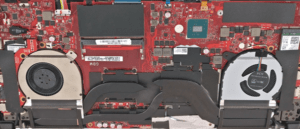 Ports
You've got a pretty awesome I/O selection with four USB-A 3.1 ports, one USB-C port with Thunderbolt 3 support, that will allow you to drive up to three external displays, an SD card reader, mini DisplayPort, and an HDMI 2.0, microphone, and headphones combo jack and an Ethernet port.
Lift up the lid and I like what I see. First off, a small but important detail to me, is when you lift up the lid, there, in the middle of the display hinges is this cutout so you can your LED status lights at a glance. I cannot stand it when these indicator lights are placed on the front of a machine under the trackpad area.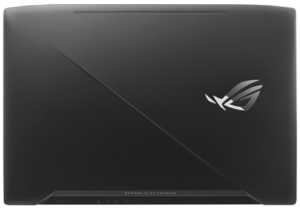 Keyboard and trackpad
There's an intake vent just above the keyboard and the keyboard deck is very solid. While it looks like it is made of carbon fiber, and with a price point that starts a little over $1,800. I'm almost positive that it's faux carbon fiber. The typing experience is OK. It was a little bit soft for my preference, but it was still a very good experience. Another small design detail is the gaps between the function keys, and the spacebar is designed so that it is easier to smash in a hurry. With the Auro software, you can customize your RGB lighting in four sections. Even though each key is capable of producing each color, you can only customize it in the four zones mentioned.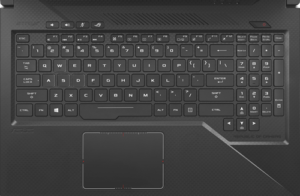 The trackpad is from Elan precision drivers, and it was excellent. The left and right mouse buttons are pretty decent as well with a really solid controlled click.
Display
On to the display. What we are looking at is a 15.6", 1080p IPS panel with 144 Hertz refresh rate with a G-Sync, 100% sRGB and 300 nits of brightness. Yeah, it's insane to game on, everything is buttery smooth. Objects look crisp and colors look awesome and screen flex is minimal. It really is a phenomenal display for the money.
Now, when it comes to software the SCAR isn't too bad but it does still come with the usual stuff like McAfee and all of the usual Windows apps. With the Asus Gaming Center App you can monitor your system performance, setup gaming profiles and switch display image modes. Yes, it's pretty standard stuff but it's still really nice to have.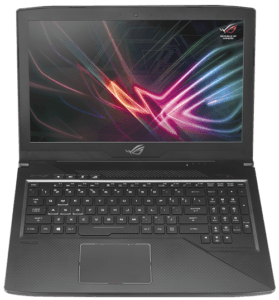 Gaming performance
Now, let's talk about how it runs games. Which more than likely is what you'll be doing with this laptop. The SCAR packs a GTX 1070 with 16GB of RAM and there is a configuration with 32GB of RAM. A 256GB NVME SSD for the OS. It also has a 1TB Seagate Firecuda for data and an Intel i7-7700HQ. Combine that with a 144 Hertz display with G-Sync and you've got something worthy of the money.
Some quick gaming stats with Fortnite on epic there was an average of 100 fps; Overwatch on epic on average was 98 fps, and Battlefield on high there was an average of 85 fps. You shouldn't have any problems running any of today's Triple-A titles.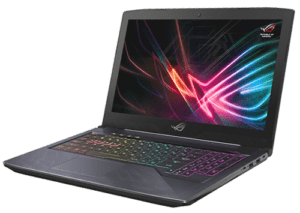 Though the gameplay really impressed me, the thermal management is seriously worth commenting on as well. Under a full load, the GPU never went above 83º C and the CPU never above 80º C. I think that's pretty decent but keeping the system cool isn't a quiet job. Meaning the fan throttle does get quite audible. While on idle or a very little load, it is next to silent.
Battery life
How about battery life? Well, gaming on the battery isn't good, but that's no surprise, you'll get about 90 minutes from it. In day-to-day tasks with the screen set at medium brightness is was pulling about 2-3 hours, depending on what I was doing.
Conclusion
So, for $1,800 plus tax you're getting an awesome gaming machine that crushes modern Triple-A title, with a very good display and all the while doing so, looking pretty dope. My only complaint is that the side-firing speakers are pretty weak, although they do sound clear.