Lenovo Yoga 720 2-in-1 15.6" Laptop
Apr 13, 2018
Here's a new laptop sold by Lenovo that we got in the shop recently and though it's not a brand new model, it's new to us. Let's talk about what we found out about this bad boy.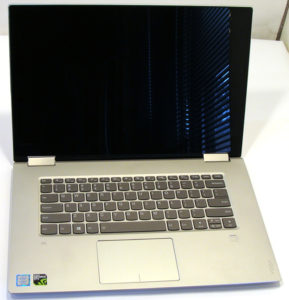 NVIDIA GTX 1050
The 15.6", 2-in-1 convertible Lenovo Yoga 720 is not just any Lenovo Yoga. This laptop is packing a new NVIDIA GTX 1050 video card and is jammed up with some really great hardware for a 2-in-1. It features an Intel i7-7700HQ CPU with 16GB of DDR RAM, and a Samsung 512GB NVMe SSD. The NVIDIA GeForce 1050 and the onboard Intel HD 634 really provides some powerful graphics. This is not some gimp mobile processor, the 720 has a quad-core Kaby Lake 7700HQ running at 2.8 gigahertz.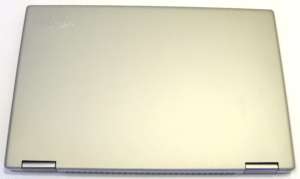 Display
Now on to the display. The display is really one of the stars for this Lenovo. This is a 4K display running at 3840 x 2160. It is a 60 Hertz screen. In terms of screen quality, the colors and clarity are really on-point. The older Yogas tended to be color deficient in some colors, mainly yellow, but they seem to have addressed that and have really improved their product. The screen is stellar, and some would even claim that it's better than the HP Spectre's screen.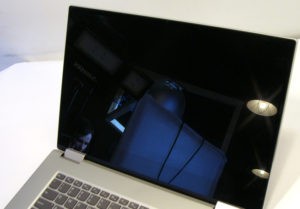 What I think most people would be interested in is the NVIDIA Pascal 1050 card that it has. Now, since it's a 4K screen you may think that everything is going to be cool by the pool, but with most Triple-A titles you are going to have to adjust your settings to 1920 x 1080p to get any really decent quality gameplay. Of course, your lower-end titles will probably comfortably play on the 4K. But just don't go ahead of yourself and expect 4K gameplay at ridiculous frame rates.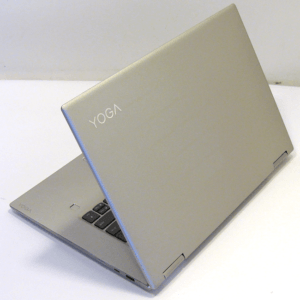 Keyboard
Another pleasant surprise is the keyboard. Lenovo has had some crazy setups in the past, most notably the Yoga 910, it really had a strange keyboard layout. It seems that Lenovo decided to get back to the basics here and provide a normal layout standard, full-size keyboard. The key travel is nice and the tactile feedback is really great.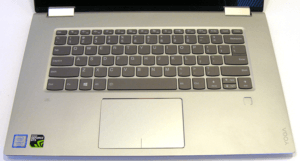 I was hoping that the keyboard would be OK, but thankfully, it really was better than just OK. It rivals other high-performing keyboards on the market, without a doubt. Now, of course, you're not going to be able to set RGB keys with different colors or anything crazy like that, but it is backlit with the standard white backlighting. So, if you're in low-light areas you will still be able to see your keys if need be.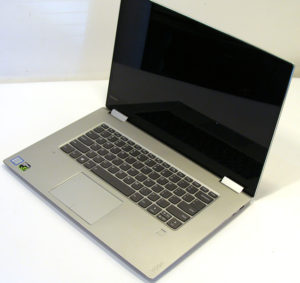 Ports
Covering the I/O a bit I'd have to say, "OK, it's good enough." Especially if you've dealt with any of the new MacBooks and their complete lack of ports. It has its regular USBish charging port, a USB 3.0 and a headphone-microphone jack on one side. Along the other side, it has the power button, a Thunderbolt 3 port, and another USB 3.0 port. You won't find anything along the back aside from the hinge-to-hinge exhaust fan ports.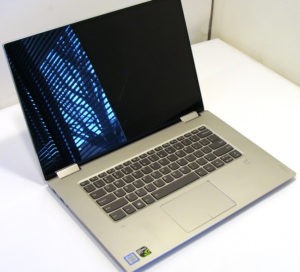 Performance
Speaking of exhaust fans, this quad-core i7 manages its heat release very well. The i7-7700HQ and the GTX 1050 are going to heat up quite a bit, especially if you are doing anything under load like extensive gaming. The hot air is going to have to go somewhere and this little machine does a phenomenal job kicking the heat out and keeping the overall unit nice and cool. Also, it doesn't matter if you have this laptop in standard, tent or display mode, it's always going to release the heat well and not have any obstructions regardless of its use.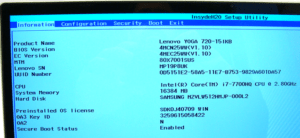 Design
The aluminum chassis and body is nice and sturdy and doesn't off any flex. It's also not a fingerprint magnet, and if you're like me, that's a great thing,. Not too many things drive me crazier than a laptop that has fingerprint smudges all over the place. Though I didn't get around to opening this one up and seeing what's inside, it didn't look too complicated. Simply remove a few screws and it looks like you're good-to-go. The design is great though, and if you like it, it's going to stick around in good shape given its sturdy build.