MSi GE63 Raider Laptop with a GTX 1060
Mar 28, 2018
MSi has come out with a new version of GE 62 their best selling gaming laptop with GTX 1060 from last year, the MSi GE 63 Raider. So, as mentioned, the whole idea behind the Raider lineup is they are taking higher-end components and features like the 120Hz display and the individually lit RGB keyboard and sticking that stuff into a more affordable lineup, so that's how we go to the Raider line up. This is much improved across the board.
So, the stuff that's trickled in, that 120Hz panel is amazing. If you've never seen one in real life you have to find a way to see one. You cannot showcase how cool these things are or how good they are for gaming just by reading reviews and watching videos, you have to see it in real life.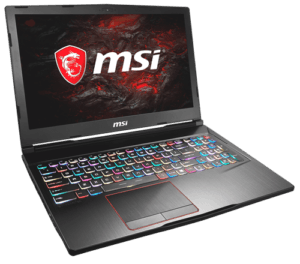 Design
The new individually lit RGB keyboard is pretty crazy and the last thing they are going for is just improved performance across the board, so because of the improved thermal solution, you can now stick a GTX 1070 into this chassis.
Build quality
At this price point of $1,600 USD, you can expect a certain level of build quality, and it's there for the most part. The top panel is metal with a brushed finish and it looks pretty good. The keyboard deck is also metal. There is no flex or soft spots or anything like that, it's a very well-built laptop. The bottom panel is plastic, not that that's bad because it actually feels pretty well-built too. Port selection is as expected. There are three USB-As and a USB-C, but it doesn't support Thunderbolt 3. This computer appears bulky compared with the Acer Nitro Spin laptop that we reviewed in our last post.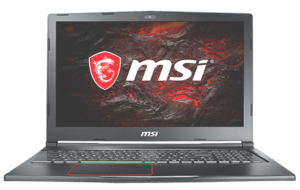 Screen
First I will address the things that I do like. The screen is really good. It's 120Hz, looks good, the color accuracy is there, the brightness is there, simply put it's a great screen for gaming. It has a 3 millisecond response time, which is actually the fastest laptop screen on the market right now and that makes games feel incredibly fluid on this display. It is a TN panel but that's how you're getting the super fast response rate and it's a great image for a TN panel. However, being a TN panel the viewing angles aren't that good. The moment you tilt it on any axis there is a noticeable color shift.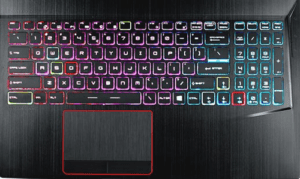 Keyboard
The keyboard is also something that I really like. Just the base keyboard itself is very comfortable to type on, great layout, and good keystroke. The RGB lighting on this thing is seriously the most comprehensive lighting system on a laptop keyboard. You can light every single key, that's not that new, but there are also a whole bunch of features plus there's a hardware button to switch between different configurations on the fly.
Trackpad
The trackpad is surprisingly good. It uses Synaptics drivers which were kind of disappointing, but it feels really good. The gesture feels a little off, they're not super accurate but the tracking is good. Otherwise, and the dedicated hardware buttons are nice.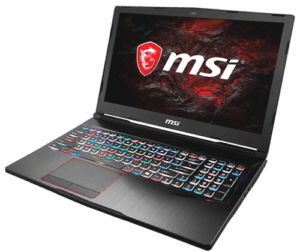 Performance
I think the best thing about this laptop is its performance. This is running a GTX 1060, you can get a 1070, but the 1060 runs really well. Performance in light and even moderately demanding games is just amazing with this 120Hz screen. You can obviously play more demanding games but you won't be able to show off the screen as nicely. That's one of the things that I think this whole laptop industry has been shifted towards. You want to be able to showcase your amazing graphics cards by getting really high refresh screens. If you're capped at a 60Hz screen, there's no point in having a GTX 1080 on a laptop, you're simply not able to see those extra frames that your card can push out. So, this is a really nice combo.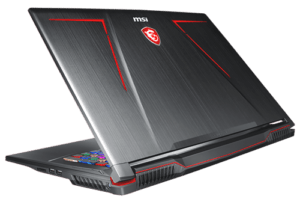 Cooling and fan noise
The fan noise is also very acceptable on idle. It's pretty quiet. On load, it's not too bad and if you want to, you can hit the Cooler Boost button and it'll crank the fans to the max and this will give you the best possible frame rates. It's super loud, but if you're rendering a video or playing something that's really intense, you're going to want to hit that button, and the fact that they have it is really nice.
The thermals on this laptop are good. It has 7 heat pipes in there which is pretty nuts. The GTX 1060 version has no throttling and the external temps are very comfortable as well.
There are a few things that I dislike about the GE63 Raider, and they're not super important but you may think otherwise.
Speakers
First are the speakers. MSi markets these things as having 3 times the size of their old speakers, and if you look inside they are really large, they almost look like batteries, but they still don't sound great. They sound average like you'd find on a laptop 25% cheaper. Since they are so big I was expecting a much bigger product, but they still sound very normal to me.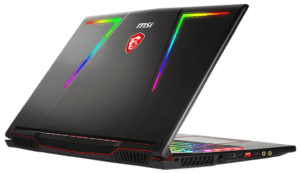 Battery life
The other thing that I don't love is the battery life. It's a 51-watt-hour battery and it yields just about 3 hours of use with the screen at 150 nits. That's kind of below average considering all the components in here, and it doesn't have G-Sync, it's just a simple 120Hz panel. It does have Optimus, but even with that technology, the battery life is really short. This would affect the business worker and student because 3 hours just won't cut it for a full day's work.
Accessibility
The last thing I don't like about this laptop is its lack of accessibility. MSi laptops are not the easiest ones to open, they usually make it a little bit more difficult and they often have a sticker that says don't open it, but this one is extra hard to open. That sucks because inside there are two NVMe slots. There are one SATA drive and two RAM slots, so there's a lot of room for upgrading, but it's very difficult to do without chipping or breaking the frame.
At the end of the day, it's a very solid laptop that MSi will probably sell a lot of.