Most Powerful Mini Gaming PC
Feb 21, 2018
The Zotac Magnus EK71080 is one of the most powerful and smallest gaming computers that you can buy. If you are familiar with Zotac, you know they've been making small barebones PCs for quite a while now. This is basically the next evolution of that.
The idea with the barebones is that while it does have important components, like the case and power supply, as well as a processor and graphics card, there is no memory, there is no SSD, and there's no operating system. The idea is that you can pretty much supply whatever you want.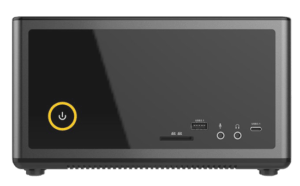 Original kit
Inside the original packing box, you're getting a Core i7-7700HQ processor, as well as a full GTX 1080. There's also a giant 330-watt power adopter in the box that sits outside of the PC box, but with a GTX 1080 inside you can't be too picky. You also get your antennas for the built-in WiFi and the power cord. The PC box isn't too big, maybe a bit taller than a regular shoe box. It's a very dense little computer, but keep in mind, that inside this PC is a GTX 1080.
Design
The top is pretty much nothing but ventilation, which makes sense considering the hardware inside. Up front, you get not only an SD card reader, but also a full-sized USB 3.0 port, a USB-C port, as well as microphone and headphone jacks. Around back it's fairly basic. You have four more USB 3.0s, where we actually install the antennas for the wireless, a pair of Ethernet jacks, which is kind of interesting, three display ports, DVI and HDMI from the video card.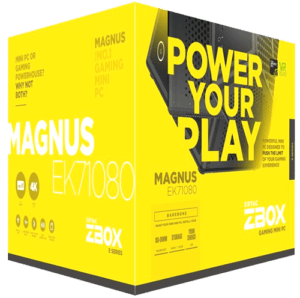 Buying barebones
One of the nice parts about buying a barebones system is that it comes pretty much ready to work on. On the bottom, you can install not only a SATA SSD, but also an m.2 drive, or an Intel Optanre drive at the same time. You also have a pair of DDR4 SO-DIMM slots and your RAM. Once you get the Zotac all setup with 16GB of DDR4 memory, and a 512GB SSD all you need to do is put a copy of Windows on it and you're ready to rock.
Gaming
Talking about some of the games we tested I'll start off with GTA 5. Even though it's an older game it can still be surprisingly taxing. Running at 2560 x 1080, you're getting pretty decent frame rates between 70-90. If you have a giant ultrawide monitor capable of G-sync you can run it up to 166fps if you drop your settings a bit. It looks really good on a larger monitor.
Moving on, we tested Deus Ex: Mankind Divided. While it may not be the most popular game in the world, it still looks really nice. That's especially when you give it some good hardware to work with. With all the settings cranked up and running on 2560 x 1080 again, it's getting 70-80fps as well. It shouldn't be a surprise that the GTX 1080 can run first-person shooter games smoothly. But what is nice is just how easy it's able to run them while still being quiet. There is a bit of coil whine when you're actually really taxing the CPU. But the graphics seem to run pretty coolly.
Pricing
Is this barebones Zotac Magnus computer worth picking up? Well, at $1,500 for the kit, or $1,800 if you don't want to deal with it and just get it with memory, SSD, as well as Windows preinstalled, this gaming PC definitely doesn't come in cheap.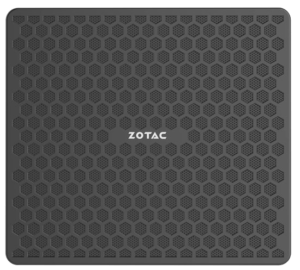 However, when you consider just how expensive it is to build yourself a PC today, especially with high-end components like this, that price isn't too crazy. Of course, getting something this small, that you don't have to build yourself, is a huge plus.
It may not be for everyone, but Zotac has built the most powerful small form factor gaming PC that we have had the pleasure of working with.