Asus UX331 Zenbook Gaming Laptop
Feb 14, 2018
It seems like a lot of people are looking for that great laptop that is thin, light, has a decent battery, won't break your bank, and also a laptop that you are able to do some pretty decent gaming. This Asus may be the laptop that you want.
The new laptop from Asus is a ZenBook UX331. This 13" laptop is only going to set you back about $1,000 USD. It is light only weighing 2.54-pounds. At its thickest point, it is only 0.55". It's not the thinnest laptop out there, obviously, there are thinner ultrabooks than this one. However, this machine has a very decent GPU inside, and it's still relatively thin, and they've also given it enough room to allow for a proper thermal solution.
In no particular order, there are a few things that I do like about this laptop. Afterwards, I'll touch on a few things that I think could be better.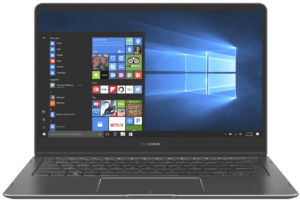 Build quality
The build quality of this is quite good. It is a $1,000 device so you should expect a machine at this price to have good build quality, and it does deliver. The screen has a little more flex to it than the older Asus UX330 laptop, but aside from that, it has really decent build quality.
Trackpad
The trackpad is another thing that I like. This one is one of the better ones from Asus. It's glass, has great texture, it's super smooth using Windows Precision drives. You can't ask for much better than this on a Windows laptop.
There is also a fingerprint sensor on the right-side if you're into using the Windows Hello login feature.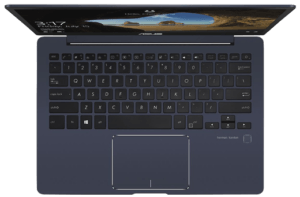 Screen
The screen is also surprisingly good. It is a 1080p touchscreen with decent color accuracy of 92% and 63% sRGB and Adobe RGB respectively. It also gets decently bright with 320 nits. The viewing angles are pretty good, I just wish that the hinge mechanism was a bit stiffer, it's just has a little more play than I would like to see, but other than that, the screen is good.
Internal components
Gaining access to the internal components is a little bit challenging. You have to remove the rubber feet and remove some screws, but once inside, you can replace the SSD. The one that they include is a little slow, it's a SATA drive, so if you want to you can switch it to an NVME drive. After that, there's not much that you can replace.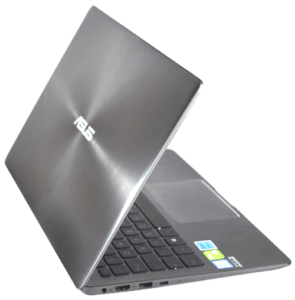 Battery
The battery is only 50 watt-hours, it's not particularly big. You look at a device like this that's only a 50 watt-hour battery, and then at devices with 60 watt-hour batteries with similar screen sizes, and you'll notice that this one gets slightly better battery life, which is better of course. But how are they doing this? I guess it's achievable with software optimization. However, with the screen set at around 250 nits, you can expect about 9.5 hours.
Audio
The audio sounds quite good. It has Harmon/Kardon branding, and the thing is we've seen a lot of not so decent speakers behind this branding before, but this time, the speakers are really good. It has a clean sound with good range and good volume. I do wish the speakers were located on the top and not the bottom, but it's a good sounding speaker regardless.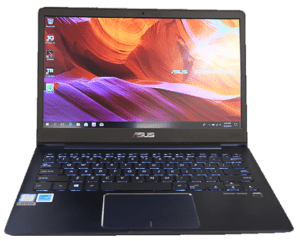 GPU
OK, let's get into the feature that makes this laptop special; the GPU. It's running the NVIDIA MX 150 and it is a very impressive card. It is not the most powerful GPU, but all the same, it doesn't require crazy heatsinks or fans, but it still pushes out decent frame rates while gaming. It still may not be the perfect gaming PC but you can comfortably play any basic popular title right now as long as you lower the graphics quality a bit. It doesn't matter if you're a casual or enthusiasts type of gamer, you are going to be fine on the MX 150, as long as you don't need really high-quality graphics. If you're someone that wants to play GTA 5 with 20 mods running, then, no, this is not the system for you. However, for most people, you'll be happy with this.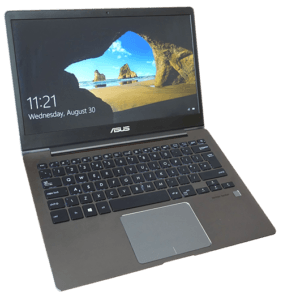 CPU
The CPU Asus is running is Intel's 8th generation Kaby Lake-R, and for the right application like something that requires multiple cores, the performance is great. The fans on this thing are kind of a mix. On idle, it's completely quiet because they don't engage. During more intensive things they do kick in and they stay relatively quiet as well. This all changes when you are gaming. When you are gaming they get audibly loud at around 44 decibels. It's one of the loudest I've heard this year. The good thing here is that this means that it's pushes out quite a bit of heat on a system that creates a fair amount of heat. You want to get it out of there as quickly as possible to avoid problems down the road. Thermal throttling wasn't present in gaming, but during stress tests it was.
Port selection
Now, it's not all sugar and spice and everything nice. There are things I don't like about this device. First, is the port selection. It has an OK port selection. It has a USB-C port, but it uses a barrel plug for charging. Universal charging in this device would have been much better. It also doesn't support Thunderbolt 3 on that USB-C port. I am assuming that these missed opportunities are in efforts to keep the costs lower, but they would've been nice to have.
Top surface
Another thing that I don't like on the ZenBook UX331 is the top surface. It has a kind of glass-looking material and it just kind of makes the whole thing look kind of cheap, not to mention it attracts fingerprints and scratches like a madman.

Keyboard
The biggest problem that I have with this laptop is its keyboard. The keyboard has a great layout, but it's just not as comfortable to use as I'd expect. The keystrokes are a little soft. The mechanism for the switch doesn't feel like the best, but after some time I guess it's something most people can get used to.