The Perfect Gaming PC
Feb 07, 2018
Are you in the market for a new desktop PC but also want to be able to successfully game at the same time? Not everyone wants to buy a laptop for gaming and home use. Corsair knows that, and put together a great pre-built, 12-liter, computer that holds a full-size GPU.
For comparison of size, a 2013 Mac Pro is about 5.5 - 6-liters. The average ITX case is around 18 - 20-liters. A micro ATX case is about 40-liters, that's pretty big. The Corsair One is 12-liters, it's small.
On the exterior, it's a smooth, black finish, with really good build quality. None of the edges are nasty sharp or anything. Aesthetically, I really like it. It's not for everyone, but I think they did a good job on the design. There's some lighting up front but Corsair One went against the grain and instead of following the whole RGB trend we see everywhere, it only lights up in blue. You can control the brightness and timing settings in its software. The sides have triangular perforations that are for airflow. Later I'll get into why there are so many of them.
The I/O is pretty good. It's a desktop PC, running a full-sized graphics card. On the back, there is the audio jacks, AC WiFi, Ethernet, the very important PS2 port and six USB ports. One of the USBs is type-C, but it is not Thunderbolt 3 supported. Up front, there is an HDMI 2.0 and a USB 3.1 which is perfect for VR setups.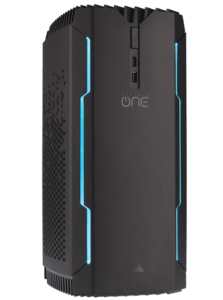 What's inside
A lot of companies have made small gaming PCs, but to see what makes this one special you have to go inside. Opening it up is pretty easy, you press a switch and the top grill pops off. Underneath this grill is the main fan. It's a Corsair Maglev fan. These things are awesome. They provide a lot of airflow and are really quiet. You remove a few screws and then you are inside.
This system is water cooled by two separate loops. On the CPU side, there is one loop that uses a thin 240mm radiator. This is cooling a Kaby Lake 7700K and you'll notice there are no fans on this radiator. The airflow to cool this thing is primarily coming from that Maglev fan at the top. Then on the other side of the GPU side, there's another loop with its own radiator as well. It's another 240mm radiator.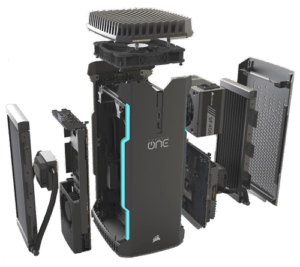 GPU
The GPU in this unit is a water-cooled GTX 1080, but the base model has an air-cooled GTX 1070. So, we have three fans. The big Maglev fan at the top, the fan on the GOU side and then the fan inside the power supply, which looks like an SF400 from Corsair. These are supposed to be enough to cool this entire system through assisted convection. Cool air sucks in through the sides and then the hot air rises out. That's why there are so many little triangles.
The motherboard is on one side, the GPU instead of just slotting in, like it normally would, is connected using a riser and then there's a PCIe ribbon that folds over to the other side. The 16GB of RAM is easy to replace. If you want to put in an NVME drive there is an m.2 slot behind the motherboard. There are two 2.5 inch drive bays. If you want to replace any of this stuff: the motherboard, the CPU or the GPU, just about everything can be replaced. It's not going to be super easy because it's a pretty cramped case, but it can be done.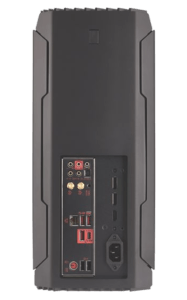 Performance
We were kind of concerned how well this was going to perform because a GTX 1070 and a 7700K gets really hot, and since it is so small, we had concerns. Granted, it looks cool and has a great presentation, but we were reserved in our opinions.
These components have been Benchmarked a million times, so there's no reason to bore you with numbers, but the performance was as expected from the CPU and GPU combination.
Fan noise on idle is pretty quiet, it's not completely silent like a Mac Pro, but you can't really hear it. On maximum load, and I'm not talking about the game here. I'm talking about a stress test, it's definitely audible. But considering the horsepower that this system has it's still very quiet.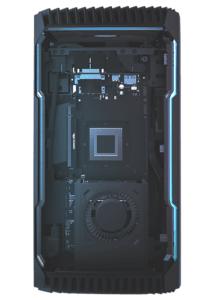 Gaming
Playing games on this thing is a blast. Even poorly optimized games run well on this thing because of how powerful the hardware is and Witcher 3, still, one of the most demanding games on the market right now, runs nicely and this is with Hairworks on and, even when playing a game like this, the fans are still pretty quiet.
The next thing we did was overclock it, and this is where we were most impressed. The 7700K was able to hit 5GHz comfortably and the GTX 1080, we were able to get it running around 1900 MHz. The CPU temps were a little warm during these stress tests, but this is a solid overclock.
I usually play Overwatch on low settings for max frame rates, but on this, I can run it on ultra graphics at 1440p with the CPU at 5GHz and the GPU over 1900 megahertz, even after hours of gaming, temps were comfortable, the system was stable and everything was still quiet. The overclocking potential in the system is really impressive.
Video editing and VR
Video editing is also really nice about this thing. It's fast and quiet. We work with 5K footage and this does a fantastic job with it.
For VR, the Corsair One obviously handles everything really nicely, the GTX 1070 and 1080 are well above the recommended specs for VR titles right now. Because the chassis is so small you can leave it out without being too much of an eyesore.
The performance of this thing is awesome and it's not just fast components, because anyone can just stick fast components in a case, but they have it properly cooled so there's no throttling and there's still room for overclocking, and the whole while, they're doing it in a small case, that's super quiet.
Pricing
Now, in terms of pricing the base model starts at $1,800USD. But the one we like the most is the Corsair One Pro, the one with the GTX 1080 and that runs $2,200. That is a lot of money for a desktop PC. Some people are going to ask: why would you buy this computer when you could build your own custom PC for $700?
Well, go to PC Part Picker and load up the configuration of the Corsair One. You first need to spend a bit for a 12-liter case that can fit a GTX 1070, and they aren't cheap. Once you get all the parts chosen it's going to run you about $1,800, and that doesn't include the second radiator you need to water cool the GPU. Once you get another of those and a Maglev fan to cool everything down like they did, it's going to run you at least $1,950. For 10-12% more you can have a premium built system with a 2-year warranty, your cost savings is not really worth the trouble.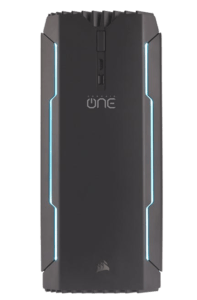 Sell Corsair ONE PRO Desktop Computer