Asus GL503 Hero Gaming Laptop w/GTX 1060
Jan 30, 2018
Gaming is always going to be a well sought after function of many laptop buyers. Some people like to buy laptops specifically for their gaming capabilities, and others take a more practical approach and get more versatile devices that will also support heavier work and school loads. There's something out there for everyone, and someone is looking for an Asus GL Hero Edition with a GTX 1060, and if that person is you, well, you're in luck.
I am going to cover some of the basics of the Asus GL503 and specifically the Hero Edition. That basically means that is has a turbocharged package. It comes with a stronger GTX 1060, 6GB of DDR5 RAM, 120GHz IPS panel. You also get a different exterior design all for $1,600 USD.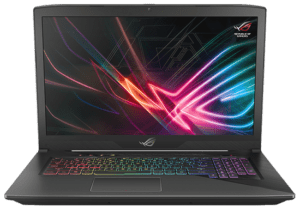 Design
The exterior design of the Hero Edition looks very slick and sharp. There are some major design cues on the exterior lid which makes it really stand out. But not in a way that gaming laptops stick out with all of their red accents. The lid is all plastic so you will need to pay attention to what you stack on it. The RG logo on the lid is offset from center and I like its placement and it also lights up red when the laptop is on.
The interior is all plastic as well with the same type of exterior design cues. Asus kept the Hero's theme throughout, and it's a really good looking laptop. Asus is well known for making some of the best selling gaming laptops.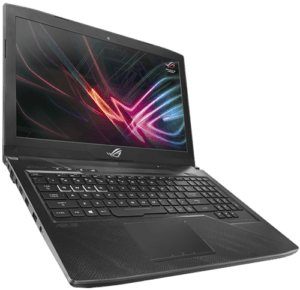 Build quality
The build quality of the laptop is pretty good even considering the chassis and body are full plastic. There is not much flex on the lid nor the keyboard deck. On the plastic bottom plate, there is an access door to the internals. You can access your hard drive m.2 SSD with read speeds of 3300MB/s and writes at 1280MB/s and RAM. The remaining parts of the internal components are a bit more tricky to gain access to.
Ports
Ports are sufficient on this laptop. You get your charging port, RJ45 Ethernet, mini display, full-size HDMI, two USB 3.0, and the headset/mic combo jack. Along the opposite side, there is the SD card reader, USB-C, a USB 2.0 and another 3.o as well as the lock slot. On the top of the keyboard deck, there are your indicator LEDs. There are also some dedicated volume up and down buttons.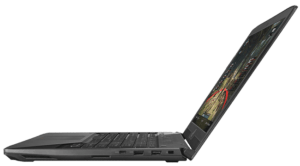 Hero Edition
Since this is the Hero Edition you are getting a 1920 x 1080p, 120 GHz IPS panel with great color accuracy. You'll be impressed with this panel with its 120 GHZ, brightness levels and contrast ratios, this panel is definitely top-notch. Generally, you need to spend over $2,000 for a display like this on a gaming laptop.
Keyboard
This Asus laptop has a great keyboard and good key spacing. The number pad is a bit crammed in there and a little bit different to get used to, but once you do it's fine. With the 1.8 mm of key travel, you should feel super comfortable while gaming or typing. It also has a really cool backlit keyboard. ROG Aurora has four customizable control zones and effect settings.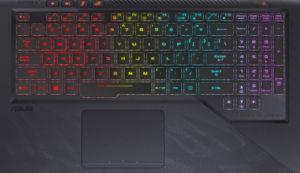 Trackpad
The trackpad performance is powered by Windows Precision Drivers and is right on. The two-finger scrolling and tracking are very smooth and accurate. It has a fairly basic setup and delivery with this trackpad.
Processor
The processor is an Intel Core i7-7700HQ which is a quad-core cabling chip that offers very good performance that gains a Geekbench score of 4483 single-core score, and 12,994 for multi-core scores.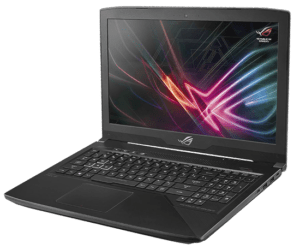 Graphics
The GPU that Asus chose for their Hero Edition is the GTX 1060 with 6GB of DDR5. Well optimized games like Overwatch run beautifully on this laptop. On epic settings with 1920 x 1080p, you'll get an average of 92 - 100 frames per second, really intense scenes can dip to about 85 fps. Overall the GTX 1060 is a very capable card that can play many of today's games without a problem.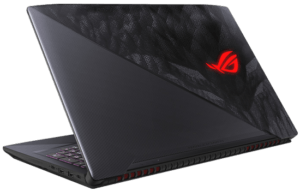 Power delivery
Power delivery is nice with a 64 watt-hour battery pack. I was getting about 5 hours on medium screen brightness and that's while using casual activities like web browsing, media streaming, and word processing. Now, if you plan on gaming on this battery you should expect maybe an hour and fifteen minutes.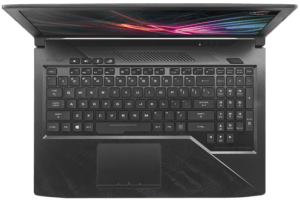 Audio
The audio on this laptop is decent. The forward-firing speakers can get pretty loud, but with all laptops, the low-end frequencies are pretty much just flat. It would have been nice if Asus but a mini-sub in it to make up for it, but alas... they didn't.
Controls
I mentioned earlier that there were some dedicated controls on the keyboard deck such as the volume buttons, but there is also a ROG dedicated button and it takes you straight to Asus ROG gaming center. Here you can find control settings for almost everything that you can think of. You also have sight on the temperatures and during gaming the temp ran about 82C for the CPU and 81C for the GPU.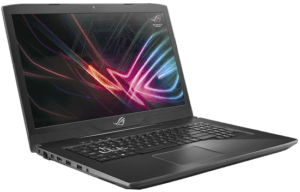 Cooling
The fans are kind of loud on this laptop, especially if you get the GTX 1060 in it. Asus pushes the heat towards the back of the laptop and that's good because the ADSW key and the center of the keyboard well cooled. At idle the fans usually hold about 32s decibels and while gaming they throttle to about 56 decibels.
Conclusion
In conclusion, this laptop offers a very good all black and gray design. The 120GHz panel makes gaming a real pleasure to view. With this panel and the GTX 1060 you really are getting a very well built gaming machine. You can certainly find cheaper gaming laptops from other companies, but the bottom line here is that they always have a far inferior display. If you want good build quality and a great IPS panel and GPU, the Hero takes the cake.