Asus Zenbook UX430 Laptop. 8th gen Intel
Jan 22, 2018
At the end of 2017, we got an Asus UX430 Zenbook in the office and we had just enough time to take a thorough look at it and see if it's something worth picking up going into 2018. It's a Signature Edition Zenbook. This bad boy retails for $1,000 USD, undercutting some of the more expensive ultrabooks on the market, but is it worth it? Let's find out.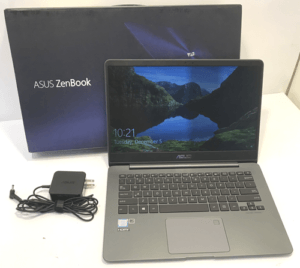 Design
The design is typical Asus. It's an all-metal ultrabook with the concentration ring surrounding the lid of this laptop. There is a quartz gray color which looks fine since it doesn't pick up fingerprints too easily. But if you go for the royal blue or rose gold they are using a different type of technology. They are using nano-imprint lithography. So basically what you are going to get is a much glossier surface, which in the end, means more fingerprints. In terms of weight, it's super light at 2.87-pounds. It's perfect for traveling on a plane or taking it to a coffee shop to get work done.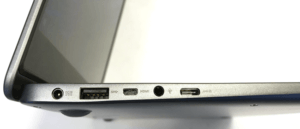 Ports
For ports on the left-hand side there is the power adaptor, USB 3.0, mini-HDMI, which, I wish was full-sized, an audio jack, a USB-C port that's not Thunderbolt 3 supported, so you won't be connecting any external through it. On the right-hand side, there is another USB 3.0 port and a full-sized SD card reader.

Internals
Inside pretty much everything is soldered on to the motherboard, so the RAM, CPU, and GPU are not replaceable, but you can swap out the m.2 SSD. Now, it's a regular SSD, not NVME so you need to expect slower read and write speeds of 550 MB/s and 503 MB/s respectively.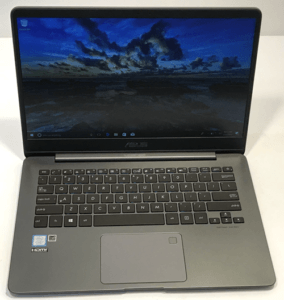 Display
The display is very simple. It's a 14" display in a 13" form factor. It's IPS, full-HD and matte, which means you're not going to get awful reflections if you're in the sun or have light hitting your display. There are some plastic bezels, which is pretty much the only plastic you're going to see on this laptop. The colors are good. Everything looks very vibrant. In comparison to something like the Dell XPS 13 or the Lenovo Yoga 920, it isn't as bright coming in at only 280 nits. However, the color accuracy isn't too bad at 92% sRGB and 71% Adobe RGB. It's good enough for some light Photoshop type of work, but if you are a creative professional that needs 100% accuracy, you may want to choose something with a better display.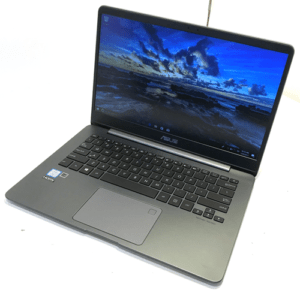 Features
The 720mp webcam looks just like every other webcam on the market, there were no extras added here. Sound comes out of two downward-facing speakers coming out of the Zenbook. They are not in the best placement, but I did find the volume to be nice and high with no distortion. The sound is a little bit tinny, but that's to be expected, they are still good speakers overall.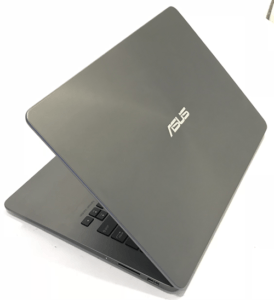 Keyboard and touchpad
The keyboard on the Zenbook is definitely not my favorite. It's not terrible, it's just ok. When you first press the keys they feel a bit stiff upon the first touch. Then when it bottoms out it feels a bit too mushy. I don't like the arrow keys. They are very small compared to the rest of the keys on the keyboard. One saving grace is its 3-levels of backlighting which is nice since ultrabooks usually only have one level.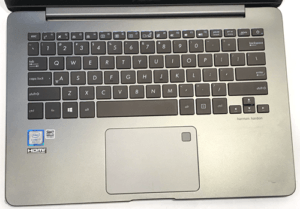 On the bottom you have a well sized touchpad which is using Windows Precision drivers. Accuracy is good as is the gesture support. Scrolling isn't too bad either. It's definitely not the best, I still think the Dell XPS 13 has a better touchpad, but overall, it's good.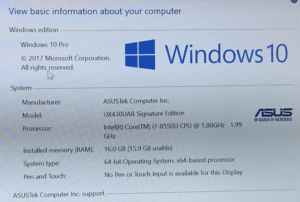 Performance
Performance on the Zenbook is fantastic. In fact, it's in line with the competition. It's using the latest 8th generation processors which are the Kaby Lake R refresh processors. The CPU is an Intel Core i7-8550U, 16GB of RAM, Intel 630 UHD GPU, with 512GB of storage. Instead of having two cores like you would on previous ultrabooks, you now get four which means in certain situations that can take advantage of them, you're going to get better performance.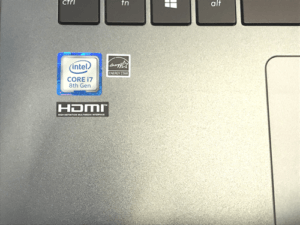 Everyday tasks like web browsing, gameplay, you won't notice too much of an advantage, but you're transcoding video, using Photoshop or using any application that prefers to have more cores this will be about 40-50% faster than last year's model. You can do some light gaming on it as well.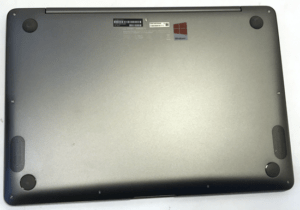 Heat management
When it comes to heat management, the Zenbook laptop does a fantastic job. The surface temperatures were fantastic, my fingers never got too hot to the touch, even at the top of the keyboard where the CPU is was decently chilled. In terms of the CPU itself, 60-65-degrees Celsius could be measured under a full load. That's great right there. The sound on this thing under full loads does kick on but you will stay around 43 decibels therefor it's not that loud when throttling.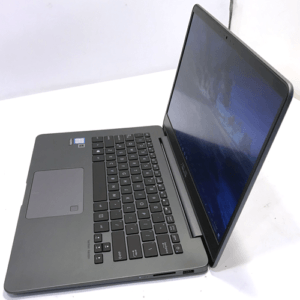 Battery life
Battery life is pretty good on this Zenbook,. It's not great when you compare it to some of the competition like MacBook Air. I was getting about 8 hours of use before needing to recharge it. That included web browsing, movie streaming, and basic productivity tasks. If you need a little bit more like 10-12 hours then you're better off with the Dell XPS 13 or the Lenovo 920 Yoga.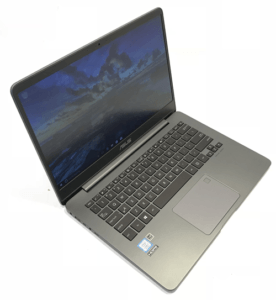 Conclusion
The Asus UX430 is a good ultrabook. Everything is good enough; good display, good battery life, a decent keyboard, and a good touchpad. It's unfortunate that it isn't Thunderbolt 3 supported nor does it have a full-sized HDMI port. However, it only costs $1,000. If you want something from Dell or HP that specs the same as this, you're going to be paying at least $200-$300 more. For a $1,000 it really does give you everything that you need as an average consumer. It will not break the bank like Surface laptop.