Samsung Odyssey 15.6" Horrible Gaming Laptop
Jan 16, 2018
Samsung is known widely for the flagship cellular phones and chipsets. However, is everything they produce of flagships quality? Well, here they take an attempt to produce a "higher-end" gaming laptop. Do you think they hit the mark or did they come up a bit shy? You be the judge. Let's take a look at the new Samsung Odyssey NP 800 G5H. This is a 15-inch gaming laptop that is on the pricey side.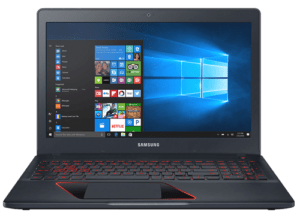 Specs
When breaking down the specs you'll find that this has an Intel Core i7-7700HQ, 16GB of DDR4 RAM, a 15.6" full IPS display panel, a GTX 1060 GPU, a 128GB SSD and a 1TB drive. This guy right out of the gate is going to set you back $1,599 USD, sometimes it can be found on sale for about $1,450.
Design
The exterior of the laptop is made out of all plastic. It has the red Odyssey logo planted firmly in the center of the lid. For $1,600 it would be nice if it was at least made of aluminum. As for the bottom panel it's very cool looking with another Odyssey logo, but it's made of plastic as well. Both the top and bottom panels offer a bit of flex due to their materials. On the bottom, you'll also find two down-firing speakers.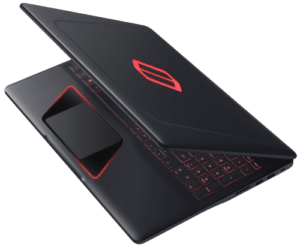 Features
The keyboard fairly standard with a 10-key number pad but the keyboard deck has some flex, especially towards the middle. The WASD keys are bordered and easy to keep track of. If you want to get into the insides of this device it's fairly easy, and once inside you can easily upgrade the components on this laptop. Once inside, you'll see the 4 cell 66 watt-hour battery pack, the 1TB drive, 128GB NVME SSD. With this configuration you'll get some really fast read speeds of 3242 MB/s, however, your write speeds will be substantially slower at 848 MB/s. Aside from the wireless card and the dual-fan setup, you'll have access to the two RAM stick slots. It comes to you with 16GB of DDR4 RAM.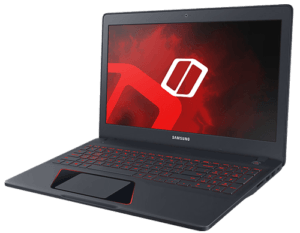 Ports
Let's take a look at the port selection. On the left side, it has the charging port, RJ45 Ethernet, full-sized HDMI, USB 3.0, and the headset/microphone combo jack. On the right side, you have a full-sized SD card reader, two USB 2.0, and the security lock slot. Unfortunately, for this price point you're not getting a USB-C port and also there is no Thunderbolt 3 support. There's only one display to choose from and that's the 15.6" full IPS panel. It has terrible color accuracy and the brightness levels were poor as well at only 220 nits.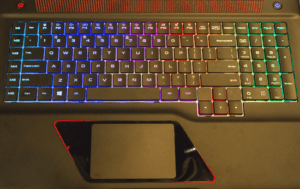 Trackpad and Keyboard
The trackpad is something that's left to be desired as well. It has this crazy offsetting diagonal design that just looks too out of place for my liking. Samsung needs to head back to their design crews and get this re-worked. It also has backlighting in the corners of the trackpad design and in my opinion, they don't look very good either. If you can get past the way it looks you'll find that the Elan trackpad is pretty decent. The two-finger scrolling and multi-touch gestures rang true. The keyboard feels very narrow and cumbersome, and the key travel is very short at 1.5 mm, and for me, the typing experience was very poor. The keyboard doesn't look bad but its performance isn't great by any means. I guess one good thing I can say about the keyboard is that I like the three levels of backlighting.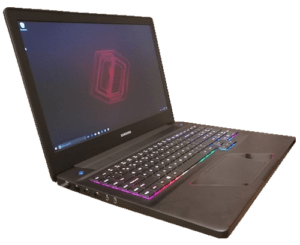 Performance
This laptop comes with an Intel Core i7-7700HQ, which is a quad-core Kaby Lake chip that offers very good performance. The selection is a GTX 1060 with 6GB of GDDR5. Well-optimized games like Overwatch tend to run very well on the GTX 1060 with 95-115 fps on epic settings (1920x1080p). On games like. Overall, this GPU is going to get some really decent gaming done. As far as thermal management is concerned, towards the middle of the deck you're going to get about 45-degrees Celsius and around the top, it is closer to 55-degrees C.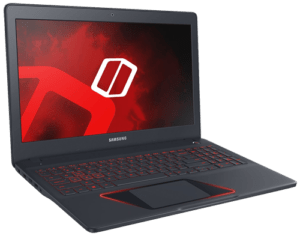 At 66 watt-hours this laptop has a fairly decent sized battery. On medium screen brightness, I was getting on average of about 4-5 hours of regular usage. As mentioned earlier, the speakers are firing towards the bottom so the broadcasting levels are very poor and there is absolutely zero lower frequencies that come through. Other competing laptops like the Dell 7577 and the Lenovo Legion 720p both sound much better.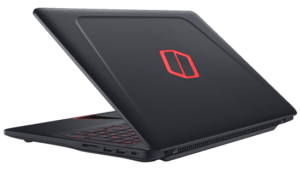 Summary
With this device, Samsung attempts to enter the field of gaming technology, and this attempt falls well short of anything that you may consider good, especially at this price point of $1,600. Its construction is totally made of plastic makes it feel super cheap and severely overpriced, absolutely nothing makes this laptop stand out at all. The 480p webcam is horrible and the keyboard is terrible and the trackpad looks horrific. It seems to me that samsung should stay within their strong points and make phones and chips.