Asus G752 GTX 1070 - Best selling laptops for Christmas
Dec 01, 2017
Christmas is right around the corner and you're still not sure what to gift your beloved son? Buy him a new gaming laptop if money is no concern. You can't ever go wrong with that. There's abundance of places selling laptops online and you can still grab a deal before cyber week ends.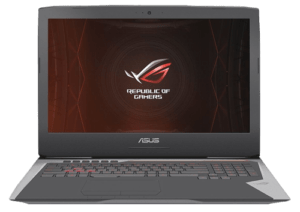 Gaming, that seems to be a pretty big subject for us because we know that it is very popular among our readership. People of all ages are into gaming. Whether you only pass your idle time playing Candy Crush on your mobile device, or you are a competitive gamer with the top-of-the-line gaming laptop or desktop, chances are eventually we will probably cover something that you like.
With just a few short weeks until Christmas, there's no time like the present to start thinking about what you may want to receive or what you may like to buy for someone else. So, in that case, let's take a look at the refreshed copper-colored Asus G752 with a GTX 1070. That greatly expands our gaming world perspectives after reviewing lately its brother the Asus ROG Strix GL703 VM SCAR.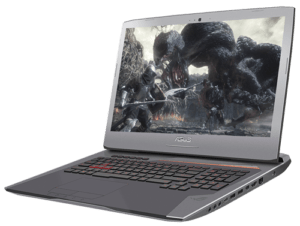 Size and Weight
Seventeen-inch gaming laptops tend to be a bit big, but this one is always been particularly big. Tipping the scales at 9.7-pounds and measuring 2.1-inches thick when closed, makes this bad boy a sizable carry along. It has an optical drive so this is designed to be more like you replacement desktop device rather than your daily carry-around laptop.
In terms of its exterior, very little has changed. It is the same silver-colored aluminum top panel; same silver-colored bottom paneling; but this one has some big and bold copper accents that make this laptop look very unique. It's not real copper, Asus used a polycarbonate, but the overall build quality on this laptop is really good.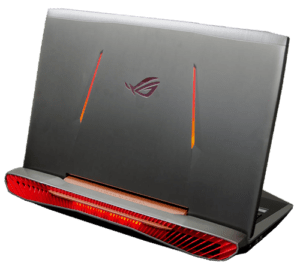 Price
This device is expensive. A model with the GTX 1070 starts at $2,500 USD, so, everything here is built really nicely. The screen hinge, the rear exhaust, the fit and finish of everything is great. There is still some flex on the keyboard because it's a wide 17-inch laptop. That just comes with the territory. This laptop is best compared with the Acer Predator. First thing worth comparing is the price. Acer Predator sells for little less which makes it more appealing to Christmas shoppers.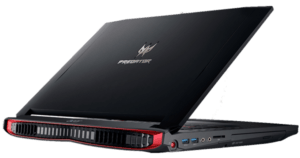 Something that we have noticed is that this laptop requires a lot of space to comfortably use it. Whether that is a large desk with ample room or a large table, you are going to want a good amount of space between your resting elbows on the desk and your wrists. The front edge of the laptop is pretty sharp, for a lack of better words, and if you don't have enough room this front edge will dig into your wrists. No one likes that.
Asus didn't change much from their previous generation when it comes to port selection so, it has the same port selection as before. It still has the individual audio jacks, Thunderbolt 3 port, display outputs, Ethernet, four USB 3.0s, and an SD slot. Of course, as mentioned earlier, it also has the optical drive.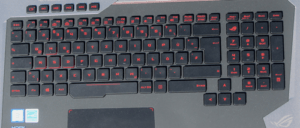 Keyboard and Trackpad
The keyboard and trackpads have also not changed very much. They are both pretty good. The keyboard has macro keys you can program. The backlighting is red, which is unchangeable. With a device sporting this type of price tag it would be nice if there were some RGB control lighting, but, it simply stuck with the all red backlighting.
The trackpad is solid, It has physical buttons and the tracking is nice because it uses Windows drivers. Overall, I really like it because everything about the inputs has stayed the same as the previous generation.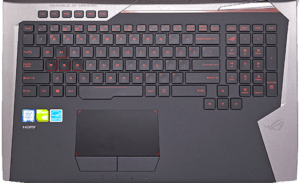 Specs
The internals are super easy to get to. There's one screw on the bottom plate that keeps the bay door closed. Remove that and pull on the pull-tab to remove it to gain internal access.
The model we're working with here has 32GB of DDR4 RAM that has been factory overclocked, it has a 1TB HDD (read: 135, write: 130) and a 256 SSD with reading/write speeds of 2150 and 1250 respectively. They also left room for a second SSD, which is nice.
The CPU is a Sky Lake 6820HK, so it's a bit faster than the popular 6700HQ, and it's unlocked, so you can overclock it. The software makes it really easy to deal with but the thermals are a bit tough to keep accurately managed. Thankfully, in its stock configuration, it's plenty fast enough.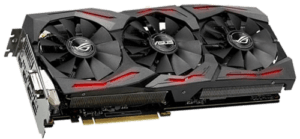 Performance
As mentioned, it has a GTX 1070. The performance of this thing is awesome. It's mind-blowing how similar these laptop cards are getting to their desktop counterparts. Running most games at 1080p is super easy for this graphics card. Mildly demanding games like Overwatch, Black Ops 3, or Mirror's Edge were all getting about 100 frames per second at maxed graphics settings. Even a title like Doom, with ultra settings, can break 100 fps.
The screen on this particular model of the G752 has G-Sync and has a refresh rate of 75Hz. If you have G-Sync enables, all of these titles would be capped at 75 fps. That's the technology that reduces visual stuttering and visual tearing. For the everyday casual user, the 75 fps will no doubt be plenty smooth. For the average game at 1080p, the GTX 1070 can push way more than 75 fps. In essence, while using the G-Sync you are capping off a lot of this card's potential. However, with the future of games becoming much more demanding, this machine will still run smoothly n a 75Hz G-Synced panel.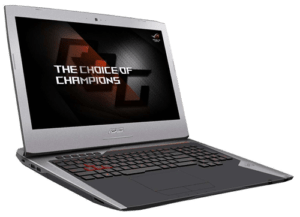 Display
The panel is very nice. It has a great finish, very good color accuracy at a sRGB reading at 91% and Adobe RGB at 72%. It also has very good viewing angles and contrast. To us, it seems like the 75Hz G-Sync panel is better suited for the GTX 1060. A 1440p panel would be pretty cool because when you hook that one up externally you still get awesome frame rates. It's really the super demanding games like Witcher 3 that will ever drop below 50 fps.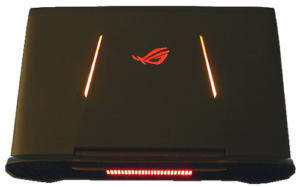 Cooling and Noise
Thermally, it is very well cooled. Again, it features a vapor chamber that keeps things very comfortable. On the other hand, fan noise will be louder than most 17" laptops when under load. Idling noise is not a problem. The benefit here with these loud fans is that you won't experience any type of throttling, even when running 3D benchmarks.
With increased fan noise, the speakers are less enjoyable for use. Due to the speakers' location behind the screen, they already tend to lose their impact on the upper frequencies. Now that the fans are in the same area the clarity gets much more distorted than before. This demands that you crank the volume pretty high in order to overpower the fans' noise. So, this brings us back to the same old remedy of using headphones for games and movies.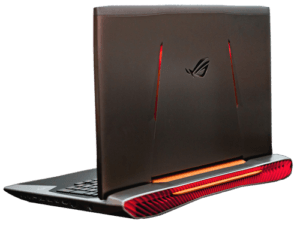 Battery
This device has an 88 watt-hour battery pack. Given its size, it seems like they could have gone with a 99 watt-hour legal limit pack. However, this would have made it even heavier and since it's already a heavy machine that isn't really intended to be carried around a lot, I guess Asus decided it would be sort of senseless to add even more weight to a laptop that more than likely will be stationary or your desk a vast majority of its life.
Summary
Overall this laptop is a strong performer. The GTX 1070 is a beast and the design is super cool. However, in terms of value, you aren't going to get the best value per dollar spent. What you will get is, a really good performer with really nice aesthetics, and if that's what you are looking for, then this Asus G752 is a really nice option.