Microsoft's Surface Pro vs Samsung's Galaxy Book
Nov 10, 2017
Today I'm putting the Microsoft Surface Pro tablet up against the Samsung Galaxy Book. Both offer unique user experiences. Microsoft is the gold standard for 2-in-1 laptop tablet hybrids. They are the ones that pretty much invented this category of devices. The reason why we're comparing the Surface Pro to the Galaxy Book is because the Samsung comes with a keyboard and a pen, unlike the Surface Pro. Even though you get those accessories with the Galaxy Book, is it actually better? Only you can make that decision.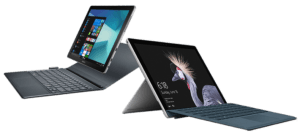 Design
These are both very beautiful devices and they have their own unique flavor. The Galaxy Book has softer, rounder edges and the Surface Pro has more chiseled and angular cuts. They both serve their purposes quite well. I find that the Surface Pro looks more professional for business and the Galaxy Book looks more friendly. The big difference though is that the Galaxy Book doesn't have a metal hinge, while the Surface Pro does. The Surface Pro rotates up to 165-degrees, so it can get pretty flat to the desk it's on. In terms of weight, they are fairly equal but the but the Galaxy Book does wire a bit less at 1.66-pounds vs 1.73-pounds.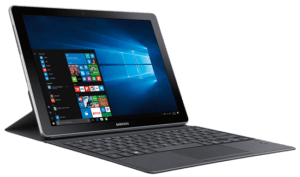 No matter which one you decide to get, you are going to have the live the Dongle Life. The Surface Pro sticks with an older USB 3.0 port, one displayport, an audio jack and a Surface COnnect port, which is their version of Apple's MagSafe connector. It would be nice if Microsoft added one USB-C port, but alas, they didn't.
The Galaxy Book took the opposite approach. It just added two USB-C ports, and before you ask, no, none of them support Thunderbolt 3. The Galaxy Book comes with an i5-7200U processor which isn't fanless and there are only two models to choose from. You're also getting 4 or 8GB of RAM, 128GB or 256Gb of SSD storage, a 12-inch S-SMOLED FHD+ display, and a 5070 mAH battery.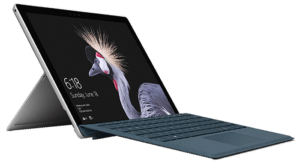 Specs and Pricing
The Surface Pro offers a lot more power because you have i7 models to choose from. But, if you do decide to go with the i5 version, you can actually get it fanless which is a pretty crazy achievement for Microsoft. The Surface Pro retails for $1,300 USD, and with that price tag you'll get a choice from an M3, i5, or i7 (7th Gen) processors, 4GB, 8GB, or 16GB of RAM, 128GB, 256GB, 512GB or 1TB of NVME SSD storage, a 12.3-inch IPS QHD+ display, and a 5940 mAH battery. However, you don't get the type cover nor the Surface Pen. Whereas for $1,329, the i5 model of the Samsung Galaxy Book, you get both of them included.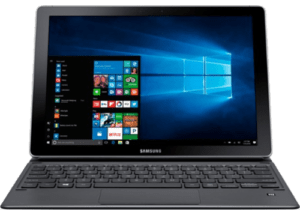 Displays
Both of these displays are absolutely gorgeous. They both use a 3:2 aspect ratio which allows for your smaller screen size to appear bigger. The Galaxy Book uses a Super AMOLED display with eye-popping colors, with awesome RGB ratings. sRGB of 100% and Adobe RGB of 99%. If you watch a lot of movies, the Galaxy Book is the one you want. The pixel display is great on the Surface Pro as well with sRGB at 99% and Adobe RGB at 77%, it's just not as vibrant, but still great.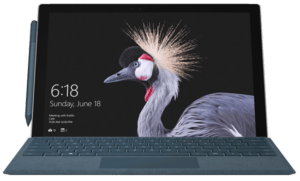 Keyboards & Trackpads
Next up are the keyboards. As far as the attachment goes, if you don't have a metal hinge, it's my opinion that you've already lost the race. The one on the Samsung doesn't have a metal hinge. You have to really manipulate the stand in order for it to sit well. Plus, you're very limited in a number of positions that you can put it in. Now, the Surface Pro has a 165-degree hinge and you can pretty much put it in any position that you want.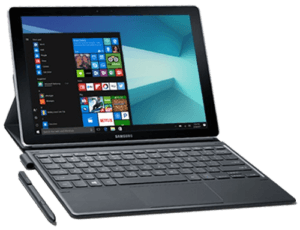 For both keyboards, the typing experience is really good. I like the Surface Pro a bit more because it's slightly stiffer. They both have backlighting and the Galaxy Book has softer keys. Also, the Samsung's keys are a bit thinner and that causes a bit more typos than maybe you're used to.
The trackpads on both use Windows Precision drivers. The one on the Surface Pro is a bit more accurate, but both are really good.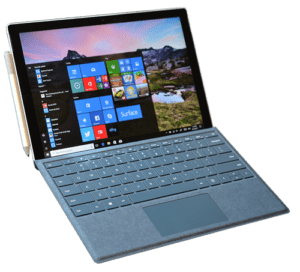 Performance
Performance on both of these devices are really good, but the Galaxy Book only comes with an i5 configuration. That's fine for daily productivity tasks like email. word processing, web browsing, but if you want extra power for editing and photoshop, you're going to have to lean towards the more powerful Surface Pro. There is also one other thing that you need to know. The Surface Pro has a faster hard drive because it uses an NVME SSD, so you're going to get faster read and write speeds compared to the Galaxy Book. If you do game, you can put your settings low and you'll get about 40-45 fps.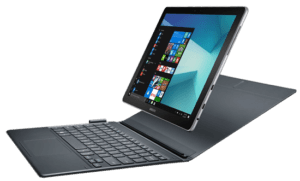 When speaking about performance, you're probably going to ask about heat, and both of these devices do get quite hot. The Galaxy Book gets up to about 55-degrees Celsius on the back, and the Surface Pro surface gets up to about 45-degrees Celsius. They both thermal throttle, but the Surface Pro thermal throttles first and quickly. It would hit CPU temps of about 90C and the throttle and then kind of dissipated the heat and was everything was fine. The Galaxy Book held out much longer before it started to throttle. I think the Samsung did a bit better of a job handling the heat.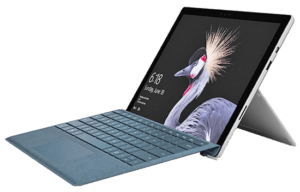 In terms of noise, they are both pretty quiet. They are both small devices but with the i5 configuration, you're not going to hear them at all.
Finally, the last thing is battery life. They are both very similar. You are going to get 6 - 6.5 hours on the Galaxy Book, and about 6 - 6.5 hours on the Surface Pro's i7 model. It's believed that Microsoft's i5 model is going to get significantly more time.