2017 13-inch Razer Blade Stealth Laptop
Oct 27, 2017
We've been on a Razer Blade kick recently because they are just so cool work with. As a gamer should know, this is one of the best gaming brands that you may run across since a lot of viewership are gamers, we try and keep you guys up to speed. Also, for those just trying to get a good idea of what's out there on the market. This time I am going to cover the new 2017 13" Razer Blade Stealth.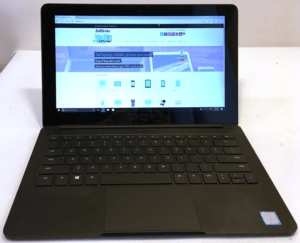 Design
It has the same external dimensions and finishes. Why not? Stick with what works, right? It has great build quality. It's certainly one of the best build ultrabooks around. That black finish is really nice, but in order to better protect it, you may want to think about applying a skin. Scratches on black laptops look extra bad. There is another color that they call Gunmetal Gray, t has a more muted look and the logo is subdued as well. It looks great too. The logo doesn't light up either and there are no RGB keyboard effects, so it offers just a white backlit option.
The ports also haven't changed. There is one HDMI, two USB-A ports and a Thunderbolt 3 port that is also used for charging.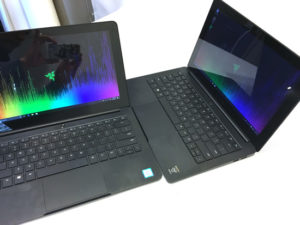 RAM and Storage
The internals look the same. The RAM is soldered on again, this time it has 16GB of RAM which is very roomy and something that a lot of enthusiasts were asking for.
The SSD is replaceable, you just have to remove the ribbon cable like before. Sadly, it's still using the PM951 drives, which have relatively slow write speeds and the lower capacities. It's not a terrible drive, it's just that there are so many better drives out there that they could have used.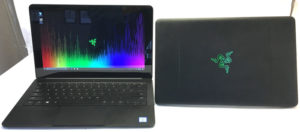 Battery
The battery size remains the same at 53.6 watt-hours, but you will probably get less battery time than before. However, it is still clocking in about 7 hours, so about 40 minutes less than last years. More than likely this is due to the larger screen to light up.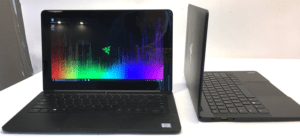 Display
There are two screens to choose from, the older 12.5" and the new 13.3" panel. Since we are talking about the 13" screen let's give you some quick facts: it's 280 nits, sRGB of 99% and Adobe RGB of 78%. As you can see the color accuracy is pretty accurate. It's not ideal for bright environments since it's only 280 nits and a glossy screen. For indoor use though, it's worth.
The bezels have been minimized and it just looks so much better. Much people complained about the thick bezels and so Razer Blade took that into concentration and gave you smaller bezels and a bigger screen. That's a win/win.
Another thing that they have changed is the trackpad. It is the same size and it has the same glass texture, but the button mechanism feels slightly different than the older one. The previous model had a more pronounced click. The tracking, however, is much better because they are finally using Windows PRecision drivers.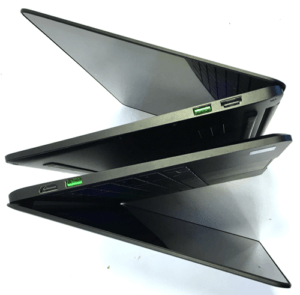 Performance
Performance is as expected. It's a Kaby Lake i7 with 16GB of RAM, it will handle any type of media consumption, work or school stuff that you throw at it. Video editing on any 1080p footage will be pretty decent if you have an external drive. 4K editing will lapse quite a bit, but hey, it's an ultrabook that we are dealing with here.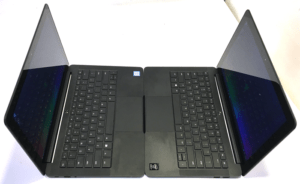 NOT a gaming laptop
Now, one thing that needs to be made clear here is that the Stealth is NOT a gaming laptop. It's made by Razer but it is not designed to play game on its own. It's running an HD 620, the integrated graphics chip from Intel. you can play some light games and have reasonable results with frame rates, but you need to turn most settings to low and play at the lowest resolution.
The Razer Blade Stealth was one of the first laptops to support external GPUs over Thunderbolt 3, and even in mid-2017, this is still one of the best setups for the job. You can connect an external Razer Core running a GTX 1080 as easy as a plug and play feature.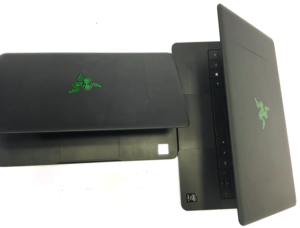 Gaming performance is really good (with the external), but like all Thunderbolt 3 GPUs, performance is going to be around 10-15% less than a direct connection on a desktop. You'll also want to use an external monitor for the best performance.
Thermal performance remains the same, nothing too hot, and nothing is too loud.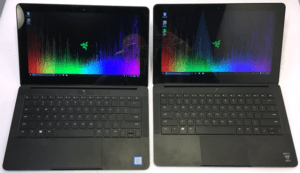 Keyboard
Razer Blade did a great job on this laptop; however, as per the norm, there are things I would have liked more if they were changed a bit and one of those things are: the keyboard. It hasn't changed much since it's launch, and though it has cool RGB lighting, it could have better ket travel on the stroke. Also, the functional markings still do not light up. So, if you want to adjust the screen or volume in the dark, you must remember where they are.
The speakers could also be better. They are positioned well, they have decent stereo separation, look decent but they just need an overall better sound to them. The 12-inch MacBook and HP Spectre laptops have better speaker selections.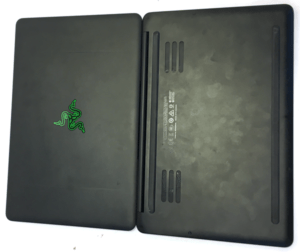 Conclusion
At the end of the day, Razer made a very good laptop, listened to the people's concerns and upgraded on the things they thought were worth the value. You end up with a great 13" Stealth for about $1,400 USD for the base model. Since the older one was beginning for about $900, that means it has had about a 50% markup with their newer applications of specs. I guess it all depends on what your budget can handle and what's important to you.