2017 HP Omen Gaming Laptop
Oct 24, 2017
Yes, we have talked about the HP Omen laptop before. Yes, we think it is an OK gaming machine. So, why are we talking about it again? Because things have changed, let's take a look.
This is a review on the mid-2017 HP Omen that has been redesigned for this year. The old 2016 model that carried over to this year was a very generic looking laptop. This one looks less generic but the design language seems to have been inspired from Acer or Lenovo. This one does not look super HP to me, but, it is well built. It's 5.7-pounds and is .96-inches thick when closed.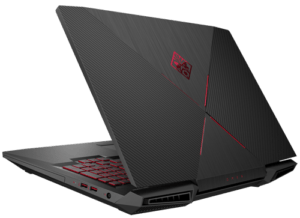 Black and Red Gaming Laptop
The paneling is solid, most of it is plastic. The hinge also seems really good despite their location being so close together. As the common theme of gaming laptops go this one follows suit and there is a lot of red on this laptop. It a classic black and red gaming laptop. The color scheme may not be for everyone, but for gaming, it's the norm.
The port selection is pretty solid. There is an SD slot, three USB 3.0s, two display output, Ethernet and a USB-C, and a full-size HDMI. There is no Thunderbolt 3 action unless you upgraded with $20.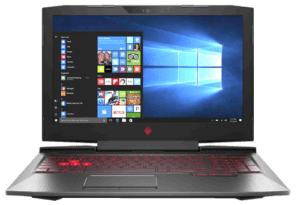 Keyboard and Trackpad
The keyboard is pretty good and the keys are a little softer than some may like, but the layout is good. It regular with red except for the WASD keys that are in white and there is a numeric 10-keypad as well.
The trackpad uses Synaptic drivers instead of Windows Precision drivers. The tracking is OK, but since it's a Synaptic driver there are the occasional inaccuracies. However, gestures and tapping all were on-point. It also has dedicated buttons for clicking so you may, or may not, like that.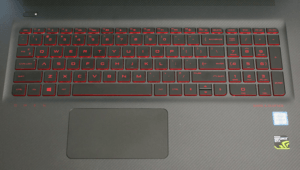 Display
One of the most important key features of this laptop is the display. The base model 1920 x 1080p is dim at 213 nits and has poor color accuracy and overall is not good at all. The 3840 x 2160p 4K panel with 320 nits is good. However, unless you are using this laptop exclusively for concentration, it may not be the best fit either. By far and away, the best panel offered is the 120Hz Panel with 2910 x 1080p and 300 nits. it is a $60 upgrade from the base panel, but it's well worth it. The 4K panel upgrade is more to upgrade and probably not worth it. The 120Hz panel is way better than the base panel and games on it look better at 120Hz.
The webcam is Ok and supports Windows Hello for faster log-ins.
The internals of the laptop are easily accessed by removing a handful of screws. Once inside you'll find a 2.5-inch SATA drive and an m.2 SSD. Comfortable SSD is a PM961, so it'll have some pretty fast speeds and this configuration also has 8GB of RAM that is upgradable up to 32GB.

Performance
The battery is a 70 watt-hour brick that is pretty big for a gaming laptop, but battery life is not great. With regular usage, you can expect about 5 hours, just like the previous generation with a smaller battery. This Omen is running a GTX 1050Ti and it's basically the sweet-spot for performance and price for gaming laptops. You can play most AAA titles at 60fps with great image quality. The heavier titles will struggle just a tad, but that can be remedied in your settings.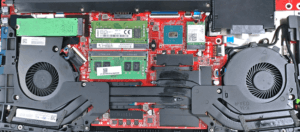 There is another configuration for the HP Omen with a GTX 1060 Max-Q that is considered their top-of-the-line model. If you are going to do a Max-Q model you must do so from the ground, up. If you take a pre-existing chassis and put a Max-W chip in it, you will not get the max performance of the chip. You're still going to have a thick and noisy laptop. What's the point?
In terms of noise levels, it's pretty good when under load and does not get too loud. Oddly enough, even when idling the fans come on more than expected. There is no separate fan control in the software either for adjustments. As compared to its previous generation this Omen handles thermals better under stress tests.
The speakers fire from underneath the laptop and actually sound pretty good. As per the norm though, when cranked up to higher levels the quality takes a beating.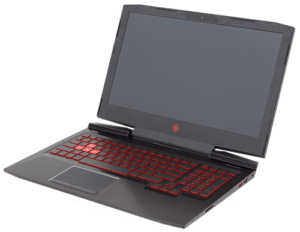 Summary
Overall you are getting a laptop with a metal keyboard deck, and plastic everywhere else. It has good detailing and build quality with several screen options. The backlit keyboard is well laid out and comfortable to use. The trackpad could be better with Windows Precision drivers, but it has dedicated click buttons and occasionally lags. The i7-7700HQ and the GTX 1050 ti have strong gaming performance. the two RAM slots and drive bays are easy to swap out but it comes with 8GB DDR4-2400 and 128GB + 1TB of storage.
Unfortunately, the price points for this laptop are not awesome, it begins at $999 USD, but for the minimum recommendation of a GTX 1050 ti, it'll set you back about $1,100.