MSI GE62 VR GTX1060 Gaming Laptop
Oct 19, 2017
Earlier this week we had our hands on some pretty exotic laptops like Origin Evo15-S and Australian made Venom BlackBook Zero. Today we're looking at a product from a well known laptop maker, MSI.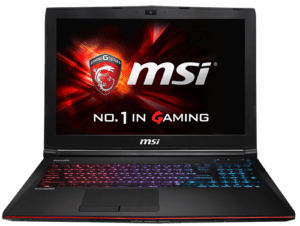 So, here at SellBroke, we have written about other MSI units and they generally come away with pretty decent reviews. Now it's time to get into the MSI GE62 VR with a GTX 1060. Let's do this.
This is their entry level 15-inch gaming laptop, it's been updated with some nice features, including the GTX 1060. So, not much has changed on the exterior. It has the same black brushed aluminum top panel with a plastic chassis and the plastic bottom panel. It is weighing in at 5.3-pounds and measures about 1.1-inches tall when closed. It's clearly not the smallest laptop option on the market. Well, it is a gaming unit and they tend to run a bit heavier and bigger.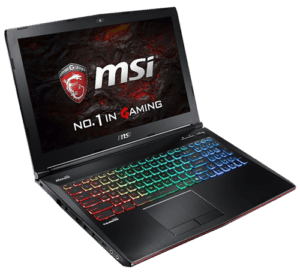 Build quality
The overall build quality on the laptop is OK, the screen can be a little flexy, so you want to be careful to not put anything on top of it when closed. The screen hinge itself is also a little bit stiff. It's not a one-handed opener. The chassis is well built.
The keyboard area is aluminum and it's actually quite stiff and offers no flex. The keys are great to type on. MSI is consistently making nice keyboards and this one doesn't disappoint either. It still has good key travel with nice spacing. It has SteelSeries Lighting, it's not individually lit keys, instead, you can control them by zones, and it's still cool to be able to customize the colors. If you use the Windows key a lot you will have to get used to the fact that it's on the right side of the keyboard and not the left as usual.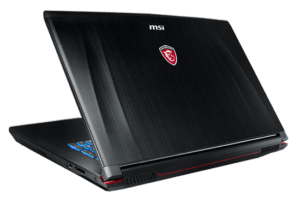 The trackpad is mediocre. It's plastic and it's textured to match the brushed metal of the palm rest. It doesn't use native Windows drivers, it uses Elan drivers, so tracking is imperfect. The texture is what gets to me the most, there's friction going from side-to-side, but not going up and down. That's a little strange. The physical buttons are nice though. They have good activation pressure, not too loud, and they have a good click mechanism.
Portability
Portability is good. It has individual audio jacks, a USB-C but it doesn't support Thunderbolt 3, so no external GPUs. It also has a pair of USB 3.0s, display outputs, Ethernet port, a USB 2.0 and an SD card reader, and it also has an optical reader.
The internals can be accessed by removing quite a few screws and in order to get in there, you must break the "warranty void if tampered" stickers.
This laptop has 16GB of RAM, a 1TB HHD, and an m.2 SSD. So, drive speeds are good. The HHD runs read/writes at 135/130MB/s and the SSD runs at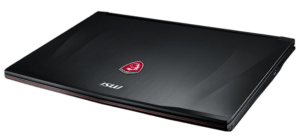 2000/650MB/s respectively.
The battery is relatively small at on 51 watt-hours, and that's also partially due to needing room for the optical drive. Since there is still a demand for optical media for gaming, MSI has chosen to keep it for now. However, because the drive takes up so much space and the battery is smaller, the battery life is cut pretty short.

Performance
The CPU is a Sky Lake 6700HQ, it's a widely used chip. It has very good mobile performance. This laptop, as mentioned before, has a GTX 1060 and the performance is really nice. When running at the native 1080p resolution, moderately demanding games will break 100fps on ultra settings. Any light to moderately demanding games will sit around 100fps on this card. Heavier games on high settings will see about 60-65fps and if you want to keep them at the ultra settings you'll see about 45fps. Overall the GTX 1060 is a great fit for , it's been updated with some nice current generation gaming and of course, it's VR Ready.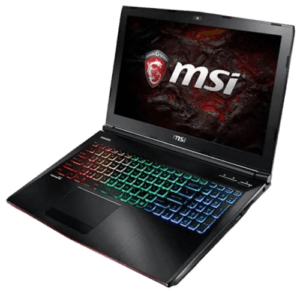 Display
The 15.6-inch IPS display is a nice panel and if you are a content creator there is a 4K version available as well. The matte finished 1080p panel is reasonably bright and sRGB and Adobe RGB color accuracy are pretty decent at 91% and 70% respectively. It also has some really great viewing angles and a bit of light bleed in the upper corners but so much to cause concern.
The previous MSI units were good devices but were not optimally cooled. Now, in the newer generations, they've added two more cooling pipes and that's dropped the temps significantly. Even the fan noise is pretty good and when under load it's about average for a 15-inch unit.
The speakers are unchanged from the previous generation. It has a pair of bottom-facing speakers and a small subwoofer, and even at loud levels, the audio stays clear. The bass isn't great, but it's a nice step in the right direction for delivering that deeper level of sound when needed.