Venom BlackBook Zero 14" Australian made Laptop
Oct 17, 2017
In a world with so many gadgets and electronics, who can keep up? We all know of the mainstay flagship brands and most competitors, but every now and again we run across something different. Here's one that fits that bill exactly, let's take a look at the 14-inch Venom BlackBook Zero. It's another gaming laptop that we find very interesting among competition.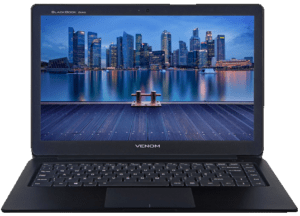 Laptop from Australia
Once in awhile when receiving various laptops at our office we run across something special, and this is one of them. This is a BlackBook 14 from a company out of Australia called Venom. This model here starts at $1,000 USD, and it ships around the world. This 14-inch laptop weighs in at 3.08-pounds, is .55-inches tall and has a 13.35-inch screen, that they call 14-inches.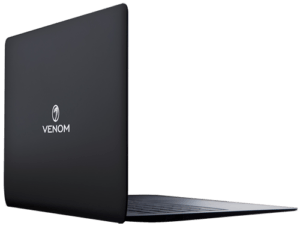 Design
The build quality is surprisingly good. It has aluminum top and bottom panels an aluminum chassis and it's all anodized black. It has very little screen flex when you try and twist it and is similar in build quality to the Razer Blade. As far as having a matte black exterior it does show off fingerprints pretty readily.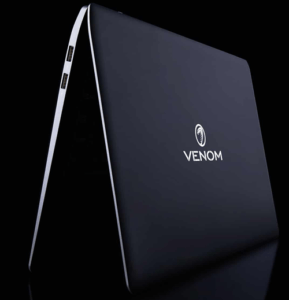 For a 14-inch device, this laptop has a decent selection of ports. It has three UBC-A ports, an audio jack, Micro HDMI, microSD, and a USB-C, though it does not support Thunderbolt 3, so there's no connecting an external GPU. If you turn it over and remove a few screws, you can have total access to the internals. The 8GB of RAM is soldered on so there's no going anywhere with that; however, the m.2 SSD is removable.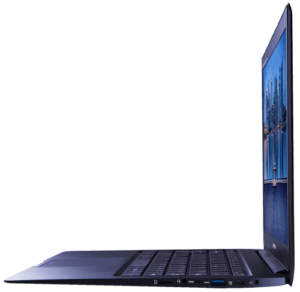 Performance
The 256GB stick is a SATA, so the speeds are quite decent. It reads at 500MB/s and writes at 470MB/s. The processor is a Kaby Lake Core Y. And these look disappointing on paper because the base clock is relatively slow. But the turbo boosts it up nicely and for light tasks, it's quite good. Extended heavy CPU usage will cause it to throttle down. Depending on what you do, and you don't do heavy photo or video editing or play games much, this CPU is a good fit. it's fan-less so it is very energy efficient. Even though it can handle 4K video playback relatively easily, if you are a gamer, it's not for you.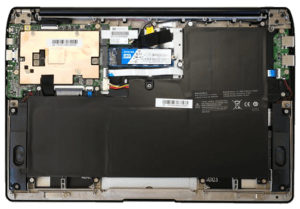 The thermals are fine and you would be hard pressed to get it to an uncomfortable level even though it's fanless.
The speakers are down-firing and as per the norm, they are best played on a hard surface like a desktop and not your lap. Also per the norm, the bass is lacking but it does get up there and produce some overall good sound.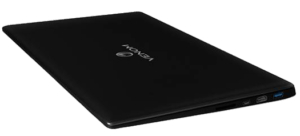 Battery
The battery is a 40 watt-hour slab, and we were getting a comfortable 8 hours on it. of course this is with a 250 nit screen (out of 280 nits) and doing regular word processing and streaming type of work. If you are doing a lot of 4k video playback, you could get much more battery life due to the new Kaby Lake processor. Venom actually includes two charges so you can leave one at home and have one with you at all times. I only know of only one other business that does this: SellBroke.com. We learned a long time ago that it's a nice touch and doesn't cost very much to add this extra little detail of convenience. They also add a USB key for system recovery.

Display
The display is an IPS panel at 1080p and has a non-reflective matte finish, and also it is not a touchscreen. Contrast is good and the blacks look pretty black, but they could be brighter. It's also not particularly color accurate with Adobe RGB at 54% and sRGB at 71%. So, it's not going to be the best screen for content creation. Now, this is considered a 14-inch panel, and there is a noticeable size difference between this and the more common 13-inch ultrabook. This feels significantly roomier, and any type of text-heavy workflow is going to be more comfortable on this larger screen.
As per the norm, the webcam is 720p and it's OK.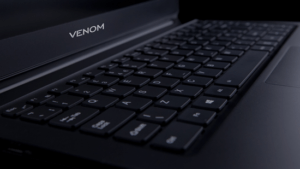 Keyboard and Trackpad
The keyboard could be one of the best features about this laptop. The layout is excellent, it's potential, in our opinion, one of the best layouts on an ultrabook. The arrow keys are well located and it has dedicated home and page up/down keys. The backlighting has three stages, but what makes this keyboard, is its feel. It has good key travel and a quick response and the whole typing experience is excellent.
The trackpad is OK. It uses Elan drivers but it's accurate enough. Doesn't skip around, and the gesture controls are accurate, button mechanism is good. It does have a plastic surface, but it has good texture regardless. Glass one would be better, but it's not. We really like the glass trackpad on Acer Predator Triton 700.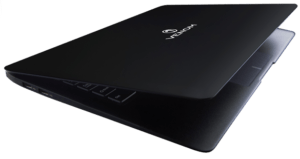 Overall, Venom has made a good machine if you're not into huge content producing or gaming. If you want a great keyboard and a screen that's larger than the rest, but still very portable, and are willing to spend a bit more for a very well built machine, maybe you can take a look at this Venom.